Here's How Gordon Ramsay Lost Almost 25 Kgs To Save His Marriage
You know you're in a serious health crisis when your spouse gives you a relationship ultimatum, which is exactly what chef Gordon Ramsay got. According to Ramsay, his wife Tana "was not impressed with the way I was."
"I was overweight, 18 stone. I looked like a sack of sh*y. I look at the pictures and think, 'How did Tana stay around?' Because Tana has got better-looking and more gorgeous. And there she is, getting in bed with a fat f*ck", the chef told Mail Online. But the 51-year-old, who lost his father at a similar age, had more than just his marriage at stake. He feared for his life as well. Here's how he got his health back on track.
Training Right
Ramsay immediately got a trainer on board and began his weight loss journey that has left him 25 kilograms lighter and fit to swim, cycle, and run for miles at a stretch. Though Ramsay wanted to jump right into an Ironman 70.3 race – a 1.2-mile swim, 56-mile bike ride, and 13.1-mile run – Ramsay's trainer, Will Usher keeping in mind his client's fitness (or the lack of it) started the chef's training with each part of the triathlon instead.
The duo started doing long-distance swimming, rowing, running and biking workouts, plus weight lifting and core work. "Will's a beast," Ramsay said. Together, they go for 75-mile bike rides on Sunday mornings. "Does it hurt? Sh*t yeah. I wasn't built to cycle", says Ramsay, who has now successfully completed several triathlons, including the Ironman 70.3 in Staffordshire, England.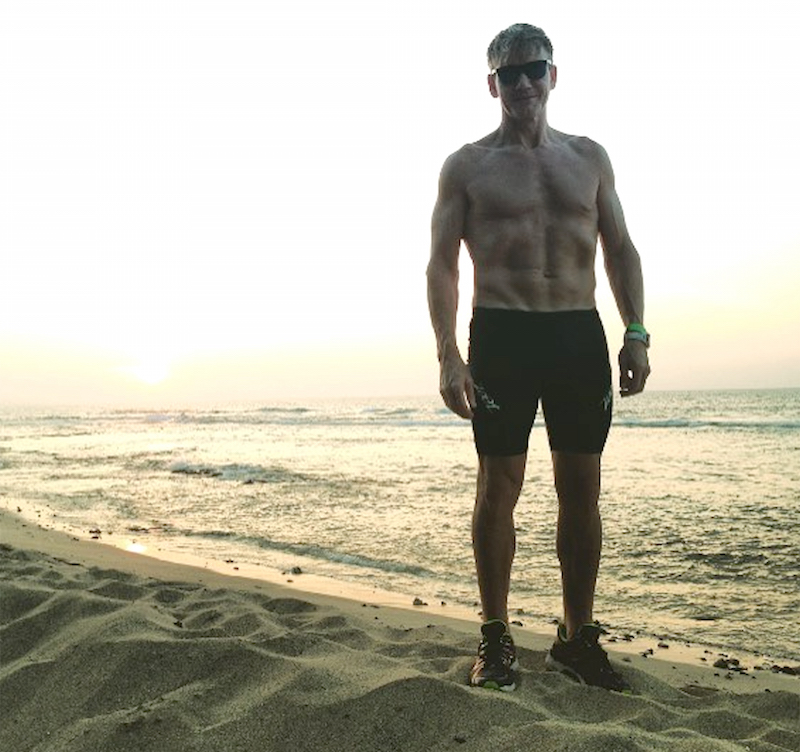 Image Source
The Chef's Diet
The Kitchen Nightmares host powered through his training with the right kinds of food. Not a big fan of diets, Ramsay refused to appoint a dietician and instead eliminated a few foods from his regular diet. "No milk. Just because it's sluggish," he said. "Almond milk with Weetabix for breakfast. Smoothie with frozen berries, yogurts. Dropping milk and cheese has made a massive difference."
That said, the chef says that it is okay to indulge in some milk chocolate occasionally because it gives "a buzz". Also, he adds, that drinking plenty of water is a good habit, especially before a meal. "It just stops you [from] eating a third more," he said. "You feel better but eat less."
Now that he has saved his marriage and achieved his fitness goal, will Ramsay stop training? That's highly unlikely. "The more I train, the more normal I am, the more I feel that I'm still unchanged. It's just another little reminder of who I really am," the chef adds.