Here's Why Christian Groups Are Up In Arms About Mumbai's Latest Social Outlet
Social's first outpost in Mumbai – Colaba Social – opened its doors a few years ago and was instantly a hit. Since then, a brigade of Socials has followed from Todi Mill Social to Palladium Social to Khar Social. These pubs have been welcomed with opened arms and received rave reviews form most patrons. However, the most recent social – Goregaon Social – has found itself in the line of fire after it irked Christians across the city.
'Blasphemous' Interiors
Last week, The Watchdog Foundation, which represents Christian interests in Mumbai filed a police complaint against Goregaon Social stating that its interior decoration is blasphemous and offensive.
The interiors included depictions of various saints and religious items from the Holy Bible like Moses holding a computer tablet and St Anthony wearing glasses.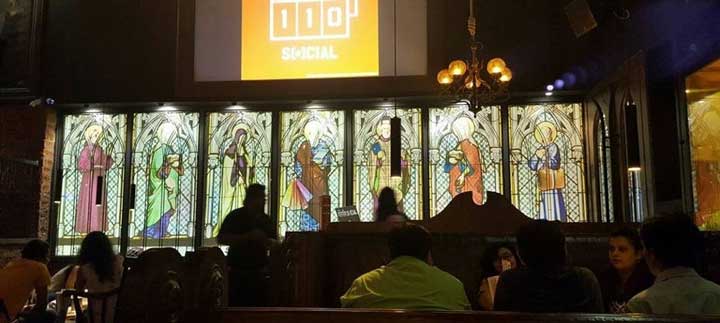 "The bar area has a backdrop of a Tabernacle set up…the seating arrangement in the bar is that of church pews. Even the messages inscribed on the benches are from the Holy Bible," said a press statement.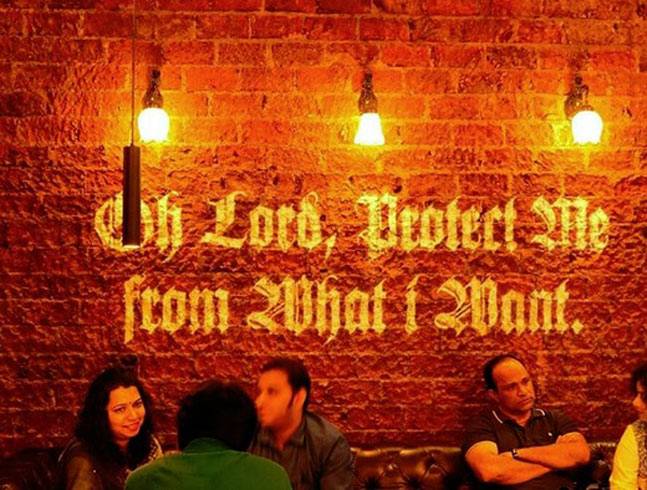 Since the complaint was filed, the Archdiocese of Bombay has also issued a press release stating the restaurant hurt religious sentiments. In the press release, the Church demands that the pub be closed down and its operational licenses be cancelled until the interiors are changed. Meanwhile, Watchdog Foundation demanded that the pub's owner be arrested for outraging religious sentiments.
The Follow Up
Since the FIR was filed, Goregaon Social has removed the offensive decor and issued a statement apologising.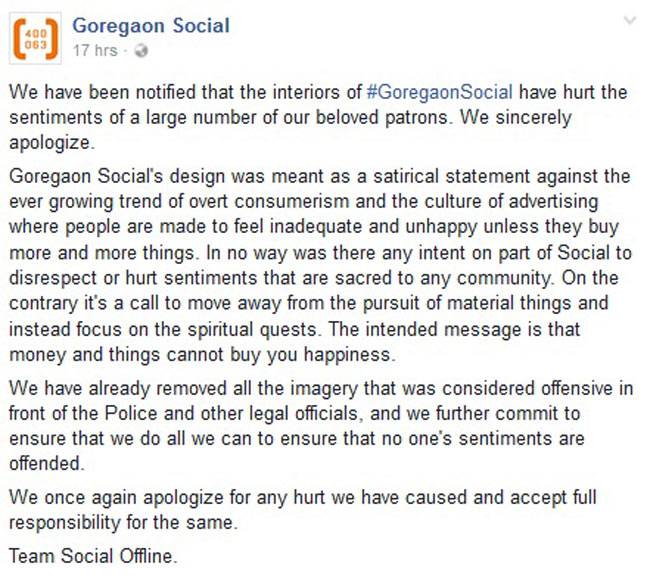 The Dindoshi police have also named Riyaaz Amlani, the CEO of Impresario Entertainment and Hospitality (which owns the Social chain) and another employee in the FIR. "We carried out our probe in the case and based only on our investigation, the two names have been added to the FIR. More will be added based on developments," said police sources to the Hindustan Times.