Hearty New Menu At D:OH All Day Is Here To Satiate Your Hunger Pangs
Get ready for some new dishes at D:OH All Day Dining & Bar as they announce new additions like all-new breakfast section, short eats, platters, sandwiches, wraps & rolls, burgers, bowls, desserts and freakshakes. With a whole lot to look forward along with lip smacking cocktails, you've got no excuse left to delay a trip down to this place!

Hearty Breakfast

A sumptuous, filling brekkie is what a busy city like Mumbai needs and D:OH All Day has plenty to pick from. Try their Freakfast which a generous wholesome portion of pancakes, 2 eggs your way with a sausage, bacon and hashbrown. One can also try their Eggs Katriar eggs with sautéed onions along with Goan chorizo or chicken sausage.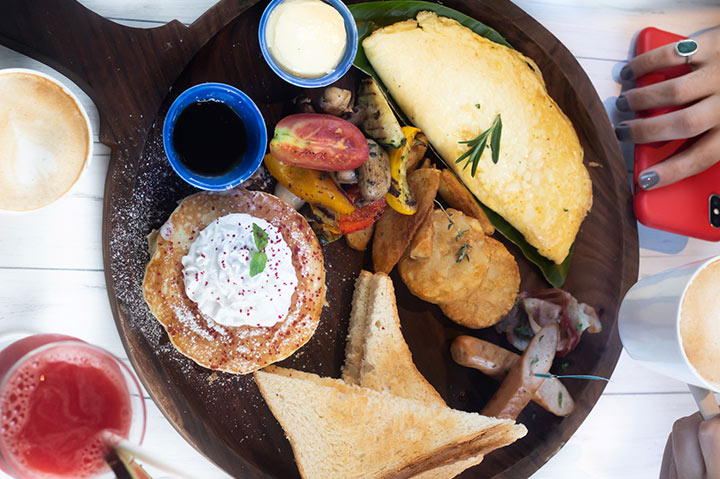 They've also got light bites for those quick eats like Jagger Bombs filled with jalapeños and hot chillies, the Pok Pok Chicken Wings – Vietnamese chicken wings doused in oyster sauce, Chicken Chaplin – kebabs with a flavourful burst of coriander & mint-flavoured spice or the alcoholic Beery Eye Bites platter with beer-battered chicken wings, fish fingers, shrimps and onion rings.

Platters For Collegiates
Foodies studying in colleges need platters and D:OH All Day has got Commun-'Eat'-Y platters to keep them satiated. Plus, there are the classics too like S S Tawa Baida Roti, a mutton keema and egg-stuffed roomali or the Chicken Bhangra Sandwich, a 5-spice chicken tikka in a brioche. One can also tuck into their new addition, Caprese which is a basil-flavoured cottage cheese, tomato burger in a sun-dried tomato bun.