hearty cocktails to beat the heat!!
By a food lover, for food lovers, Gastronomica, as the name suggests, simply celebrates the love of food. Plating Indian, Pan Asian and European cuisines with a twist, this newly opened restaurant is a lively addition to the M Block Market in Greater Kailash I. A cozy place, lined up with tables of all shapes, sizes & colours and garnished with fun, eccentric tableware, one would think of the place to be a casual hangout. But as you open the menu, you find some serious fine-dining options laid out for you.
Though my first recent visit was an invite to taste their cocktail menu which is still in the curation stage and yet to be launched for the public, i was excited to be a part of it, though we did binge on a few light bites to go along with the delicious drinks, but i'd most def. be like to come back and taste their lip-smacking food.
so this review is strictly for the cocktails we devoured that evening, but will update soon with more intrinsic details bout the story behind gastronomica and the much awaited food tasting!!
Ambiance:
A wood paneled stair case leads up to an expansive new restaurant, complete with bare brick walls, plush leather sofas, a balcony, high and low seating, and if you look carefully some super unique upholstery.
we found our spot on one of the middle tables adorned with a cute little boat shaped napkin holder, leaning glasses and chipped plates. Their playlist is great, everything in the restaurant, be it the decor or the drinks or the food, everything is inspired by personal choices of the genius behind this fab place.
the entire decor is wine oriented, with wine glass rims dipped in different colors, forming a pattern on one of the walls, with "in vino veritas" written on another via wine bottles…the floor replicating the look of old wine boxes, a take on sparkling wine adored by the owner, displaying a bottle of wine with stars and sparkles oozing out, yet another wall with cheers written in various languages..!!
Service:
the service is quick and flawless, the staff is well equipped to handle a huge crowd and meets your needs in no time.
Food: (rather Drinks in this particular case)
The rituals and mystery of the world's most elusive drink come alive for the very first time at Gastronomica. Drawing inspiration from their favorite muse, they unveiled the secrets of their bar inspired by memories of a bygone era.
Almost all the drinks at Gastronomica pulse with bright, refreshing flavors we crave in this hot weather, they each have a story of their own to reveal. along with these dramatic and fabulous cocktails we munched on quinoa bhel, chipotle chicken tikka, stir fried chicken in thai basil, vegetable salt and pepper and lastly margherita pizza, and they all were absolutely yumm…succulent chicken, crispy veg, flavorsome pizza, refreshing and tasty bhel!!. so for drinks, we began with: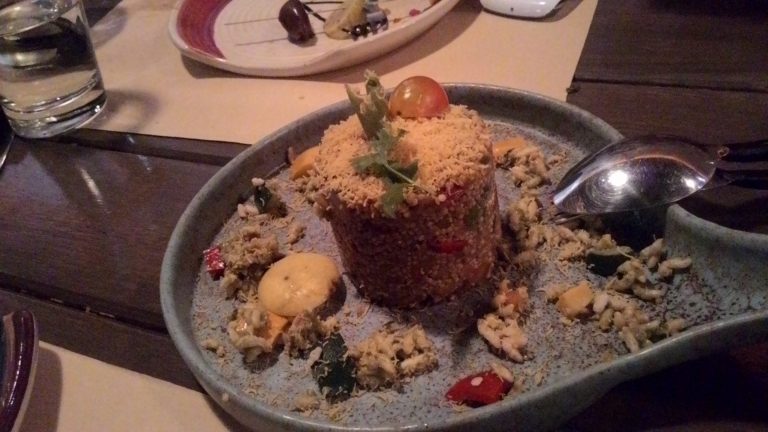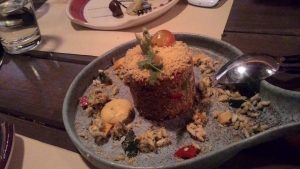 orange & kaffir lime caprioska: kaffir lime leaves muddled with bitter orange rind, stirred with orange juice and vodka, was refreshing, with bitter, sweet, sour flavors coming through in every sip, a great drink to begin the evening with!!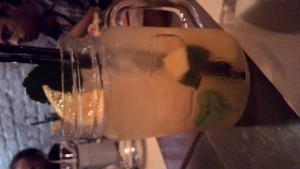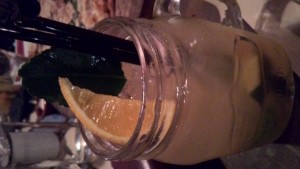 paan & gulkand mojito: absolutely loved this great twist on a sweet paan(with the added benefit of simply sipping it rather than chewing on the beetle(paan) leaves for long), a colorful looking drink, with vodka base, mixed with beetle leaves and shreds of sweet gulkand, is a perfect summer must have, easy on the palate, though left a lingering taste and was the star of the evening…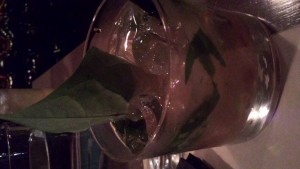 orange & rosemary martini: two of the most prominent flavors when mixed together result in a perfect martini, orange being the owner's forever love, accompanied by strong rosemary, mixed with gin was again tangy, slightly sweet, sour and ever so lightly bitter!!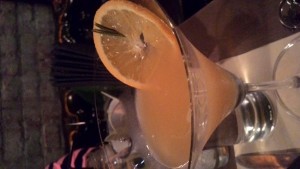 kiwi & cucumber margarita: a very frothy, tequilla based green colored smoothie looking, cocktails infusing both kiwi and cucumber flavors was a surprise and tasted really subtle…served in a sugar rimmed margarita glass with a slice of kiwi floating atop was delicious!!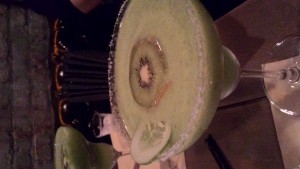 whisky sour with nimbu ka aachar: a classic drink inspired by the owner's bygone days, this drink gets it's taste from bourbon whiskey and a bitter called angostura, this old fashioned whiskey based theatrical drink had a tangy hin to it served with a skewer with a slice of lime and nimbu ka achar, was great and a must have for the whiskey lovers out there, take a sip and then nibble on the nimbu ka achar and you're in for a classic expression!! :p
electric long island ice tea: lastly in a long glass was served this full on dose of alcohol perfect for a saturday night…this LIIT is an amalgamation of tequila, gin, vodka, rum and standing true to its name and blue color, the triple sec is replaced by blue curacao….topped with ice!!
all the drinks were really refreshing, with perfect flavors, there is something for everyone…what makes these drinks special is the personal experience/choice attached with them,…
had an amazing experience, shall def. be back to devour on the food now!!