Healthy Quinoa Cauliflower Biryani
With lots and lots of people looking for healthy options for their meals, this is a great recipe that helps them keep a count of their calorie intake. Healthy, spicy (in a good way) and flavourful, quinoa cauliflower biryani is an absolute cracker! Though it involves a lot of ingredients, the end result is all worth it.
A bowl of this on a cold, rainy day can be a ray of sunshine. Make yourself some warm quinoa biryani by following these instructions.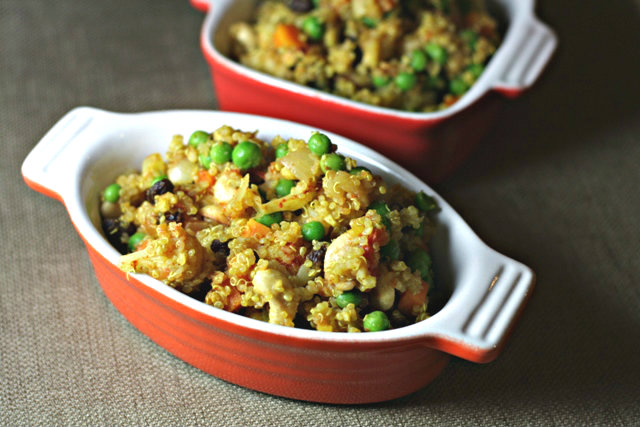 Prep time: 20 minutes | Cook time: 40 minutes | Total time: 60 minutes
Ingredients:
For the quinoa:
1 cup dry quinoa
1 whole green cardamom
2 cloves
1 inch cinnamon stick
1 bay leaf
1 2/3 cups of water
Salt to taste
For the biryani gravy:
1 onion sliced
1 green chilli finely chopped
2 teaspoons oil
2 Tbsp ginger finely chopped
1 Tbsp garlic sliced/chopped
½ teaspoon cumin seeds
1 whole green cardamom
2 cloves
1 inch cinnamon stick
1 bay leaf
½ Tbsp garam masala
¼ Tbsp turmeric powder
½ Tbsp red chilli powder
½ medium sized cauliflower cut into small florets
½ cup cashew cream (or light coconut milk)
1/3 cups frozen peas
Salt to taste
For the garnish:
A handful of chopped parsley/ coriander leaves
A handful of chopped mint leaves
Preparation Method:
To make the quinoa:
In a deep pan, add the oil and add the rinsed and drained quinoa to it. Add the spices and mix it in. Roast the mixture on a low flame for 2-3 minutes. Add salt and water and let the quinoa boil, and stir well. Once boiled switch off the heat, let the mixture sit in the pan for 5 minutes before you fluff it with a fork and keep aside.
For the Cauliflower gravy:
In another large pan, heat oil and add the chopped onions, ginger, garlic and cook until the onions are brown. Add the rest of the spices and mix it all together. Now, add cauliflower, peas and salt. Cover and let it cook on medium flame for 5 minutes. Next add the cashew cream and cook until the cauliflower florets are tender. This gravy is used for layering your biryani.
Layering the biryani:
In a wide, long dish, ladle a thin layer of the cauliflower gravy at the bottom followed by a layer of quinoa. Repeat the process and you can also add some saffron milk on the between layers for colour and fragrance. Top with the remaining quinoa, garnishing it with the chopped mint and coriander leaves. Cover and place on a pan (indirect heat so the bottom doesn't burn) and cook on low heat for about 20 minutes. Let the mixture sit for another 15 minutes before serving. Serve hot with your favourite raita.