Head To Sante Spa Cuisine For Some Delicious Healthy Food
A perfect spot for all the foodies who are health conscious or just looking for a new twist, Santé Spa Cuisine is a vegetarian fine dining restaurant that was launched in December 2018 in Bangalore. The word Santé is a French word for health and keeping that in mind, the main aim of the restaurant is to use the local and fresh ingredients in its array of global cuisine offerings.
Santé Spa Cuisine believes in changing people's preconceived notion about healthy food being boring and bland. "How a visit to a spa rejuvenates from the outside in, Spa cuisine rejuvenates you from the inside out"says Pallavii.
The restaurant takes plates of unique flavours, fresh produce, and balanced portions – all in a setting that will make diners want to grab a book, a freshly baked dessert, and never leave. The elaborate menu runs through sections of smoothie bowls, all-day breakfast options, pizzas, salads, homemade soups, small portions, big portions, desserts and so much more. But really, it's the addition of homemade vegan cashew cheese to pizzas, buckwheat to desserts, or the pickled mango vinaigrette to salad that will make you want to try everything.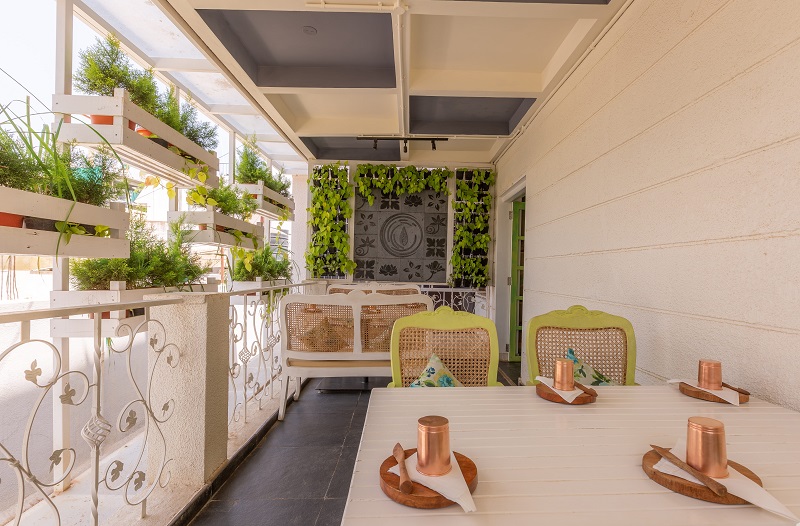 Santé Spa Cuisine conveys the message of eating wholesome food and apart from its extensive array of vegetarian dishes provides its patrons options of Jain, vegan, gluten-free, keto and alkaline dishes. Using good and natural ingredients will make people more satisfied with their meal. They procure the freshest ingredients, greens and microgreens from the best farms and local business.
The main focus for Santé Spa Cuisine is not just to eliminate food like cheese and bread that makes the mouth water, but to replace them with the goodness of nut-based milks, whole grains, non white produce and homemade cashew cheese. They use the most honest and natural forms of ingredients to make the meal balanced with the right proportion size.
Conveniently located in Indiranagar, Santé Spa Cuisine has a serene and calm aura with Victorian & French interiors with white walls, vertical gardens coupled with plants making it unique and pleasing to the eyes of its diners. Stroll into the first floor and you will find a dedicated play area for children, which includes interactive games and books. In addition, Santé is also one of the few pet-friendly restaurants in the vicinity.
A unique aspect of Santé Spa Cuisine is its use of crockery made of neem wood that is known for its antibacterial properties and makes it hygienic to use. They also make Tulsi-infused water, which is served in copper glasses. The holistic approach towards food and its interiors make the restaurant one of the sought destinations in Bangalore.