Head To Saj On The Mountain, Mahabaleshwar For A Relaxing Retreat And Delicious Dining
The Mumbai summer is on in full swing and many locals are using their weekends to pack their bags and escape to the hills where the days are cooler and the tempers are lighter. In March, we took a trip to Mahabaleshwar – renowned for its strawberry production – to Saj on The Mountain, a luxury resort.
Today, as we sit sweating despite the AC being on full blast, Saj looks incredibly tempting; as well as relieving weather, it offers a range of facilities from a recreation room to a spa, to comfortable cottages to several dine-in facilities.
We've already told you about Saj's iconic Fasal; allow us to take you through the other dining destinations today.
Darwin: Saj's Window To The West
When we visited Saj, its poolside dining restaurant, Darwin had just been inaugurated. It boasts a comfortable, light filled space which is filled with a range of books, swing seats and high booths, inviting diners to spend hour upon hour sipping cocktails and nibbling on the restaurant's Continental eats.
From the appetiser section, we enjoyed the Mushroom Corn Tarts, which mixed crunchy corn and soft mushrooms into a flaky cup pastry to make a light bite.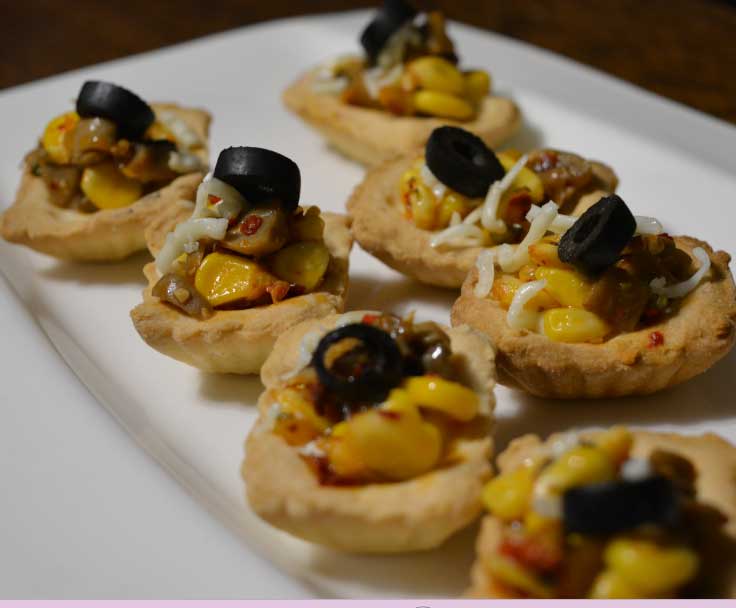 We followed that up with a duo of pasta dishes; the Spaghetti Bolognese and the Pasta Ariabatta. The Spaghetti Bolognese at Saj is unique in that rather than serving the spaghetti with a ground meat infused Bolognese sauce, the chefs use soya mince, making it a vegetarian alternative to an Italian classic.  We particularly enjoyed the medley of fresh vegetables in the Pasta Ariabatta – an exotic range including olives, capsicum and tomatoes mixed together with a spicy sauce and well cooked penne to make a delicious dish.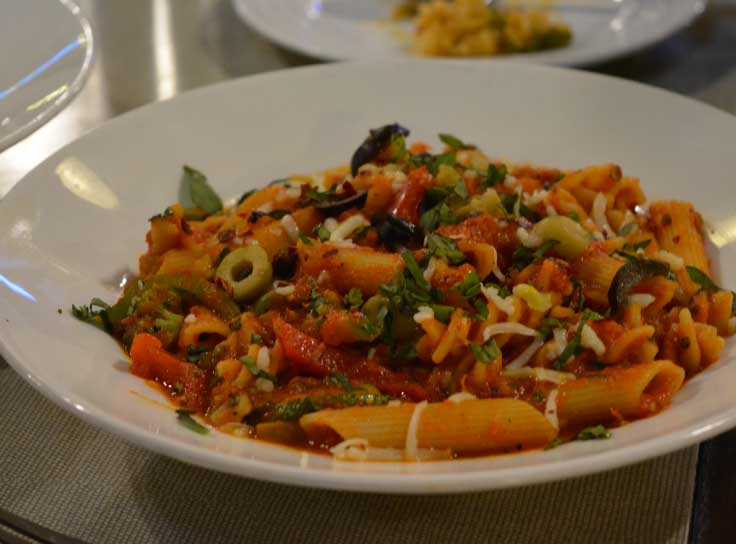 After using some fresh, golden rolls to mop up the last of the sauce we made a beeline for dessert; a jar of Strawberries with cream. All the strawberry based dishes and desserts we tasted at Saj left our taste buds reeling in delight thanks to the freshness of the strawberry and this was no exception.
Wilson's All Day Dining
Saj's other pool-side dining restaurant also offers patrons a sublime dining experience  and a menu of Indian classics as well as a few International and Pan Asian dishes.
We dined at Wilson for both breakfast and lunch during our stay, charmed by its open air space, high ceilings and decor which takes inspiration from the foliage around it.  Breakfast included a buffet of dishes including dosa, idlis, uttapam, poha, upma, croissants, toast, cereals and fresh juices.
From the Indian breakfast menu, we'd recommend you load up your plate with the uttapams – India's answer to a pancake which are lightly spiced with onions and tomatoes. The iddlis are also a must try; they're beautifully soft and fluffy.
Meanwhile, from the Continental selection, load up on the flaky croissants and bowls of granola topped with a selection of fresh fruit to make a healthy, wholesome meal.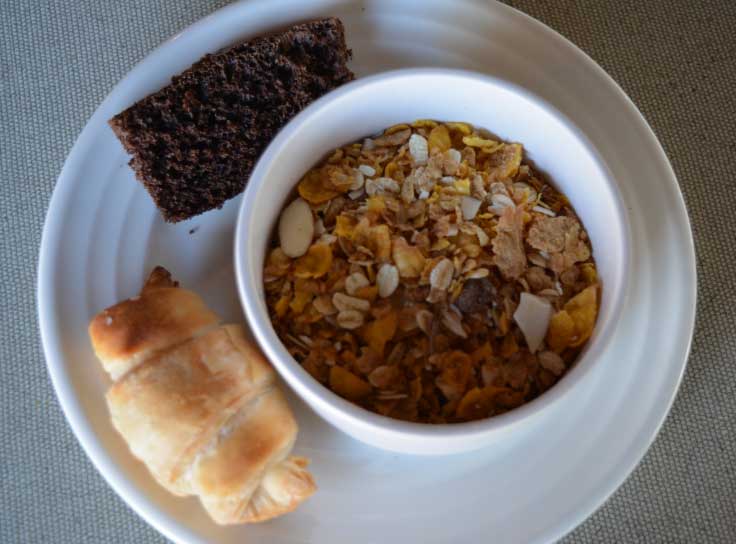 After walking off your breakfast excesses (take a stroll up to the resort's hidden tree terrace) return to Wilson's for an Indian lunch. Begin your meal by heading to the live counter and ask the chef to put a dollop of soy kheema on your plate- tossed with masalas, velvety and soft, it pairs well with golden naans.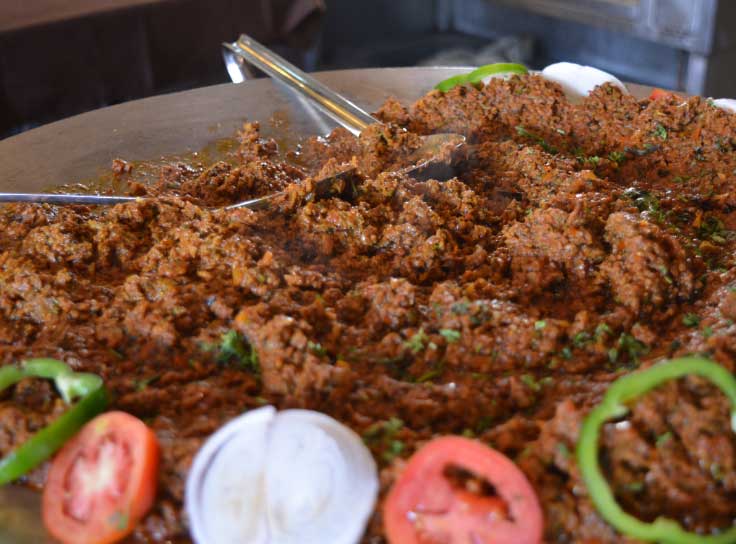 Then, spoon some palak pulao into your plate; an organic green and delicate spiced it was one of the best palak pulaos we've ever tasted.
Dining Under The Stars
Wilson's Cafe also has a Pan Asian menu, but we got to taste the chef's Pan-Asian special at an outdoor barbeque buffet which Saj's manager will put together for a large group, upon special request.
As we headed towards the buffet from our cottages, we were delighted with the overhead fairy lights whose golden hues complemented the many fires which were strewn across the garden. After grabbing a cocktail at the bar, we settled down next to the fire and enjoyed canapés and conversation.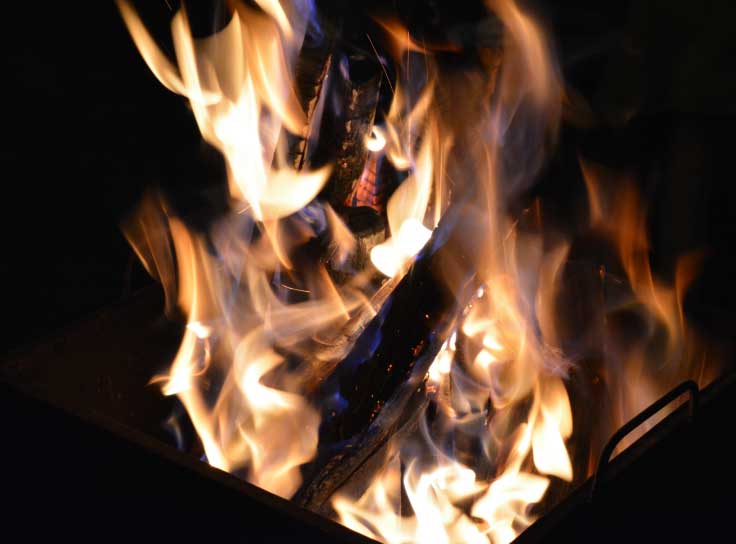 We then headed over to the buffet where we selected short crust pastries topped with corn, a selection of stir fried vegetables – which the chef whips up in front of you – and, for dessert, fresh fruit pudding.
The stir fried vegetables, which were lightly seasoned and incredibly fresh (they must have been harvest that very morning) were absolutely delicious.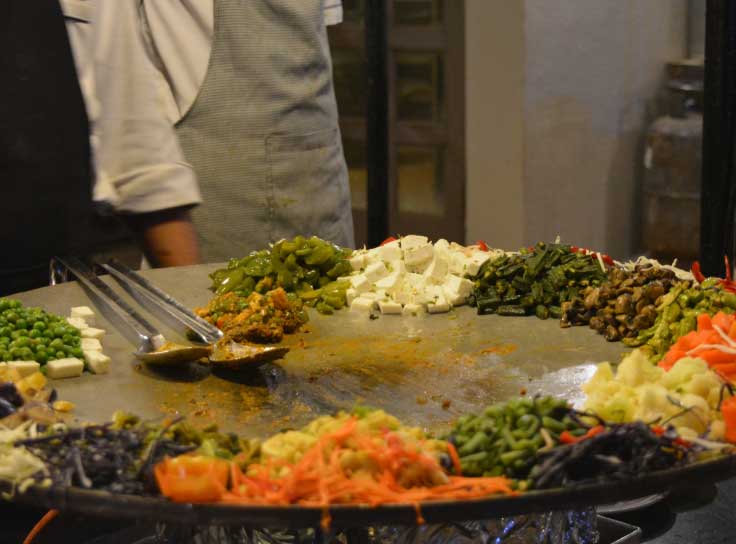 We dined at the barbeque buffet until the wee hours of the morning, energised by the array of cocktails with fresh ingredients, the warm fire and the spread of food. To elevate the experience was a powerful telescope where we could take a close up look at the moon and constellations.
It was a celestial experience – looking at the stars, dinning under them and the overall stay at Saj. As we said, while we're sitting and stewing in the heat, we can't help but daydream and long for a weekend at Saj On The Mountain.