Head Chef Resigns After Comments of Her "Spiking Vegan Meal" Go Viral
Last week the internet held its breath collectively after comments were posted by Laura Goodman, the head chef and co-owner of Carlini Restaurant, on a Facebook group saying she had "Spiked a vegan a few hours ago." Goodman made the comments after a group of diners visited her restaurant on Friday.
In the early hours of Saturday Goodman posted: "Pious, judgmental vegan (who I spent all day cooking for) has gone to bed, still believing she's a vegan."
When asked by another member of the group whether that meant she had done anything to make the meal non-vegan on purpose, she replied: "Actually, I should have said 'they're' not a vegan … not 'she's'."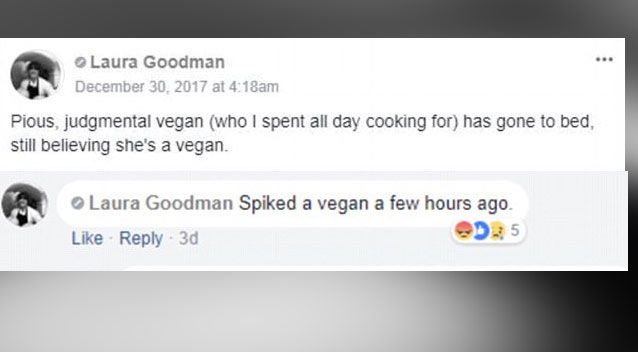 After the comments were shared on Social Media, things quickly went viral causing outrage in vegans and non-vegans alike. Soon, Carlini's Trip Advisor and Google page were filled with negative reviews with the restaurants Google rating falling to 2.3 stars.
Goodman's co-owner and fiance, Michael Gale, said they had received death threats and threats of lawsuits and that their "world has been turned upside down".
Carlini Accepts Goodman's Resignation
On Wednesday, the restaurant released a statement and apology. It read: "Laura Goodman has today tendered her resignation from Carlini and the board of directors are currently considering their options. Whilst this process is being completed, Laura will not be working at either of the restaurants, which will reopen later this week. As part of a pre-planned recruitment drive, Carlini is also recruiting for an additional head chef to work across both its restaurants in Shropshire."
Goodman added: "I am really deeply sorry. There were no meat products added to the dishes." but it looks like sorry isn't going to fix it. A picket has been planned by the Telford Vegan Action group who have no intention of stopping the picket even with Goodman's resignation. The organiser, Hope Lye said,  "I wouldn't be confident going to the restaurant even though she says she has resigned. The business was started with her partner so she could still be involved. Her partner has also made excuses for her and tried to divert the blame instead of standing up and saying: 'We're so sorry, we made a mistake and it shouldn't have happened.' I would have accepted that as more genuine but instead they keep moving positions."