Has The BMC Razed Down Parts Of Your Favourite Bandra Eatery?
Bemused foodies recently took to Twitter to ask why it looked like popular eateries in Bandra's Pali Hill area were being demolished.
chaos in Pali Naka, Bandra right now with Soul Fry being broken down. pic.twitter.com/3YDWRPbhS1

— Diksha Basu (@dikshabasu) January 21, 2016
The answer? The Brihanmumbai Muncioal Corporation (BMC) was razing illegal encroachments that the restaurants were allegedly guilty of constructing.
Razing The Restaurants
On January 21st , the BMC, using a bulldozer and five vehicles, demolished the outdoor portions of popular eateries like Suzette, Papa Poncho, Irish House and Eat Thai.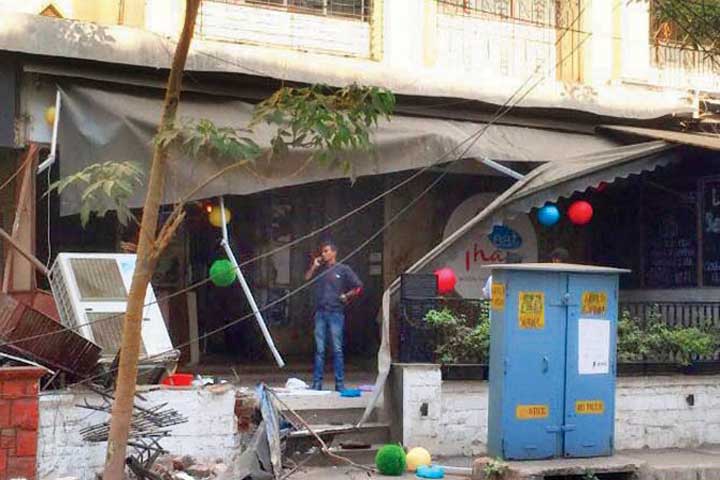 .
According to BMC representatives, the action was taken because the restaurants had illegally encroached into outer areas. While the restaurants had been given permission to put up sheds and covers as protection during the monsoon, the BMC stated that these extensions had not been removed after it, despite warnings.
The Reactions
According to customers and the restaurant managers and owners, the BMC issued no prior notice of the actions, and began demolishing while the restaurants were still serving patrons.
We are open for business and serving food with LOVE! Incomprehensible action by the BMC won't close our doors or empty our plates.

— EAT THAI (@eatthaimumbai) January 21, 2016
Other restaurant owners and managers have complained that the BMC destroyed legal property, or removed privately owned items from the premises.
However, the BMC maintains that they just destroyed and removed illegal encroachments and property.
Late last year, the BMC went on an inspecting drive of restaurants across the city, after a fire broke out at a popular eatery and killed a number of patrons. Therefore, we can't help wondering – is this demolition drive just the beginning? Are your favourite eateries at risk?