Food Guaranteed To Give You The Heebie Jeebies This Halloween
This Halloween, ditch the bars and pubs, and create your own Halloween party at home. Get as bold and spooky as you'd like and go all out on decorations, thrills, and food! Apart from spider webs (thank the maid if they're still there on the walls, you don't have to create fake ones), jack-o-lanterns, and bed-sheet ghosts, spend some time creating these Halloween culinary concoctions, and have yourself a wild, scary, and fun Halloween!
CHICKEN POT PIE WITH CRAWLING HANDS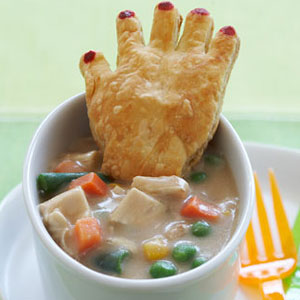 Make a traditional, simple chicken pot pie, and add these pastry hands on top to creep your guests out, and thrill them at the same time! To make the Crawling Hands, roll out one sheet of puff pastry dough, and cut out 6 hands. Place on a baking sheet. Using a small paintbrush, paint egg yolk and red food color mixture onto tips of fingers to resemble fingernails. Bake pastry for 15 minutes or until golden. Then, place on a wire rack to cool.
WITCH FINGERS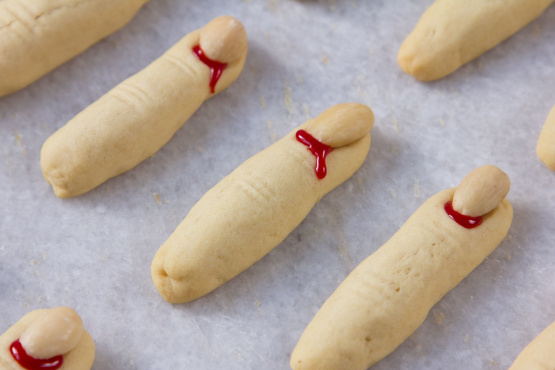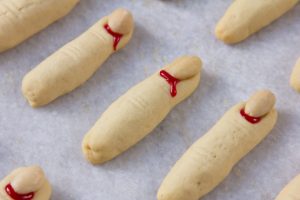 In a mixing bowl, beat butter sugar, egg and extracts together. In another mixing bowl, combine flour, baking powder and salt. Beat dry ingredients into butter mixture, then cover bowl and refrigerate for 30 minutes. Pre-heat oven to 325 degrees. Remove only 1/4 of the dough from refrigerator measure out heaping teaspoonfuls and shape into fingers. Press an almond firmly into the end of each"finger" to make the fingernail. Below the almond and at the opposite end of the finger, press in dough to create knuckle halfway down. Place on paper-lined cookie sheets and bake in preheated oven until a pale golden colour–about 20 to 25 minutes. When cookies are done, remove from oven and let cool for three minutes. Carefully lift up almond from each finger and squeeze some red decorating gel onto nail bed, then press almond back into place; the red gel will creepily ooze out. Transfer to a rack and let cool completely. Voila, your witch fingers are ready!
SPOOKY SPIDER DEVILED EGGS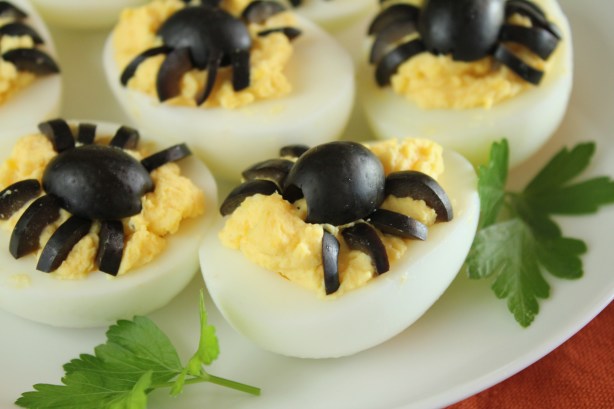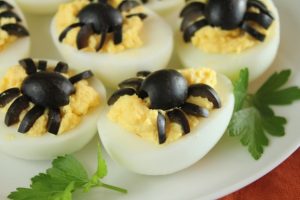 The Halloween version of classic deviled eggs! To make, boil eggs and cut in half, lengthwise. Slip out yolks and mash. Stir in mayonnaise, mustard, salt, and pepper. Cut a whole olive in half. Put one half on mashed yolk for the spiders body. Thinly slice the other half for the spiders legs. Put four legs on each side. Ta-da!
HALLOWEEN PUMPKIN CAKE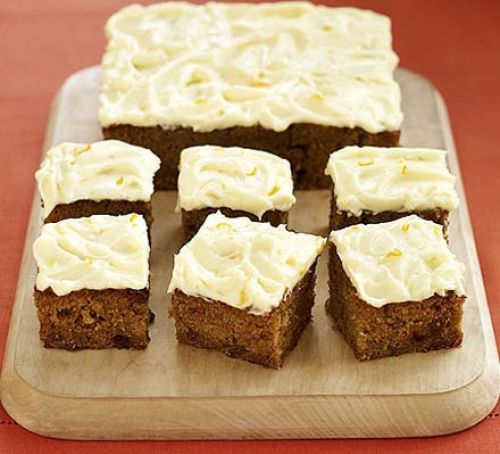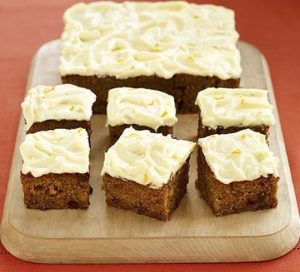 Pumpkin and Halloween go hand-in-hand. To make this Halloween treat, Stir flour, sugar, spice, soda bicarbonate, sultanas and salt in a large bowl. Beat eggs into melted butter, stir in orange zest and juice, then mix with the dry ingredients till combined. Stir in some pumpkin. Pour the batter into a tin and bake for 30 mins, or until golden and springy to the touch. To make the frosting, beat together cheese, butter, icing sugar, orange zest and 1 tsp of juice, till smooth and creamy, then set aside in the fridge. When the cake is done, cool for 5 mins then turn it onto a cooling rack. Prick it all over with a skewer and drizzle with the rest of the orange juice while still warm. Leave to cool completely. Drool!
HALLOWEEN CANDY APPLES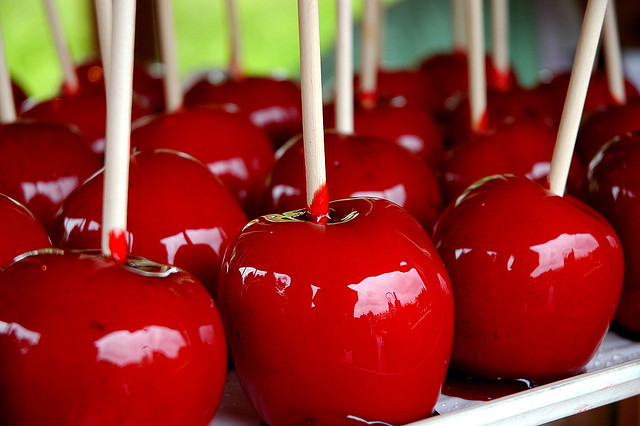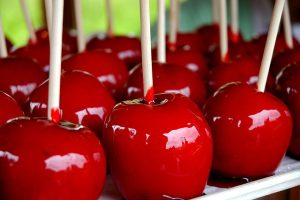 What's Halloween without candied apples? To make, remove stem of the apples and insert wooden stick in stem end. In a saucepan, heat sugar, syrup and water, and stir to dissolve. Boil without stirring until it reaches 300F. Remove from heat and stir in cinnamon and food coloring. Dip apple to cover and hold above saucepan to drain. Place on greased pan or tray stick side up. Dip the remaining apples. Let it stand at least 1 hour before serving.
DRACULA'S DENTURES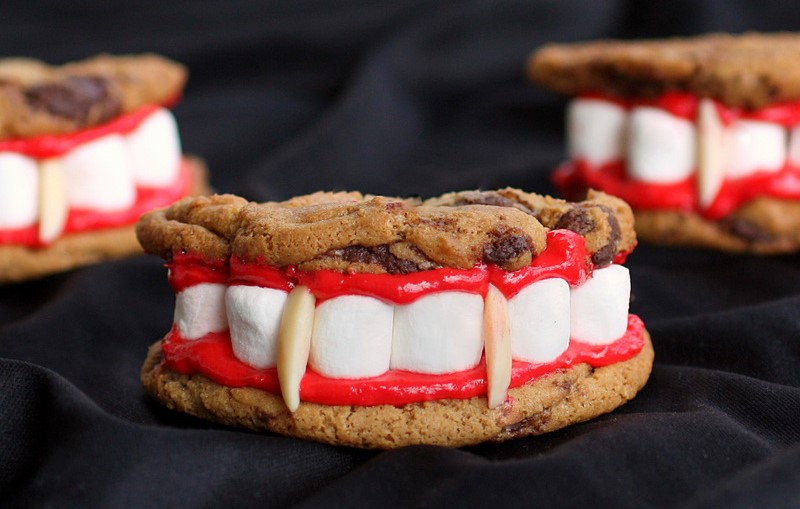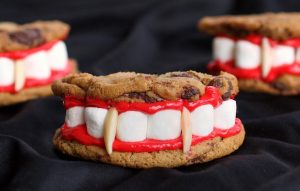 These are probably the most fun, and the easiest spooky treats to make for your party, and the guests will LOVE it! Buy, or make your favourite cookies, and cut each cookie into half. Mix red food color into store-bought or home-made vanilla frosting, and frost the bottoms of all cookie halves. Place marshmallow teeth around the perimeters of half of the cookie halves that you have, and top with the remaining halves! Bite into these sweet, gooey treats!
FRANKENTREATS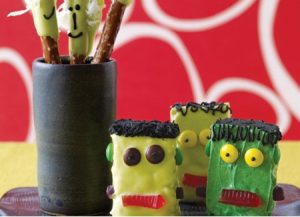 Start with packaged (or homemade) Rice Krispies Treats, and push each one onto a wooden skewer. Melt white-chocolate chips and butter, and stir in green or neon-green food coloring. Spoon the melted chocolate over all sides of the treats. Use M&M's, or gems, to create eyes and ears, a piece of gummy worm for the mouth and Jujubes for the neck bolts. Refrigerate until the chocolate has hardened, then remove from skewers. Draw on hair and dot eyes with black decorating icing. Arrrr, your monster-treats are ready!
EYE-SCREAM TREATS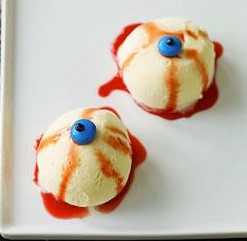 Scoop ice cream into balls and set on wax-paper-lined cookie sheet. Freeze until ready to serve. Place two ice cream balls on each serving plate. Drizzle syrup onto each ball to create a bloodshot effect. Put an M&M, or gems, at the center of each and top with a drop of black decorating gel to form a pupil. Eye-scream, eye-scream, we all scream (because of the) eye-scream!
SLIME BUG CUPS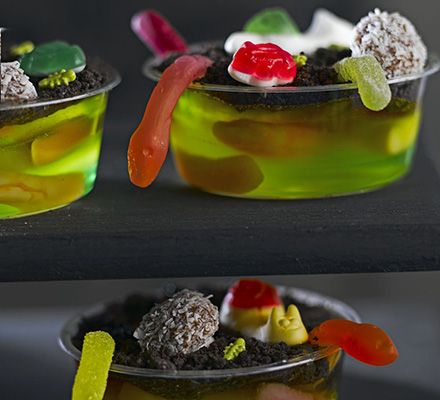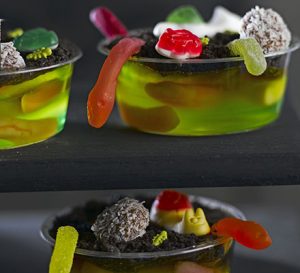 Make some jelly. Pour a third of the mixture into 12 plastic cups. Add a couple of candy worms to each pot, then leave to set in the fridge, keeping remaining jelly at room temperature. Once set, add more bugs to each container, lean some against edges, so they stick out the top! Pour over a third of the jelly and leave to set in the fridge. Repeat with remaining bugs and jelly. For the soil topping, place cookies in a plastic bag and, using a rolling-pin, bash into crumbs, then tip onto a plate. Just before serving, sprinkle a layer of soil over each set jelly, then top with a mushroom, a slug and some ants or your choice of creepy crawly candy!
HALOWEEN JELLO SHOTS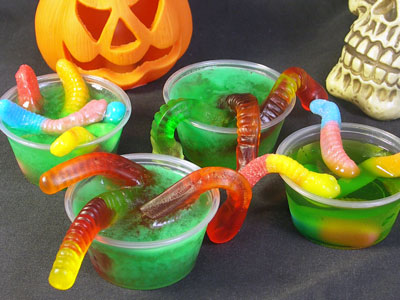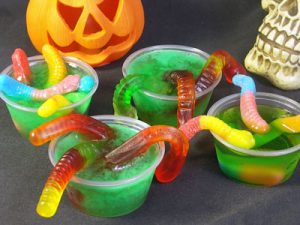 You can make variety of shots with various jello flavours such as pineapple, strawberry, raspberry, and orange! Infuse them with alcohol of your choice – rum, vodka, Malibu, or whisky! To make, boil water, add jello and stir until completely dissolved. Add your choice of spirit, and pour into 2 shot glasses. Chill until jello is half way set and add a gummy worm. Chill until firm and serve!
DR.JEKYLL AND MR.GIN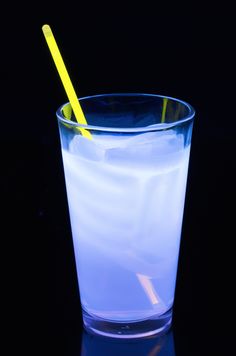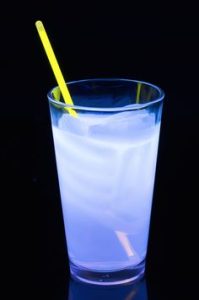 These glow-in-the-dark cocktails will leave your guests thrilled! And the best part, they're so simple to make you'll wonder why you never have before! To make, mix gin, lemon juice and grenadine in a cocktail shaker, and pour into a large glass filled with ice. Top with tonic water. To add a finishing touch, drop in a glow stick – it will still glow in the dark without the glow sticks though!
WITCH'S BUBBLY BREWED PUNCH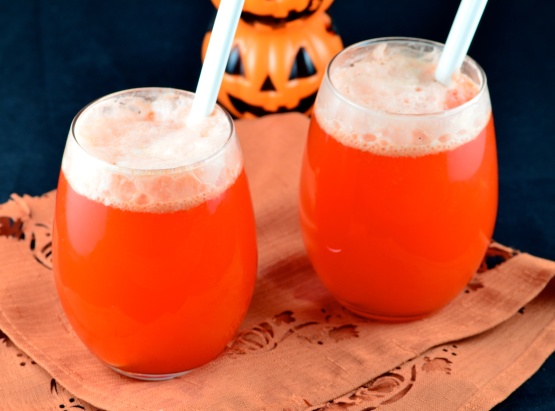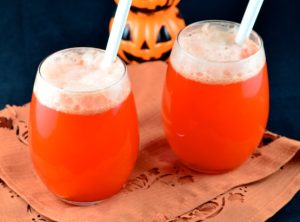 In a cauldron or punch bowl add Orange soda and Hawaiian punch. Add scoops of ice cream all over the top of the drink. Stir just a bit, then serve with a ladle full of punch and a scoop of ice cream in each glass. Easy to make, and a guaranteed sugar rush!
DRACULA'S BLOOD PUNCH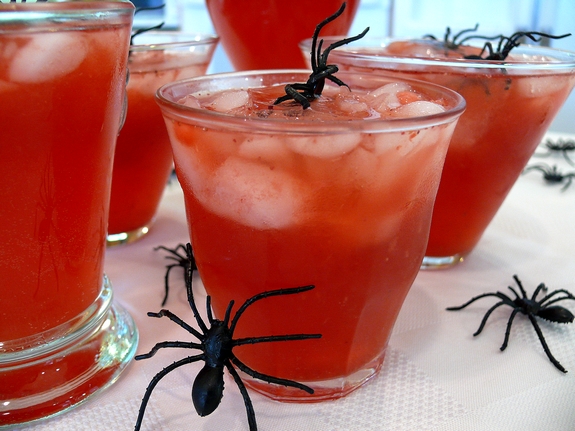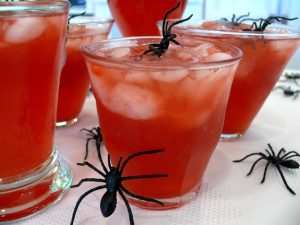 Mix cherry juice, orange peel, chilli, cinnamon sticks, cloves and ginger into a large saucepan. Simmer for 5 mins, then turn off the heat. Leave to cool, then chill for at least 4 hours, or up to 2 days – the longer you leave it the more intense the flavours! It's as simple as that! Serve in a glass, with fangs hanging from it, or on top of ice with jagged edges, go crazy!