'Guac' Your World This Guacamole Day Courtesy of These Unique Recipes by Chef Vikas Seth
Avocado lovers around the globe rejoice, because today is possibly the most delicious of days! Guacamole Day may be a new entrant into our lives, but that doesn't mean it's not up there with our favorite food holidays! With all of the hype surrounding the epic dip, it's not difficult to find a recipe on the internet that's easy to replicate. However, if you're looking for a recipe that will 'guac' your world, try these two guacamole recipes with a twist by Chef Vikas Seth (of Sanchez Restaurante & Cantina fame), and let us know how it goes!
Green Apple & Mint Guacamole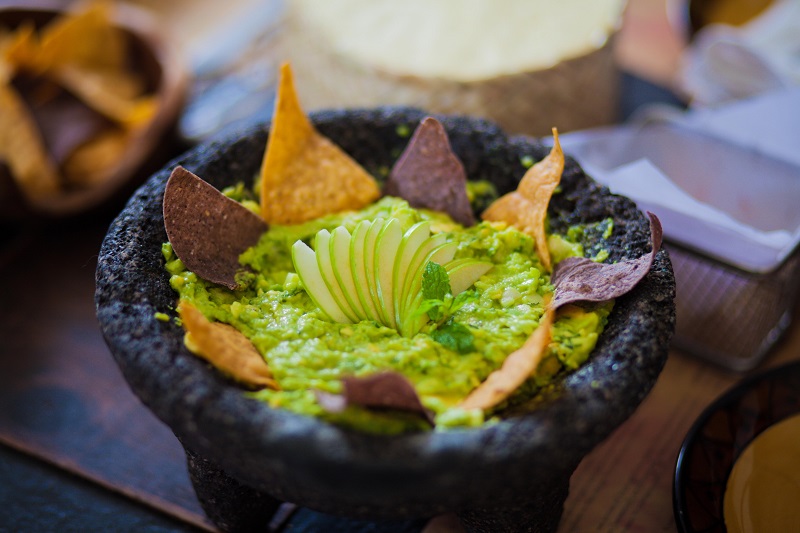 Prep Time: 30 minutes
Serves: 2
Ingredients
300 gm or one large, ripe Avocado
1 medium Tomato, Seeds & Pulp Removed, chopped
1 tbsp chopped Onion
1 tbsp chopped Cilantro
1 tsp chopped Mint
1 tsp Fresh Jalapeno, chopped
1/2 a Green Apple, cut into cubes
1 tsp Lemon Juice
1 tsp Olive Oil
Salt to taste
Serving Suggestion: 50 gm Blue & Yellow Corn Tortilla Chips
Method:
Cut avocados into half. Remove seed. Scoop out avocado flesh from the peel into a mixing bowl. Discard any browned areas.
Using a fork, mash the avocado, but keep it chunky. Add rest of the ingredients and mix well.
Cover with plastic wrap directly on the surface of the guacamole to prevent oxidation from the air reaching it. Allow 15 minutes to get the flavor blended well with all the ingredients together. Refrigerate until ready to serve.
Garnish with sliced green apple slices and mint leaves, serve with blue & yellow corn tortillas chips.
Dark Chocolate Guacamole with Toasted Pepitas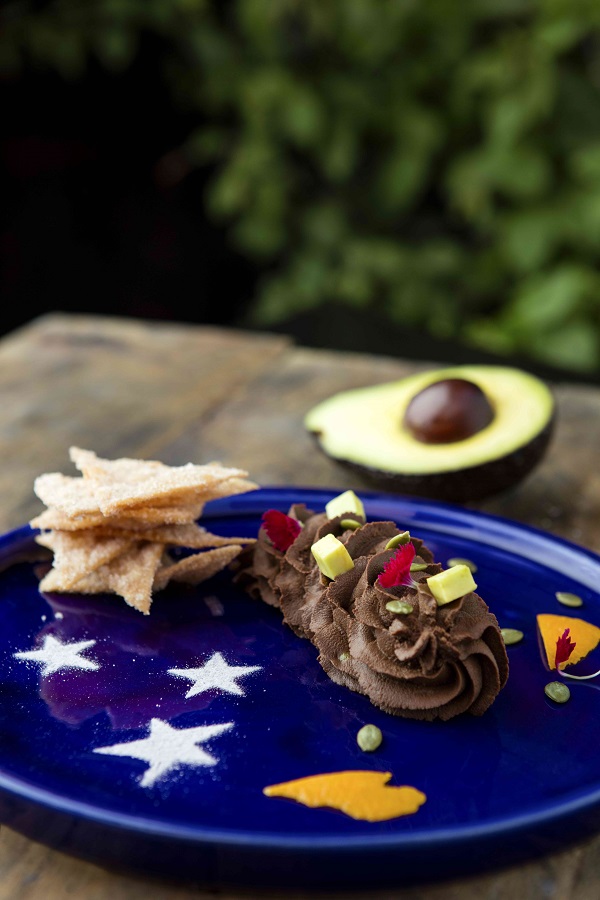 Prep Time: 10 minutes
Finishing time: 10 minutes
Serves: 2 portions
Ingredients
Dark chocolate Guacamole
1 Ripe Avocado
1 tbsp Organic Honey
4 tbsp Dark Chocolate, melted
1 tsp Olive Oil
A pinch of Salt
Cinnamon Sugar Dusted Nachos
2 pc Flour Tortillas
1 tbsp Butter
1 tsp Cinnamon powder
1 tsp Hibiscus Dust
2 tbsp Castor Sugar
Garnish: 1 tbsp Roasted Pumpkin Seeds
Method
Cut avocados into half. Remove seed. Scoop out avocado flesh from the peel into a mixing bowl. Discard any browned areas. Cut into small cubes a table spoon of avocado and keep is aside for the garnish, smear it with a little olive oil.
Using a fork, mash the rest of avocado, add in honey, melted dark chocolate, olive oil and pinch of salt. blend well and your Dark Chocolate Guacamole is ready. Now transfer the mix in the pipping bag. Keep the pipping bag in the refrigerator till required.
Mix castor sugar, hibiscus dust & cinnamon powder together and keep it aside till required.
Cut the flour tortillas to triangles, bake it in the oven at 180 c for 5 to 7 minutes till it becomes crispy.
Take it out and when the chips are still warm brush it with butter on both the sides.
Toss the chips in the flavored sugar lightly and keep it on a separate plate and you have your cinnamon sugar dusted nachos ready.
For finishing, take out the chocolate guacamole and pipe it well in the centre of the plate arrange cinnamon sugar nachos on the side and garnish with roasted pumpkin seeds, which are called Pepitas and cubes of avocado. Enjoy!