Grocery Delivery Platform, Milkbasket Raises USD 7 Million In Series A Funding
Gurgaon-based grocery delivery platform, Milkbasket has raked in a massive sum of USD 7 million in series A funding led by Kalaari Capital with participation from Singapore based BeeNext and its existing investors, Unilever Ventures and Blume Ventures. This development comes shortly after the company bagged USD 3 million in $3 million Pre-Series A round funding from Unilever Ventures, Blume Ventures, and Lenovo Capital (LCIH) in addition to USD 1 million in seed and angel investment from Chinese VCs and domestic angels that also included Milkbasket customers.
"We are very excited to have Kalaari and BeeNext join us in the journey to crack the online grocery space in a sustainable manner. This funding will help us to continue investing in the 3Ts that we hold close to our hearts – talent, technology and territory, and in achieving our vision to create the most convenient grocery fulfillment model for today's busy households," Anant Goel, CEO at Milkbasket, was quoted as saying.
According to the company, it will be using the fresh funds to introduce new innovations in supply chain efficiencies and last mile logistics, creation of unique customer propositions and delivering exceptional customer experience. It is also looking to expand geographically while further increasing its presence in existing areas. In February, Milkbasket had also announced that it was on the lookout for 2,000 new recruits to join its team.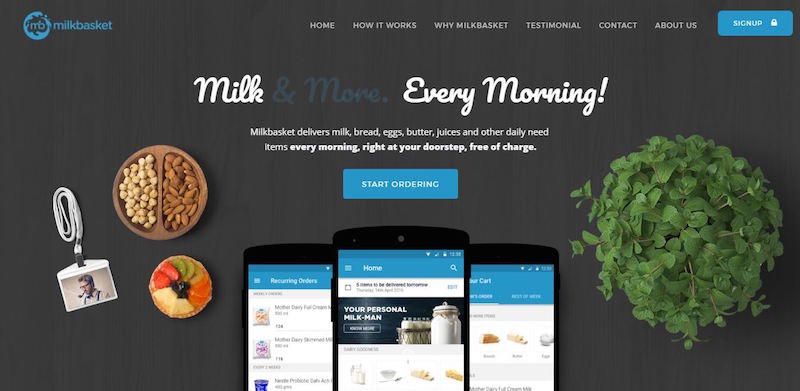 Image Source
"Our investment in Milkbasket provides us with meaningful participation in one of the fastest growing e-grocery markets globally. We are excited to partner with one of India's best grocery delivery platforms and believe that this investment will accelerate their ability to build scale in India," said Teruhide Sato, founder of BeeNext.
Picking up on the rising trend and the mounting need to have groceries ordered online and delivered at the doorstep, the residents of Gurgaon's Orchid Petals and Vatika City kicked off Milkbasket in 2015. The initiative, which is now "India's first and largest daily micro-delivery service", has made the life of 35,000 households a whole lot easier by giving them an online and in-app platform to order their groceries. And clearly, that number is destined to grow manifold in the coming times.