A Hollywood Feast For The Underprivileged, Courtesy Freida Pinto
We've all seen, heard, and read about all the lavish grubs that were rolled out (and dropped) before, during, and after the Oscars. With some of the world's top-notch chefs put in charge of the parties, the results were bound to be nothing short of opulent. But what about the leftovers? Surely the Hollywood A-listers wouldn't have been able to eat all that was served to them! Well, actress Freida Pinto made sure that nothing hit the garbage bins.
No no, she didn't eat up all the leftovers! Or take home any of it. The actress, activist and Global Citizen Ambassador, partnered up with Copia – a San Francisco-based company that uses technology to lessen waste and feed communities in need – to ensure all those leftover appetizers, desserts, and salmon dishes from the 89th Academy Awards after parties went to good use, reports Mashable.
Pinto made the announcement with a picture on her Instagram handle that was captioned "So excited to be kicking off Oscar weekend with this fantastic initiative. This year Copia and I team up with some of Oscar weekends biggest parties to recover excess food and deliver it to communities most in need in Los Angeles."


Earlier, in February, Pinto even told Vanity Fair that the "no food waste" initiative was one of the main perks of being an Academy member. "Our aim is to ensure that no one goes hungry in our film and TV town of Los Angeles by recovering leftover foods from all of our big parties and events," she said.
The generous donations included the top-notch foods prepared by Chef Wolfgang Puck, served at the coveted Governor's Ball. It included everything from potatoes with caviar, braised short ribs, chicken potpie, Oscar-shaped matzo crackers with smoked salmon, gold-dusted popcorn and more.
Chef Jackie Kelly, one of Wolfgang Puck's executive chefs in charge of the Oscar preparations and execution explained that the chef also has been working with the charity organization, Chefs to End Hunger, for the past six years. "Right around 11 at night, when we know it's starting to slow down, and the celebrities have moved on, we take a look at what we have left," Kelly told Salon. "The short ribs we expect to be left over, because people only take a little bite. The chicken pot pie is always left over, and pasta."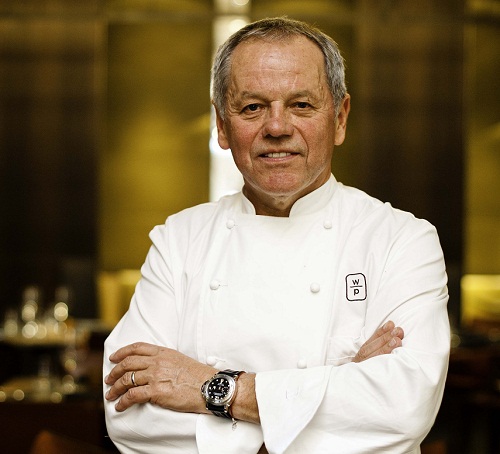 Pinto later revealed that over 800 people have been fed thus far as a result of the Copia partnership. Is there an Academy Award for best human being?
Featured Image: Just Jared