Your favourite restaurant services app, Zomato is spreading its wings even further. After raising $50 million in a funding drive, it is now aggressively buying and collaborating with services that will provide you with a complete map of restaurant experiences.
First, it has announced that talks with Uber have resulted in a global pact, that will allow Zomato users to book an Uber cab to the restaurant that they are planning on eating at, via their Zomato app. This service will be available in 27 cities in 13 countries including India, Australia, the United Kingdom, South Africa, Qatar and the United States.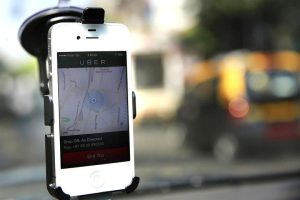 Zomato has also acquired NexTable, a US based restaurant reservation platform that allows users to reserve tables online at the restaurant of their choice. NexTable's team will join Zomato, and the service will be renamed Zomato Book. This brings the total number of acquisitions by Zomato to nine platforms in the last nine months. The largest of which was UrbanSpoon, another US based company for restaurant listings and reviews.
And, for those that are not willing to leave home for their meal, Zomato has updated its app to include an online food delivery option that will allow customers to order home deliveries from a range of restaurants. On 15th April Zomato CEO Deepinder Goyal tweeted a photo of a stack of Ipads being delivered to the Zomato office. Accompanying the photo was the tweet "Loads of iPads arriving every hour to deploy at restaurants for our online ordering launch. Coming soon to @Zomato!"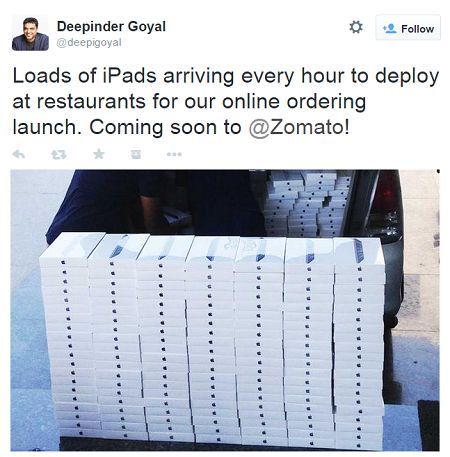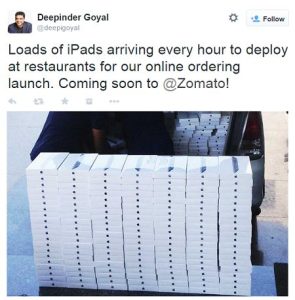 In Dubai, Zomato now allows payments directly from its app via a service called Zomato Cashless. The service will soon expand to New Zealand and Australia.
Zomato is headed towards becoming your one stop shop for all things restaurant. Good going Zomato!