Glenfiddich Opens Doors To Experimentation, Collaboration And Innovation
Challenges bartenders to develop extraordinary and inventive experiences and compete for the World's Most Experimental Bartender
July 2018, New Delhi: Glenfiddich Single Malt Scotch Whisky announces the India leg of the annual World's Most Experimental Bartender competition, encouraging entrants from across the Indian subcontinent to display their creativity and innovative approach to bartending. Celebrating a new era of experimentation and artistry Glenfiddich aims to inspire the spirit of the bartenders that exhibit path-breaking creativity and mastery.
Bartenders are invited to submit an original and artfully crafted serve with the Glenfiddich 12-Year-Old, showcasing their skills and winning a seat to be a part of the India finale. A jury panel of eminent members from various spheres shall shortlist the most outstanding entries which shall be announced on 2 August 2018. They will then be paired to collaborate for the final round of the competition in September 2018 when the India winner will be announced. Each of the six bartenders will be cast opposite thoughtfully picked prolific minds known to push boundaries in their respective fields of art, design, gastronomy, music and more. Together the duo will be responsible for fashioning unique and unconventional Glenfiddich serves redefining the creative spirit of whisky bartending.
Angad Singh Gandhi, Brand Ambassador, Glenfiddich India comments, "Glenfiddich is thrilled to be launching the third season of the World's Most Experimental Bartender competition in India. As a brand known for its innovative approach towards the craft, we look forward to receiving entries from bartenders that go beyond our everyday imagination and challenge the whisky norm."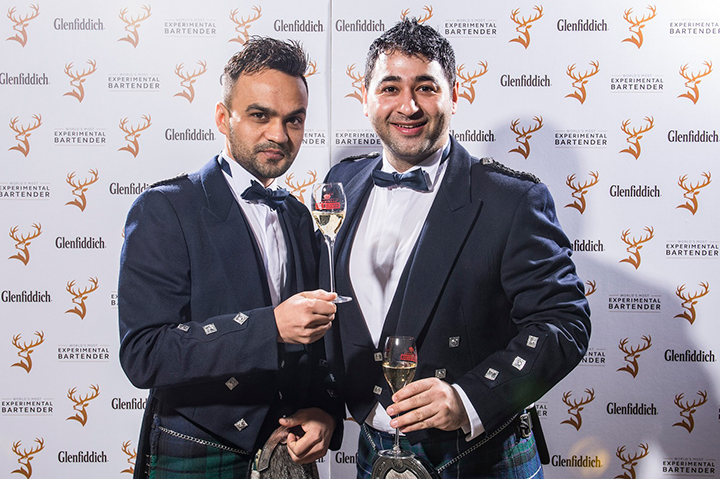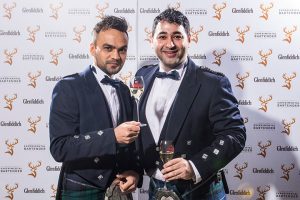 The winner from India and around the world will be invited to an all-expenses paid trip to the Glenfiddich Experimental Bartender Academy in Scotland where they will compete for the title of the 'World's Most Experimental Bartender'. Winners of this year's competition will also be given a once-in-a-lifetime opportunity to showcase their creative work through an "Experimental Expedition", visiting Tokyo International Bar Show and Bar Convent Brooklyn to take in two of the world's most influential bar shows.
The winner from the 2017 India series that competed at the world stage whre Chef Prateek Sandhu, Masque & Grappa Bartender and Chirag Pal. The duo took inspiration from the Mighty Himalayas, calling it "Prionsaí de Sleibhe" – Gaelic for Princess of Mountains using ingredients such as sea buckthorn wild berry, apricot and rosemary.
Entries for the India leg are now open and will conclude on 25 July 2018. To find out more and accept the challenge, send in your entry to https://www.glenfiddich.com/in/explore/experimental-whisky/.
All entrants must be over 25 years old and have the flexibility to attend a week-long trip to Scotland in November 2018.
About the competition (https://www.glenfiddich.com/in/)
The competition requires participating bartenders to collaborate with a master of another field to                co-create something unique inspired by Glenfiddich experience. Winners from countries around the globe namely- Australia; Switzerland; Germany; United Kingdom; United States of America; the United Arab Emirate of Dubai; Colombia; South Africa and India, will be invited on an all-expenses-paid trip to the Glenfiddich Experimental Bartender Academy in Scotland, where they will compete to win the priceless opportunity of bringing their idea to life, supported by Glenfiddich.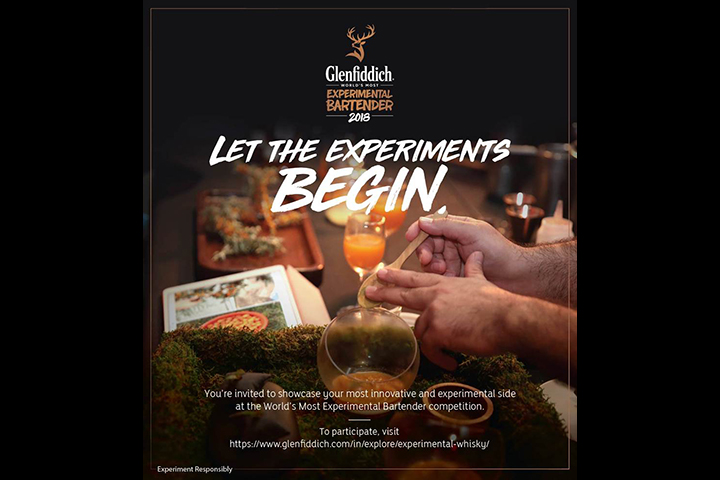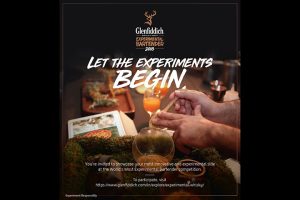 This competition will be an intense and immersive three-day experience where the collaborators will be taught how to make whisky from scratch. They will have the exclusive opportunity to absorb knowledge from Glenfiddich's distillery experts; from the mash man to the cooper, the still man to the malt master; and these extraordinary craftsmen will share the techniques that have made Glenfiddich the most awarded single malt Scotch whisky today.
Armed with fresh knowledge and tools, the collaborative pairs will then refine their innovative ideas to pitch to a panel of judges that will include Master Blender at William Grant and Sons, Brian Kinsman, Glenfiddich global brand ambassador, Struan Grant Ralph and Kirsten Grant Meikle, Director of prestige UK for Glenfiddich owner William Grant & Sons.
The winning collaborative idea will be announced at the end of the programme, and Glenfiddich will, thereafter, work with the winning duo throughout 2019 to bring their creation to life for the on-trade, an impressive addition to any creator's portfolio.
About Glenfiddich, India
Glenfiddich is a single malt whisky owned and produced by William Grant & Sons Distillers Limited, an independent family-owned distiller founded by William Grant in 1886 and still controlled by the fifth generation of the family. Glenfiddich has gained a reputation for supporting the creative arts in India with various initiatives including the annual Artists in Residence award and World's Most Experimental Bartender programmes. Click on www.williamgrant.com for more information on the Company and its brands.