Get Your Share of Marina's Famous Fish Fare at Sundari Akka Kadai
If you haven't been to Sundari Akka Kadai, you don't know what Seafood Heaven feels like. This eatery, fondly christened 'Sundari Akka Kadai' by the hundreds of people who patronize it every day, is all the rage on the shores of the Marina Beach.
Queues start lining up on the beach at noon to get their turn to taste the famed fare. Sundari Akka, the founder and proprietor, bustles around, instructing the cooks, serving, and lending a hand wherever needed. There are many dishes on the menu, starting with meals (with variations), and ending with mouth-watering side dishes like fried fish, fish curry and prawns.
For those customers who want to cut the queue and have their meal comfortably seated, rather than outdoors on the sand, there is the comfort of indoor, table dining at a second branch near Chepauk Stadium, in Triplicane.
I have the privilege of being graced with her company as I sit down for my meal. She is an energetic, motherly figure and her emphasis on providing the best hospitality comes through in the food that is served on my banana leaf.
The Loaded Banana Leaf
Steaming, fluffy white rice is heaped onto the leaf first. It is served with your choice of curry (Either the regular set of Sambar, Rasam, More, or Fish or Egg curry). I choose the egg curry, and decide to pair it with some of her most popular house specialities. Sundari Akka tells me that the dishes that are most often in high demand are Vanjaram (Seer Fish) Fry and Prawn Fry. And once I taste it, it's not at all hard to see why.
The Vanjaram fry is the largest piece of fish I've ever seen, and arrives sizzling, deeply roasted in Sundari Akka's secret spice mix.  The balance of flavours in the fish give it that extremely gratifying taste which is a cross between new and exciting spices and homemade comfort food. It is the perfect accompaniment for your rice, but you can relish it just by itself as well.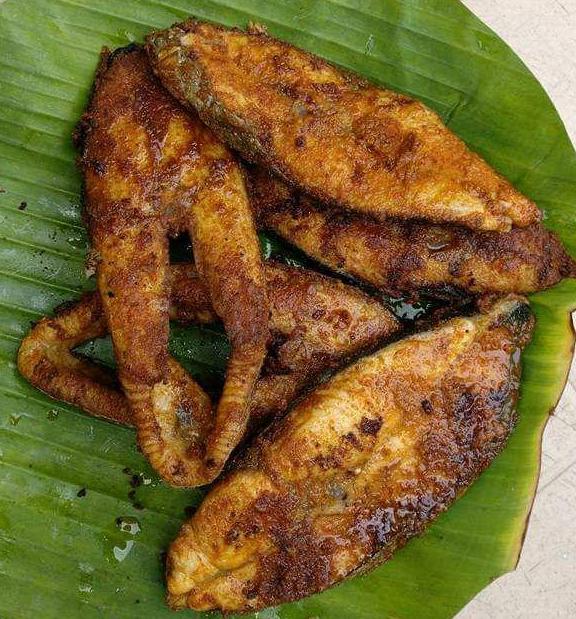 Another star of Sundari Akka's cooking is the Prawn fry. The Succulent, chewy prawns fried in a unique and delectable spice marinade are a treat sought after by the people who travel from all over Chennai just to taste them.  Sundari Akka, however, claims it's nothing secret. 'I just cook like I would at home. There is no secret. Only the fact that we use the highest quality ingredients available, and we always use the fresh catch for the day.'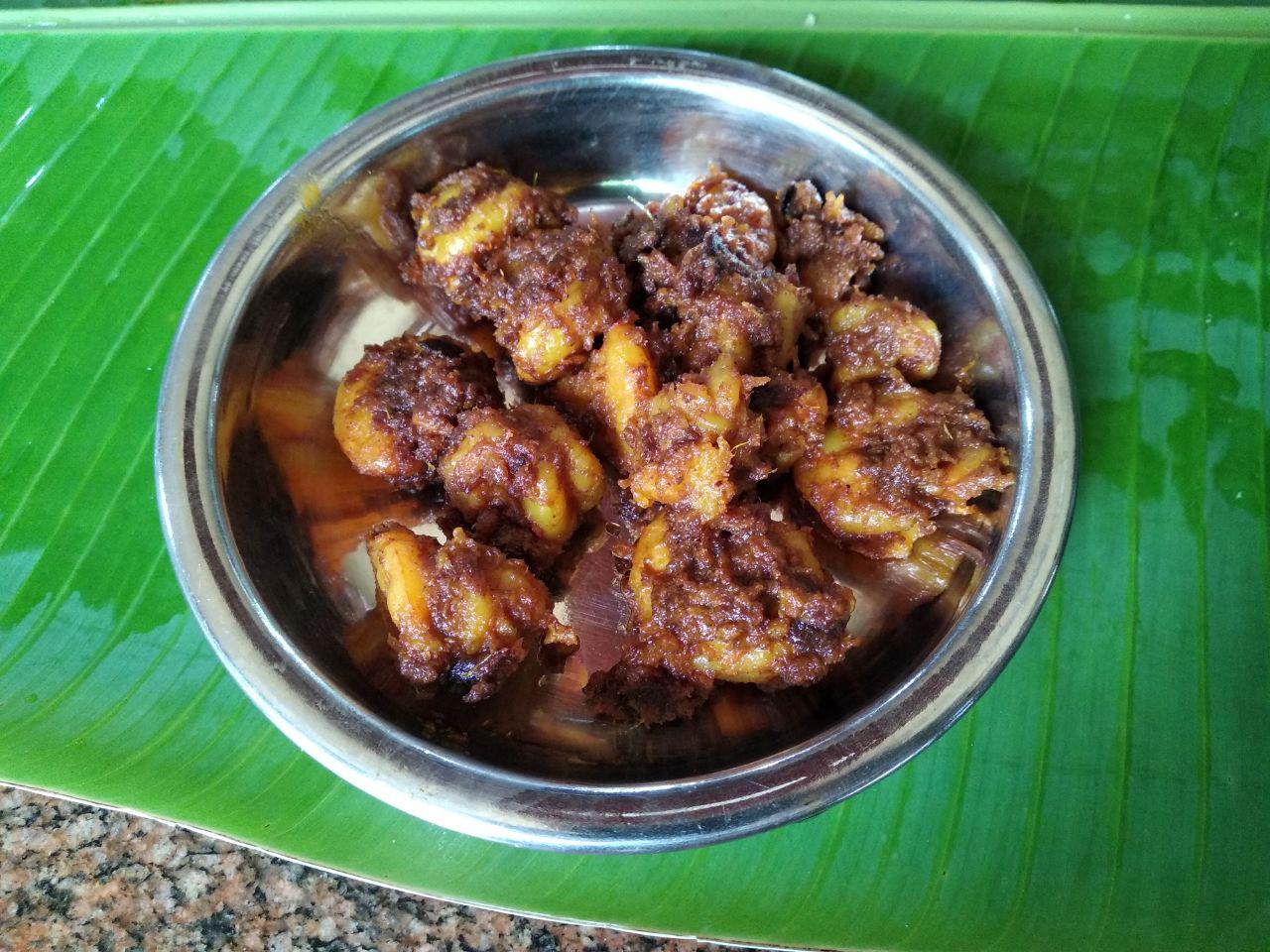 True enough, many newspapers have carried the story of how she goes to Kasimedu fish market early every morning to buy freshly caught fish. This is the reason the board in her shop carries the names of different fish which are available everyday – apart from the Vanjaram and Prawns which her customers can't do without. Most opt for the fish curry with rice, and it is a popular combination with any deep-fried side dishes they pick.
Though the main attractions are the seafood dishes, even the vegetable sides that come with the meals are rich and tasty, with coconut and crunchy roasted dal.
A Homemade Meal
I ask her how her food is so popular, and feel rather stupid when she explains how word of mouth works, giving me the example of how a newly released movie becomes a hit. The place draws so much crowd only because people who frequent it are eager to make their friends and relatives try it too. It is no wonder that her customers remain so loyal to her. Every year on All Saints Day, Sundari Akka provides free food to everyone who visits the shop, in honour of her late husband whose death anniversary is on November 1st. This year, she included mutton curry and payasam on the menu as well, feeding more than 800 people with around 90 kilograms of fish.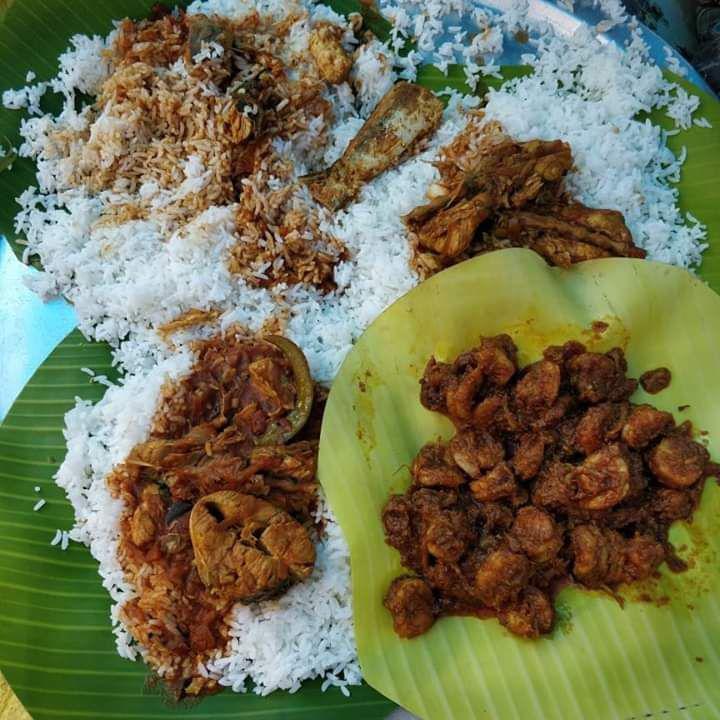 'My biggest support and inspiration are my customers,' says Sundari Akka. They feel so at home here that they sometimes even serve themselves when we are understaffed. I am so blessed. It is God's gift to me that I am able to provide people with food that makes them feel at home.'