A Foodventure Through the Streets of Sowcarpet with Storytrails India
Long before independence, when the British were settled in India, Francis Day built a fortified warehouse for the East India Company on some land in the city of Madras (as Chennai was known then). In 1640, Fort St. George was built and to house all the employees and the locals. This part of the city came to be known as Black Town, where trading was conducted and also where the locals were allowed to live when they weren't catering to the needs to the British and the Europeans working at the fort.
In honour of King George V, Black Town was renamed to George Town in 1911, when he was named the Emperor of India. Despite the fact that most parts of Chennai has had name changes and transofrmations over the years, George Town stays quite intact, a reminiscent of her colonial past. In the last few years, George Town has had a large number of North Indians settle down and build communities and jobs for themselves in the city of Chennai. Particularly those from Gujarat and Rajasthan. Which is how the name Sowcarpet came to be, which derives its name from "Sahukar-peth". Sahukar, in Hindi, means money lender.
Our walk through Sowcarpet was as much about the food as it was about the history of the area and the city of Chennai. Just when you think you know everything about the city you live in, you learn more. Like how Sowcarpet is still mostly filled with Gujaratis and Rajasthanis, making a great life for themselves. Whether it's food, or clothes or other kind of businesses, they have made Sowcarpet and Chennai their home.
Storytrails India is an award winning walking tour company and they believe in exploring parts of your city that you wouldn't go otherwise. Currently conducting walks in Chennai and Madurai, they do so much more than food trails, But we joined them on their first food trail through Sowcarpet and were pleasantly surprised by the world we stepped into. It was almost like you were being transported to another part of the country with the scents, colours and mélange of languages.
The Food Trail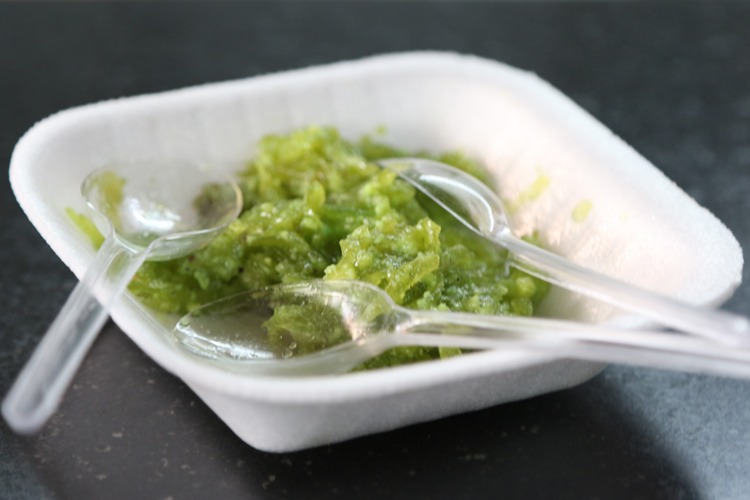 First stop on our walk was Mansukh, where we were treated to Dudhi Ki Halwa, the perfect sweet start to our warm evening walk. Started by a Gujarati family, Mansukh is the name of the youngest son of the family who still runs the shop!


Then we visited Novelty Tea House to give our taste buds a proper experience with street food. While Novelty isn't a new place or an unknown restaurant, you can definitely miss it because it's tucked away on such a crowded street. But if you're looking for great Pav Bhaji, this is where you should go. The Pav is soft, but strong enough for you to dip it in the bhaji. We also tried the Molagpodi Idly, which wasn't as spicy as you might think, but it was delicious and a nice kick after the buttery Pav Bhaji.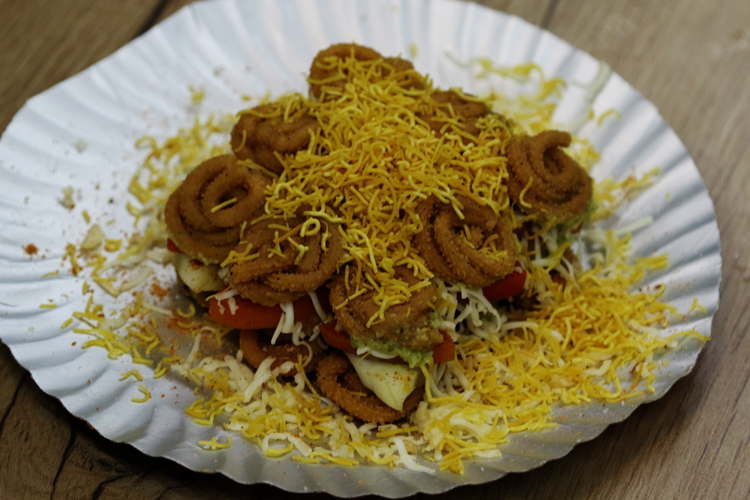 Any walk through Sowcarpet should include the eating of Murukku Sandwich. For any South Indian, murukku is a huge part of our teatime snacks. But when made into a sandwich, you can't deny the awesomeness of it all. A plate of murukku is layered with tomato, cheese, cucumber and mint chutney before it is topped with another layer of murukku, thus making it a sandwich. And Jagdusha provided that for us, along with Chocolate Roll Dosa – think masala dosa, but with chocolate instead.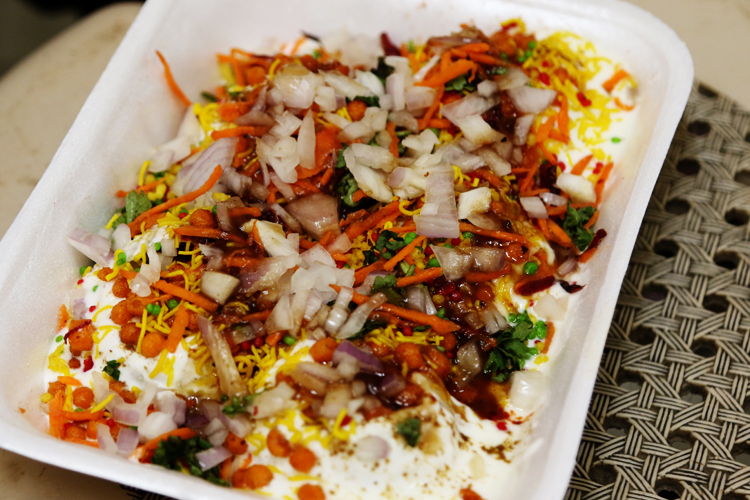 Every food trail needs to include chaat. It's the Indian staple of street food and if you don't even have a plate of it at least once, you're missing out on what makes Indian street food so great. Dahi Puri is obviously the best thing for the Chennai summers and loaded with chutney, onion and cold dahi, you can't really go wrong.
But the perfect end to our food walk was a visit to Kakada Ramprasad for a glass of cold badam milk. While almond milk might be popular all over the world, this is a different kind of badam milk, but after an evening in the sun, a glass of badam milk is exactly what the doctor ordered.
If you're interested in going on other food trails or just an adventurous walk through Chennai or Madurai, get in touch with Storytrails and see what they've got going on!