Food Delivery Shootout: Comparing Dinein and Food Panda in Chennai
[dropcap]O[/dropcap]rdering food has never been so easy. It has literally come down to click and eat. We take a closer look at two players in the food delivery industry and see where they stand.
Round 1: Reviews Online:
Yes, yes, word of mouse. I did some digging and:
Foodpanda:
Further concerns in the entire tirade

1. One of my calls, I was told the'system is down' and we can not track orders 2. Twice I asked to be routed to a supervisor, but never really was connected in spite of being on call for close to 3-4 minutes 3. A confirmed order which was already dispatched was informed as cancelled causing unnecessary anxieties and worries The entire experience, I would rate as 1/10 The only positive being the ease at which we place order but beyond that nothing was easy Mimimum Stars to be given is 1. Given a choice I would have rated 0 stars.
Dinein.in:
I called to order from a Restaurant called Wok a Tok in T Nagar. I live 10 min from this restaurant. I called at 7:15pm to place an order. I was on hold for 3 minutes and then I got and option for a call back. I chose to do that. I get a call at 7:41pm. I received my delivery at 9:10pm. Worst service ever. This is my first and last time. When I complained, they said that they had too much business and are very busy. Just try an dial 49101010 and see if you can connect to a person in less than 3 min. This is a wednesday not even a weekend.
Foodpanda stood at a whopping 25 reviews and Dinein.in at 4 reviews. I must say people have gone into great detail for the bad reviews in particular.
So going by the bad review score, Dinein.in bags this round.
Round 2: The Choices:
Dinein.in seems to offer more in this category- but that could be due to the fact that they offer groceries too. Foodpanda appears to have around 35 restaurants in a random search on 'Nungambakkam' – but any Chennaite could name many more.
Round goes to Dinein.in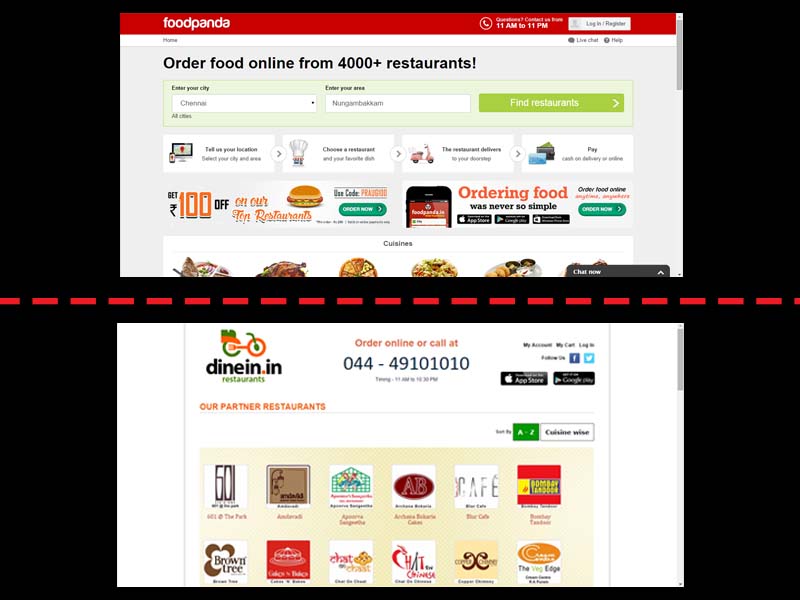 Round 3: Websites:
Easy and user-friendly. Both businesses have good websites. Although, where Foodpanda scores is the menu. You don't have to be a foodie to want to see your food when you order it. Foodpanda totally understands. Dinein.in falls behind where you have to order from a 'list' (Oh, dear god.) and the site is a little sluggish at checkout.
Foodpanda Kung-fu'ed this round.
Round 4: Social Media Presence:
Both brands have pages on Facebook and Twitter and keep them up and about. Going by the numbers, Foodpanda is light-years ahead. Bigger brand, you may argue. But a war's a war. And Dinein.in needs to catch them up.
By numbers alone, Foodpanda has pulled the Panda on Dinein.in for this round.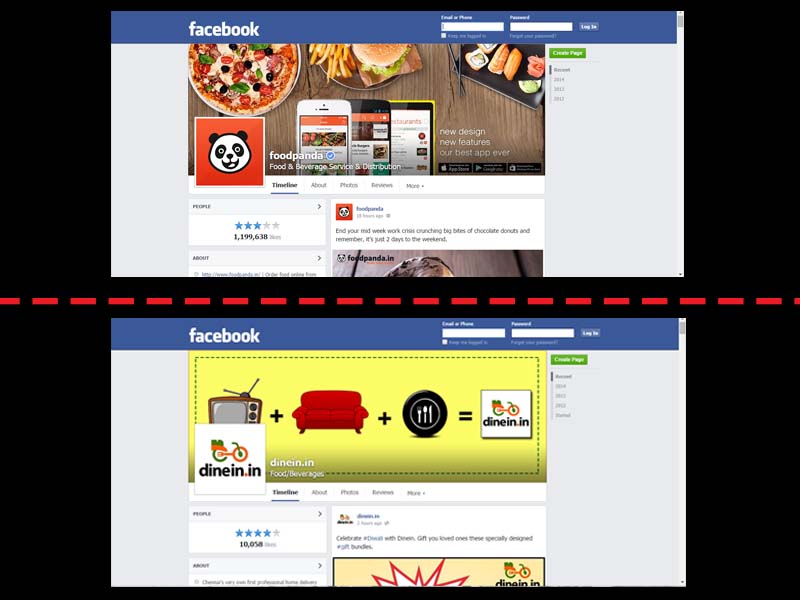 And there you have it folks. When it comes to food, there can be no compromises. So think hard and make the right click.