Focaccio At Hyatt Regency Chennai Has A Delicious Italian Four-Course Set Christmas Menu That You Cannot Miss Out On
Christmas is so close, we can practically taste it. And when visiting the Hyatt Regency in Chennai, we most definitely did! Chef Mauro Ferrari has taken over the kitchen at Focaccia and revamped the menu and changed things up. But don't get us wrong, the customers are totally in love with Chef Mauro and what he's bringing to Focaccia. Having moved from Oman to Chennai seven months ago, Chef Mauro is pretty excited about being here. After speaking to him for five minutes, you can see just how passionate he is about Italian food and creating new dishes and introducing Indian food lovers to something they've never tried before. It's always a challenge introducing European food to Indian palates, because our taste buds are used to the spicy flavours and the different textures that we have grown up with. But one spoonful of pretty much anything Chef Mauro makes will definitely change your mind.
In the week leading up to Christmas, Chef Mauro has designed a special menu to celebrate the festive season. The four-course set menu is now being served at Focaccia and will end tomorrow night and is made up of dishes that Chef Mauro has created and also dishes that he holds dear to his heart. This set menu won't break the bank as it costs Rs. 1,800 for one person, without alcohol. But if the menu is not to your liking, you can order from their a la carte menu and still get delicious Italian food produced by Chef Mauro and his team.
Each course on the menu has a vegetarian and non-vegetarian option, so you can either get what you like or get one of each to share at the table and experience the whole thing. Which is exactly what we did.
First Course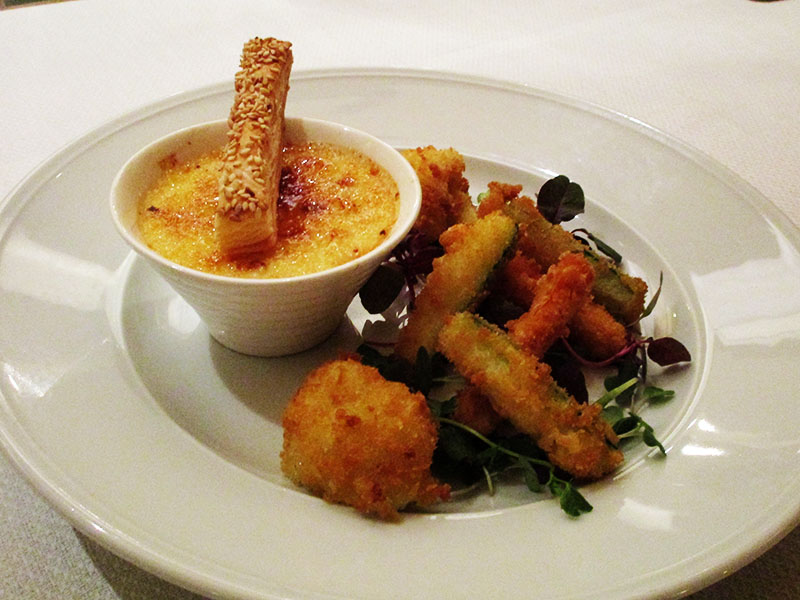 The vegetarian option was a delicious and creamy Cheese Crème Brûlée with Fried Vegetables and Sesame Sticks. The cheese was a combination of sweet and salty, which is something you won't get anywhere else. And just like a regular crème brûlée, the top of the dish had a crispy caramel layer, which you break and then dip the vegetables and sticks into.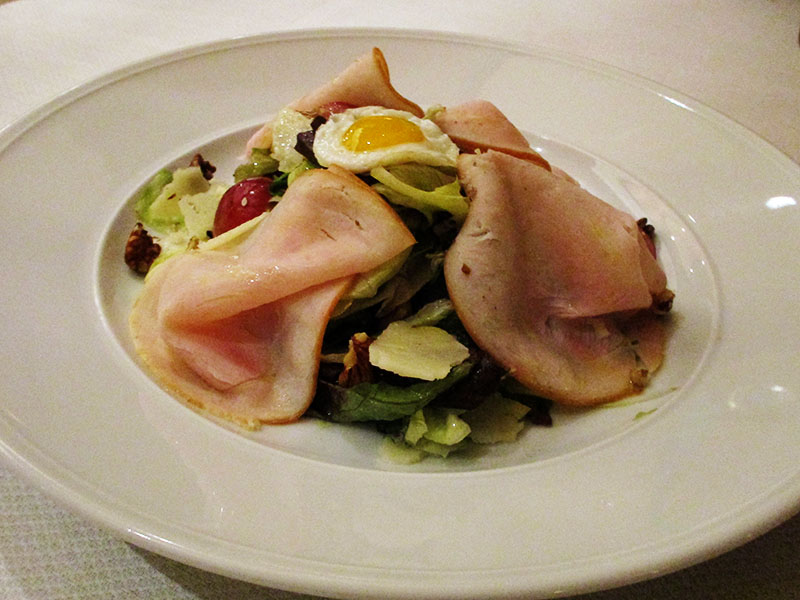 This was another interesting dish despite being a salad. A Frisée Salad with Red Grapes, Smoked Turkey Ham, Pecorino Flakes and a Quail Egg. The vegetables were fresh and light and combined with the ham and the grapes gave it a great balance. And if you've never had quail egg before, now is definitely a good time to try.
Second Course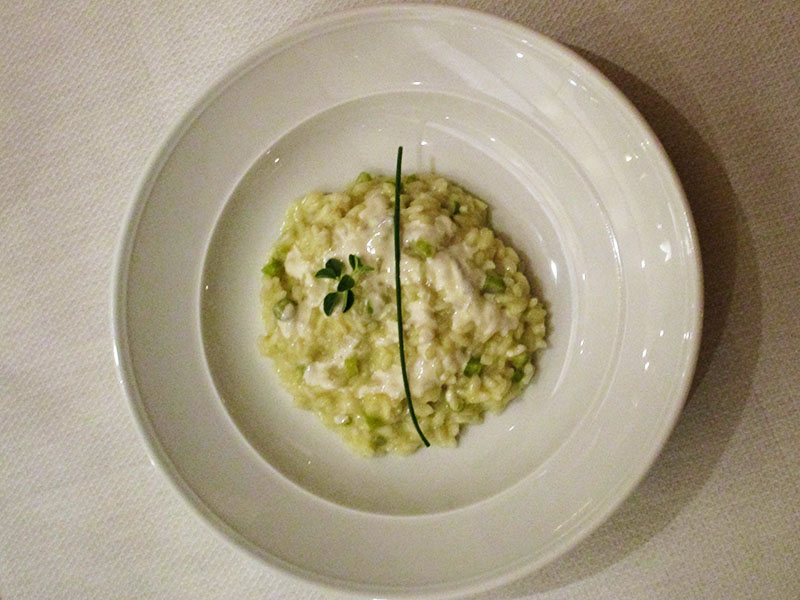 The next course had an Asparagus Risotto with a Gorgonzola Cheese Fondue. It was creamy without being too heavy and the asparagus mixed with the Gorgonzola and the risotto makes it a perfect combination.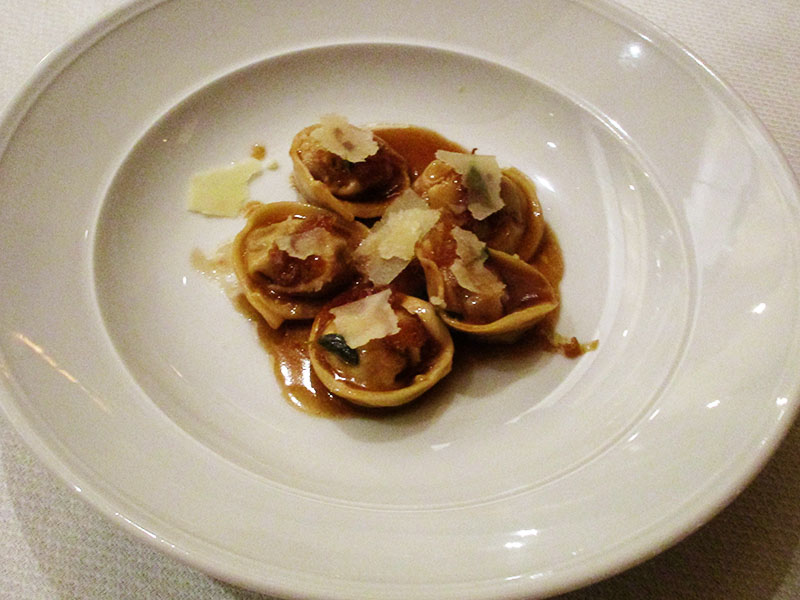 This was a great and interesting dish with a Braised Lamb Shank Tortellini topped with Caramelised Onions, Lamb Jus and Shaved Parmesan. Each mouthful is an explosion of flavour with the sweet and savoury combined thanks to the onions and the jus.
Third Course
The main course was just as perfect as the first two courses. For vegetarians there was a Potato and Mushroom Cream Millefeuille. Usually a Millefeuille is a pastry that is made of thin layers of puff pastry with cream filling, but Chef Mauro's masterpiece had layers of potato with mushroom cream and mushrooms as the filling. So you cut into it and the mushrooms just spill out. This is an absolute treat for mushroom lovers!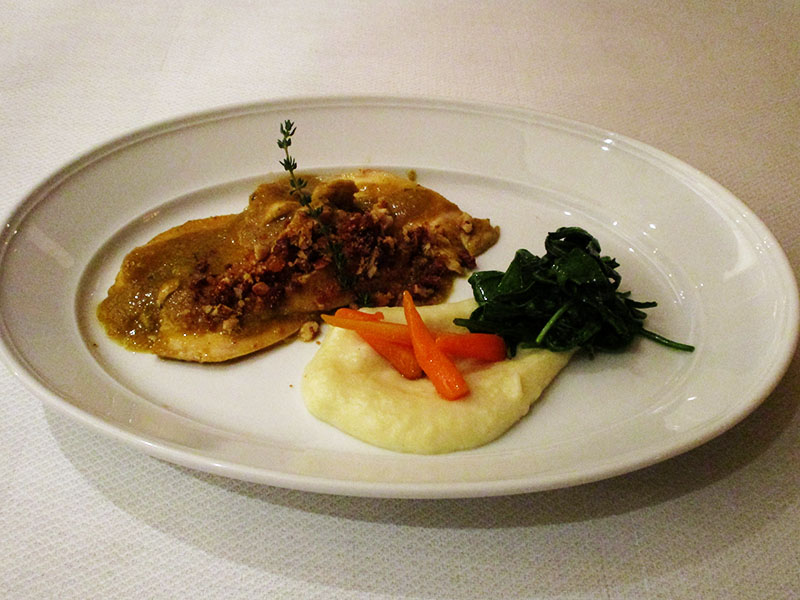 And finally the non-vegetarian main course was a Slow Cooked Roasted Turkey with Natural Jus, Dry Fig and Date Walnut. The turkey was cooked for almost 6 hours, and the meat was so soft it melted on your tongue. If you've never tried turkey before, this should be the first time you eat it because it is delicious.
Fourth Course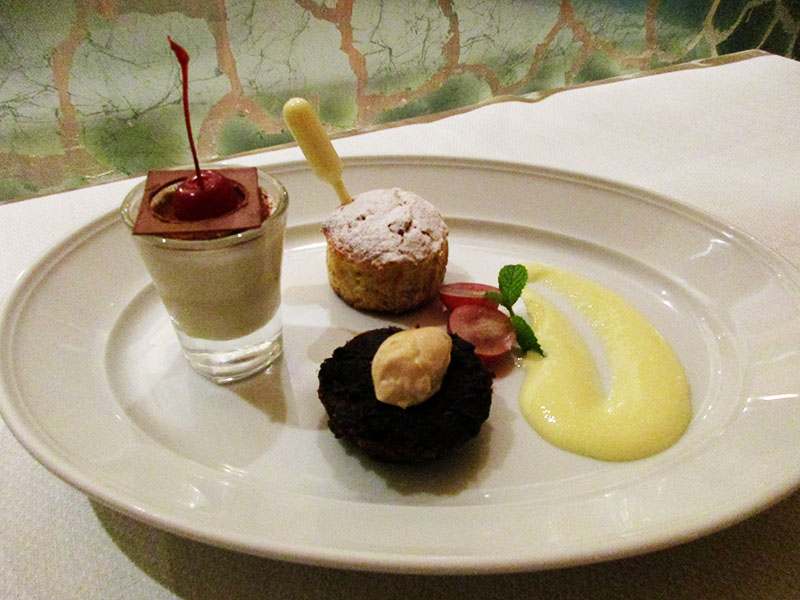 As always, the last course is the best because it's dessert. The dish came with three small Christmas Puddings that were creamy, sweet and the perfect ending to a spectacular meal.
Food lovers, you have until tomorrow, Friday the 23rd, to enjoy this elaborate menu. And then over the weekend, you can enjoy all the Christmas treats that Chef Mauro and the Hyatt Regency have put together. Find out more about the Christmas offers by checking out this article.
The four-course set menu costs Rs. 1,800 (inclusive of taxes) per person at Focaccia, Hyatt Regency, Teynampet.