Floating Noodles Are Now In America And It's Everything You've Ever Imagined
If you're a social media addict like I am, then you'll know that there is always some food fad or another sweeping the internet like a storm and this latest one is no different. Crazy as it may sound, floating noodles are now a thing (no, we're not in Harry Potter), and will now be available in America courtesy of Neptunes Raw Bar in Artesia.
Originating in Singapore and debuted by Hana Restaurant the trend has spread over Asia and finally, to the US of A. For the uninitiated, floating noodles are created when noodles are hung on floating chopsticks so that they look like they are magically suspended mid-air. In Singapore, the queues to take an Instagram-worthy post of the floating noodles surpass two hours!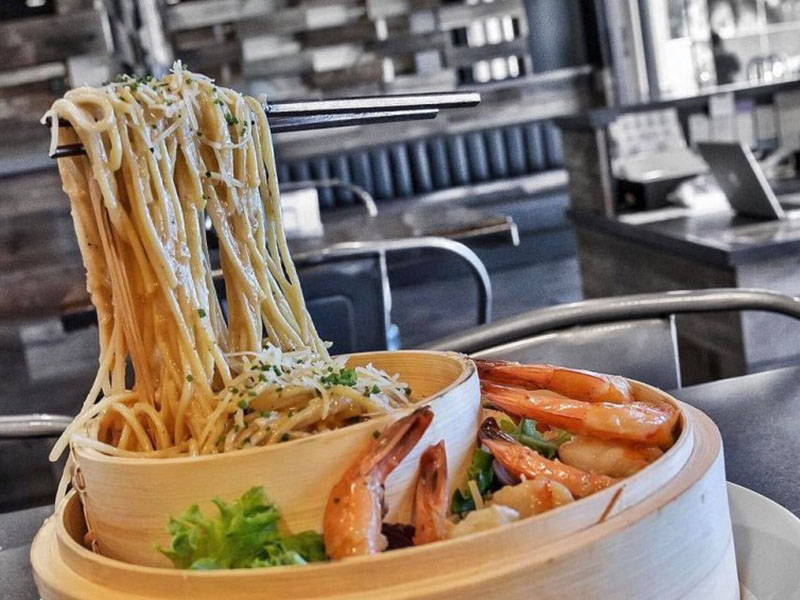 Thankfully, Americans can now get in on the action with delicious garlic noodles instead of the traditional soba or somen, the dish costs $16.99 and comes with mouth-watering flavors: garlic shrimp, deep fried soft shell crab, and chicken katsu. For those of you wondering just how this delightfully gimmicky dish works (hint: it's not wingardium leviosa) unfortunately, there's no magic at all. The noodles are supported by a hidden pole in the basket. Also, you don't get to use the chopsticks at all but are provided with a fork. How disappointing!
Neptunes Raw Bar is known for being on point regarding social media trends, so it's not surprising that floating noodles didn't escape their radar. Andy Nguyen being a part owner definitely played a part in its adaptation in the American subcontinent as he is also an investor in Halal Guys and Afters Ice Cream. Under the capable hands of head Chef Nathan Payo the floating noodles (taste wise) look to be a hit. Only time will tell whether the hype of a social media post will bring in the crowds that will justify this (mediocre?) parlor trick.