Find Out How Anthony Bourdain Picks The Cities He Visits On 'Parts Unknown'
Unless you live under a rock or have gone into a coma after reading about the chai wine, you'd have heard that Anthony Bourdain is coming back with the tenth season of his popular food discovery show, Parts Unknown, which premieres on October 1. This time, the multi-talented Bourdain will take us across eight cities in four continents, some of which he has already been to while the rest will be new territory.
Speaking of new places, is it just us or do you also sometimes wonder how Bourdain and his team pick out cities to explore? In a recent interview for Eater, the host shone some light on the whole process and it's got us wishing that we were on the Parts Unknown team!
How It Goes Down
If you thought that the team sits down around a table and brainstorms for new places to visit, you're wrong. And you if you thought that they're a bunch of adventure junkies, selecting places with the help of a few darts and a world map, you're wrong again. Although, not too far away from the truth. Picking out places for the show is random and casual albeit without the dart and map.
"It'll be late at night, we've be shooting all day in Sri Lanka or Singapore or wherever, and we're sitting in a noodle shop or the hotel bar knocking back some drinks, talking about where we could go to play, to make something awesome that we haven't done before. A lot of it comes from, maybe, movies I've seen. We'll be talking about movies and the look of certain films. And I'll ask, "Where can we go to do that? Where do we go to do a black-and-white show?" That might be something. Or maybe I read about something in the paper, saw a film, or somebody reached out with a history and a particular point of view that excites me."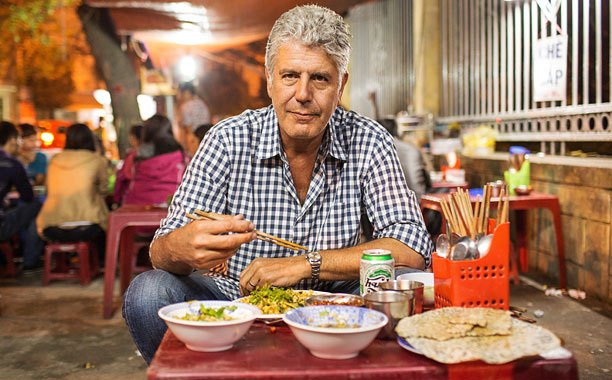 Image: witchdoctor.co.nz
'Parts Unknown' Season 10
So is that what happened for the latest season as well? Did Bourdain and former POTUS kick back with a couple beers to decide where the tenth season should be shot? Well, there was another celeb involved, but not Obama. "This season, I started talking to [alt-rock musician] Mark Lanegan. And it was like, "Well, I want to work with Mark Lanegan." He's from Washington state. We know there's lots of great food in Seattle. We started to think about how the show might look, and the show grew from that.
"Other times, it might come from a suggestion from a friend or a particular historical obsession. Like, I'm obsessed with the history of the Congo, so that was a long ambition to go there. It usually starts with conversations with me and a few other people", the chef told Eater.
Basically, if you want to explore the world through your eyes and palate just get yourself a spot on Bourdain's team and you're golden!
Feature Image: NPR