Fete du Vin Wine Festival Explores The World Of Wines In Bengaluru
The Fete du Vin Wine and Cheese Festival is all set to be unveiled at UB City on July 9th and July 10th giving the wine connoisseurs of Bengaluru a taste of all things exclusive. The festival, organised by BrainstrustDF, will give a sneak peak into the world of wines with exclusive wine tasting sessions, wine workshops, grape stomping and other fun activities.
Wine-Filled Evening
The Fete du Vin Wine festival will bring brands from the world of wine and cheese under one roof, including Four Seasons, Grover Zampa, Sula Wines, Moet Hennessey, Kerry Gold, Bread Works, Fratteli Wines, Enoteca, O2 Spa, Karen Anand, Prestige Cellar, Himalayan Cheese, Fawa. Over the course of two days, people will experience everything involving wine including how to pair several varieties of wine with cheese, an exclusive workshop by Chef Gautham explaining the process of cooking with wine and the art of drinking wine – how to taste, smell and savour a glass of wine. A workshop session with Gaurav Thapar will explore the wonders of the world of wine and how to properly savour a glass.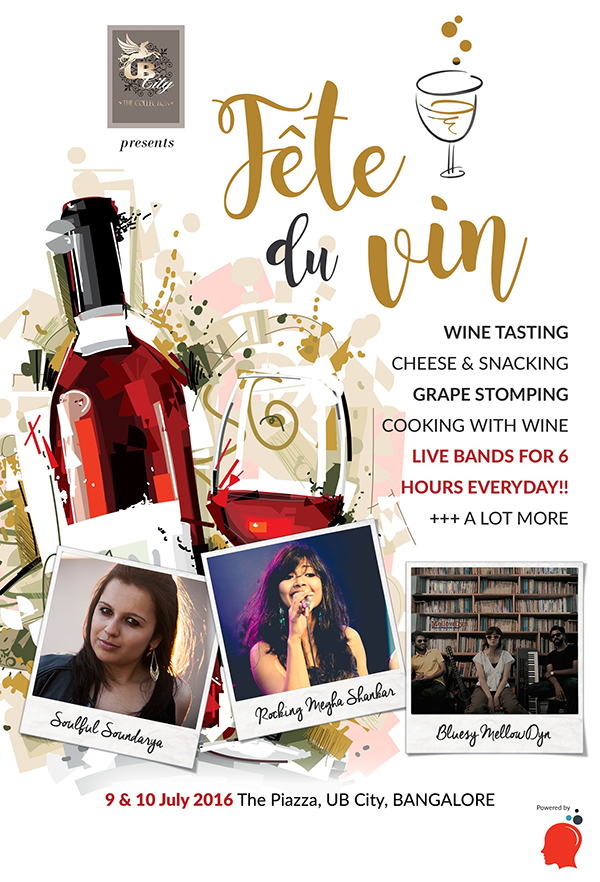 Speaking about the Fete du Vin wine festival, Mr. Girish Khare – Founder and Principal Consultant, The BrainstrustDF, said, "In the last decade, India has warmly embraced the wine culture. While there are numerous connoisseurs, there is a larger group that is yet to be initiated. There's so much more to wine than just sipping it. An educational and fun event such as this helps people understand what goes into the wine, how best to drink it and how to pair it with food. The Fete du Vin is all this, and beyond. Our vision is to make it a knowledgeable, interactive and exciting platform where enthusiasts indulge in their shared passion for wine."
The Fete du Vin Wine Festival will take place at The Piazza, UB City on July 9th and July 10th from 11am to 11pm. Along with a glass on wine, enjoy an enchanting evening with live music and wine knowledge.