FBAI And Vikhroli Cucina Collaborate To Create A Resource For Home Chefs
Last week, the Food Bloggers Association of India (FBAI) associated with Godrej's Vikhroli Cucina and launched 'Home Chef Matters', a platform to help home chefs tap into their potential. Home Chef Matters aims to create a platform where home chefs, professional chefs and other food enthusiasts can come together to learn new ideas and network.
The Players
The Food Blogger's Association of India is a collection of food lovers, bloggers, chefs, writers, hoteliers, restaurateurs and photographers who work together to curate one of India's leading online food media platforms.
Vikhroli Cucina is an initiative by Godrej to create "an ecosystem where chefs, bloggers, influencers, food lovers and others can collaborate to engage, exchange new ideas, gain insights and make new connections with each other."
Home Chef Matters
In line with both the FBAI and Vikhroli Cucina's aim to help everyone involved in the food field network and nurture their love for food, the two platforms held Home Chef Matters. The event saw attendance by experts in the food space like corporate food consultant Rushina Ghildiyal, Chef Saransh Goila (of Goila Butter Chicken), Chef Ajay Chopra, Vicky Ratnani, Chef Harpal Sokhi and Kunal Vijaykar, all of whom shared expereinces and tips on cnceptualising a home chef business, building a successful business plan, presentation skills and building brands through PR & social media.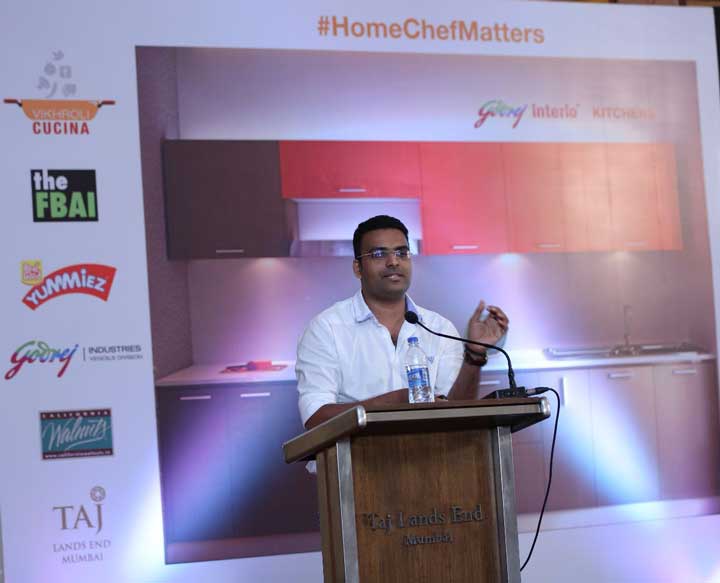 An FSSAI consultant took the stage to discuss the rules, regulations, terms and conditions of the home chef business. This was followed by a panel discussion on opportunities in the home chef space. The event also saw a collection of chefs, from Ananya Banerjee, Sherry Malhotra and the executive chef of Taj Lands' showcasing dishes from their native cuisine.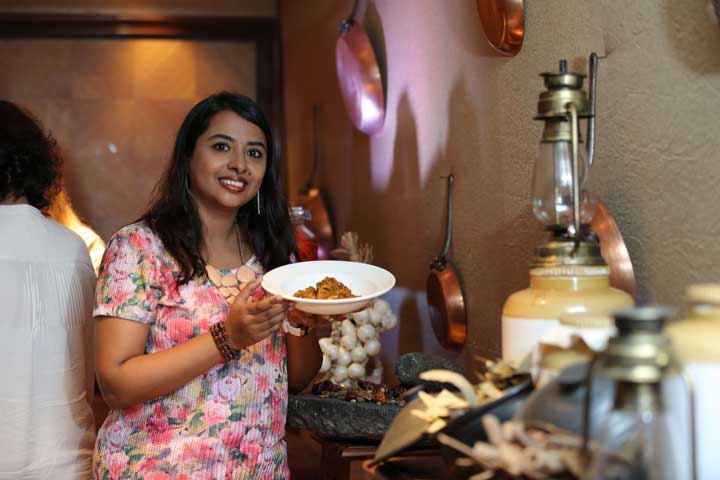 After the discussions, the home chefs participated in a cooking challenge curated by Chef Vicky Ratnani, where they had to create a dish using five 'mystery box' ingredients which included California walnuts and Godrej cooking oil.
Comments and Insights
Commenting on the event, Sujit Patil, Vice President and Head Corporate Communications at Godrej Industries Limited and Associate Companies said, "Vikhroli Cucina is an annual property by Godrej formed with an aim to create an ecosystem where chefs, bloggers, influencers, food lovers can collaborate to engage, exchange new ideas, gain insights and make new connections with each other. We are extremely happy to be associating with #HomeChefMatters and support the endeavours of FBAI in setting up platforms to encourage the rise of home chefs in India."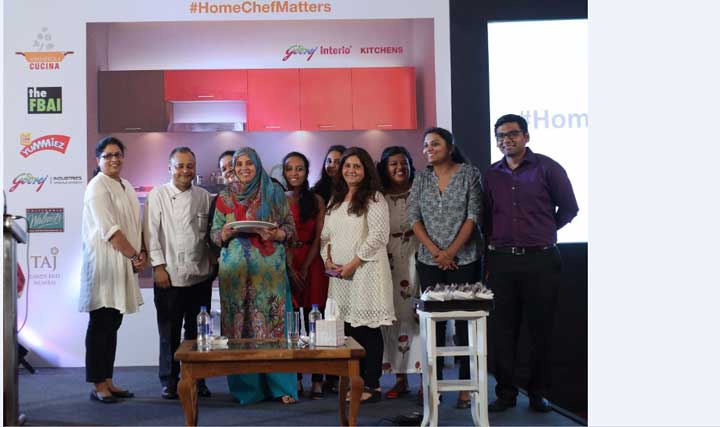 Sameer Malkani, the co-founder of the FBAI added "We are privileged to partner with Vikhroli Cucina a platform created by Godrej to encourage the new-age trends and exchange insights. The trend of home cooked meals has become very popular and such a platform is perfect for budding home chefs to explore the unexplored gastronomic paths and grow their business successfully."
Food consultant, Rushina Ghildiyal discussed how Home Chef Matters is a rich resource both for home chefs as well as other players in the food space: "It was an honour and a privilege to be invited to help curate Home Chef Matters. Commerce from home has always existed but the rise of the home chef or culinary entrepreneur today is something being celebrated by the entire food industry. As the owner of A Perfect Bite Consulting this is a rich resource of knowledge for us and we are proud to offer Home Chefs a platform to spread their wings. This niche taps into generations of food knowledge only available in Indian homes. It only going to grow and get more bullish and I'm looking forward to seeing it happen."