Fabelle's Luxury Chocolate Boutique At ITC Maurya, Delhi Is A Chocolaty Dream Come True!
It's not every day that one gets the chance to eat their way through India's first luxury chocolate boutique. And that's precisely why when we experienced Fabelle's magic in Delhi we decided that everyone must know what awaits them at this chocolate heaven! We got talking to Fabelle's expert chocolatier Sreyoshi Banerjee who gave us an enriching insight into the world of ITC's Fabelle Chocolates.
Fabulous Fabelle
Fabelle Chocolates was conceptualized over a decade ago and has been in rigorous R&D since. ITC brought together master chocolatiers from across the globe worked on sourcing the best ingredients, the product portfolio, and on the brand to launch the luxury chocolate boutique in 2016.
The chocolates whipped up under the Fabelle umbrella are made from only the best coco beans sourced from countries like Ghana and Ecuador, to name a few. These prized beans are further made into application chocolate and boxed chocolates. The latter consists of a range whit, milk, and dark chocolates ranging from as low as 30 per cent all the way up to 84 per cent coco strength.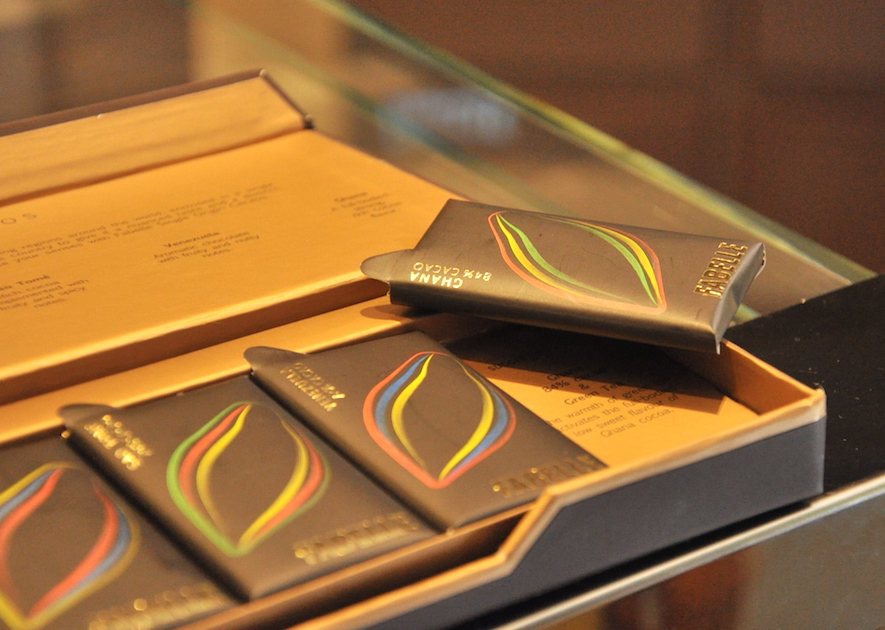 Fabelle's product folio is an impressive collection of ganaches, chocolate bars, chocolate cups, handcrafted desserts, and even coco-rich drinks. But that's not the only reason we found ourselves lounging in ITC Maurya in the middle of the week.
Sitting right next to the hotel's swimming pool, the exquisitely done up space packs a calming environment complete with some plush lounge chairs and couches to give you that extra comfort while you sink your hooks into a mousse, sip on some espresso, and basically just indulge a little.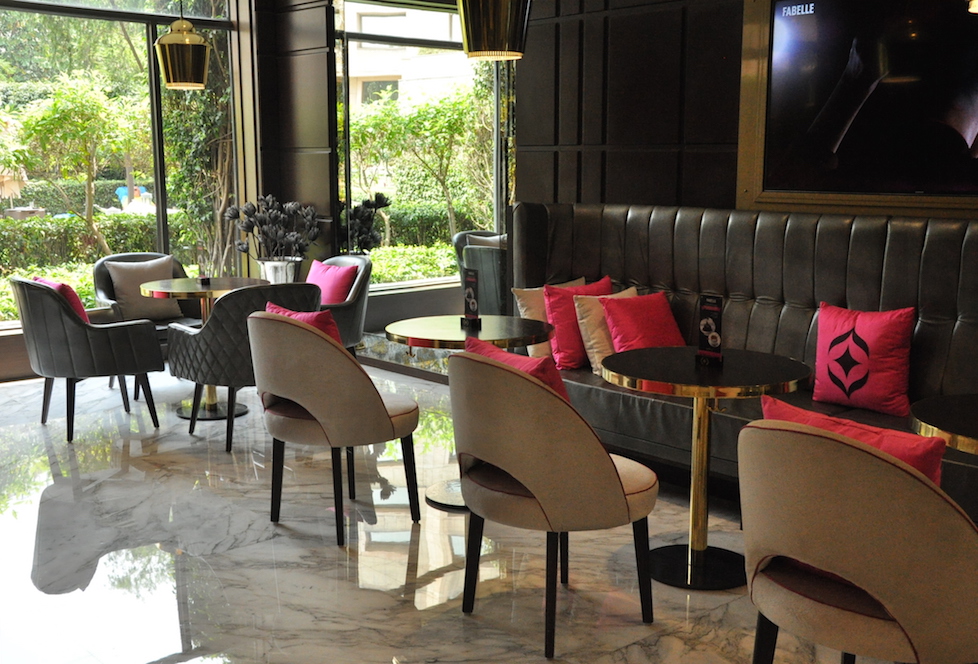 Sugar & Guilt Free
Speaking of indulgence, wouldn't it be amazing to experience chocolate in all its richness and brilliance without compromising on calories? Well Fabelle has got you covered on that end as well with its newly launched 'No Added Sugar' range that steers clear of sweeteners and instead relies on a special low GI sweetener that is derived from sugarcane for a truly unmatched experience! No, we aren't harping on just for the sake of it because we did, in fact, treat ourselves to Fabelle's 'no added sugar' milk and dark chocolate ganache, which were an instant hit with our palate, mind, and soul!
According to Mr. Hemant Malik, Divisional Chief Executive, ITC Foods Division -"Creating a unique and contemporary chocolate experience has been at the heart of conceptualizing Fabelle chocolates. The No Added Sugar Range is crafted in a manner that does justice to both the experience and the ingredients – not compromising one for the other. At ITC, we strive to keep our consumers pleasantly surprised and with our No Added Sugar Range, we are confident about receiving an encouraging response."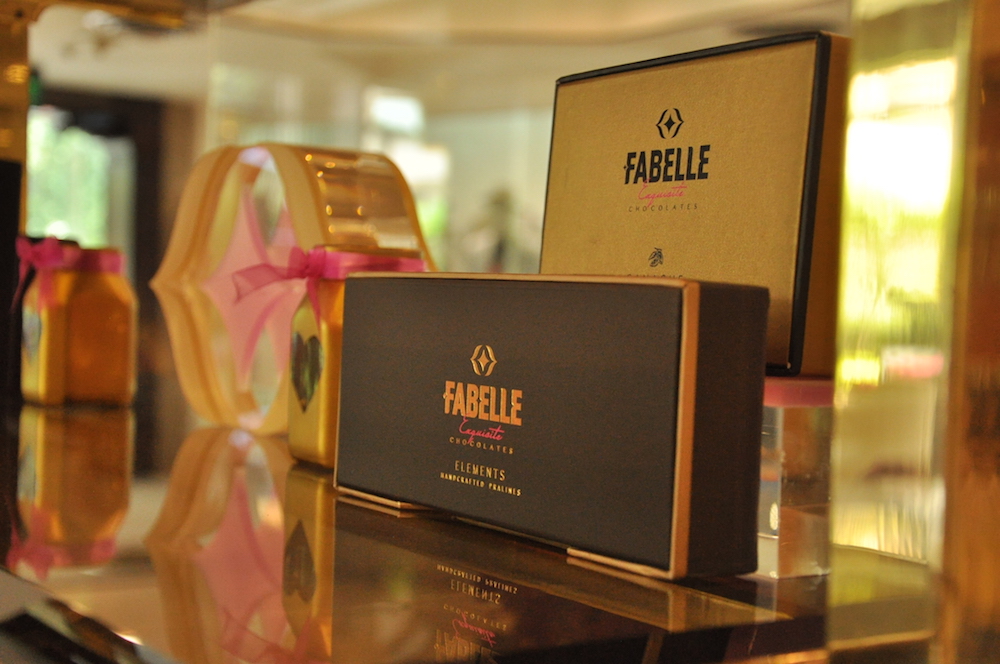 But that was just the beginning of what turned out to be the best time our taste buds have seen in a long time! Chocolatiers Sreyoshi and Akash toppled us over into a marvelous world of coco and dreams with three gorgeous desserts. Here's our two pence on Fabelle's handcrafted desserts.
What We Had:
Ghana Milk Chocolate Mousse
The Ghana Milk Chocolate Mousse is Fabelle's genius take on the classic banoffee pie. In fact, it is a unique blend of the banana toffee dessert and a creamy 33% milk chocolate mousse enriched with luscious toffee, coconut, and vanilla undertones encasing a dreamy banana crème placed atop a crunchy hazelnut base that balanced out the sweetness of the dessert perfectly!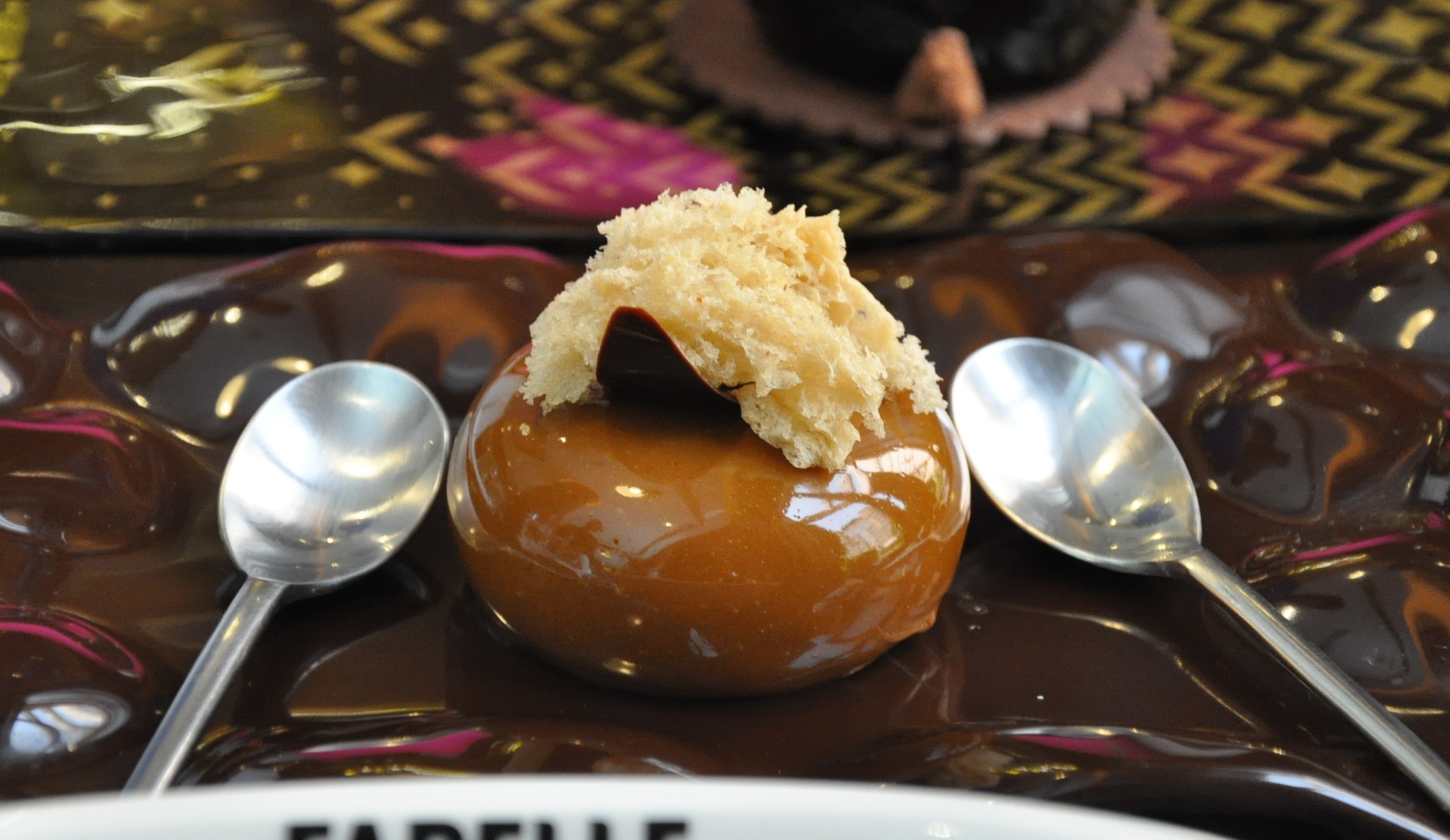 Signature 84% Dark Chocolate Petit Cake with Fleur De Del
If you like your chocolates bitter dark and dessert heavy then this Dark Chocolate Petit Cake is an accumulation of all your dreams and wishes! A rich multi layer dessert, this chocolaty petit cake packed a heady coco punch with a velvety dark (very dark) mousse with a slight hint of citrus, placed on a textured sea salt-nut sablé and finished off with the most flawless chocolate glaze.
Almond Feuilletage With Balsamic Chocolate Ice Cream
We would easily tout this as the star of their 'No Added Sugar' range because that's what it truly was – a superstar dessert. The dessert struck an amazing balance between rich chocolate and a burst of exotic and tropical flavours with an almond feuilletage that was served with a side of tangy balsamic chocolate ice cream (yes, such a thing exists!), fresh fruits, chopped nuts, and a delicious dark chocolate drizzle. See what we mean when we say 'superstar'?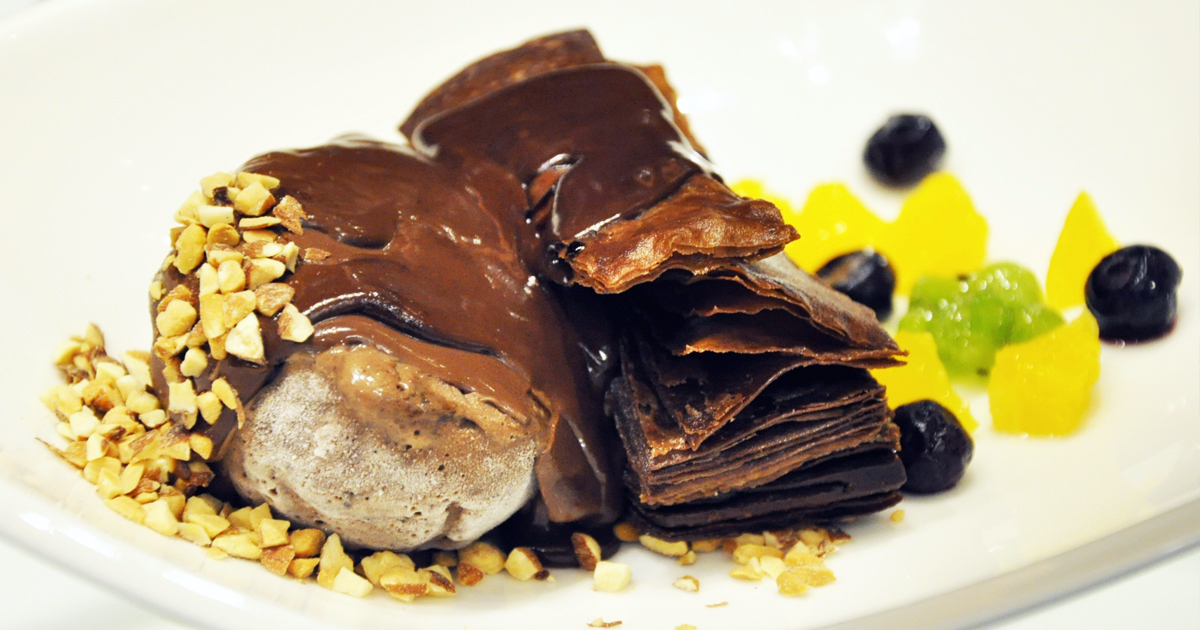 In closing we'd like to say that if you want the complete handcrafted chocolate experience and want to enjoy chocolate the way it is meant to be the Fabelle is the place to be. Currently Fabelle outlets are present only in the ITC Luxury Collection Hotels in Delhi, Bengaluru, Chennai, Kolkata, and Mumbai. But the boutique will soon venture into retail as well but till then kick back with a petit cake and hot coco at one of these outlets!