Experience Something New With The Khantoke Festival At Lotus, The Park Chennai
Celebrating unique festivals is something that The Park Chennai has been doing for a while now. Whether it's a traditional Indian food festival or something a little different, you can be guaranteed to feast on a meal that you can't find anywhere else. The Khantoke Festival is the latest one, happening at Lotus the Thai restaurant at The Park. Thai food, in general, is filled with flavours that we as Indians can relate to and also enjoy thoroughly. This kind of cuisine blends other South East Asian flavours with their own, using coconut milk, mango and other fruits in various dishes. Thai food is not something that is popular with a lot of people, but it is still quite a delicious cuisine to enjoy.
The Khantoke is a pedestal tray that is used as a dining table, with rice in the center and the dishes spread around it. It's a meal that is enjoyed by the Lanna people of northern Thailand. And now, The Park has brought that way of eating to Chennai. We met with Executive Chef Ashutosh Nerlekar to better understand the Khantoke Festival at Lotus. "It's usually done at the end of the year – October or November. But we launched our new menu a few months ago and we wanted to do something new, which combines everything together. It's a customised buffet, and it's a melange of ingredients and flavours. It comes in vegetarian and non-vegetarian."
The special tables that are used to serve the food was made just for this food festival, and the craftsmanship is quite brilliant. And like Chef Ashutosh said, it is a buffet where you get a smaller portion of everything and you still get to enjoy a culinary treat with all the food that makes Thai cuisine so wonderful. Chef Ashutosh also added, "This khantoke we're doing is essentially a tasting platter, so to speak. So the idea is that you get everything in one go – you get noodles, rice, satay, starter, dessert. I wouldn't like to call it like a thali, but essentially that's what it is, as opposed to ordering one or two dishes that guests usually order. Here we're giving them a chance to try a whole lot of things where they can completely understand the A-Z of the Thai cuisine."
For those who don't like sticky rice, you can ask for Jasmine rice instead. And it's important to keep in mind that when ordering the khantoke, the food preparation takes close 30 minutes, but you can be guaranteed to get all your food at one time instead of a dish at a time.
Here's what the Kantoke looks like, along with the dishes that we got to enjoy.
non-vegetarian khantoke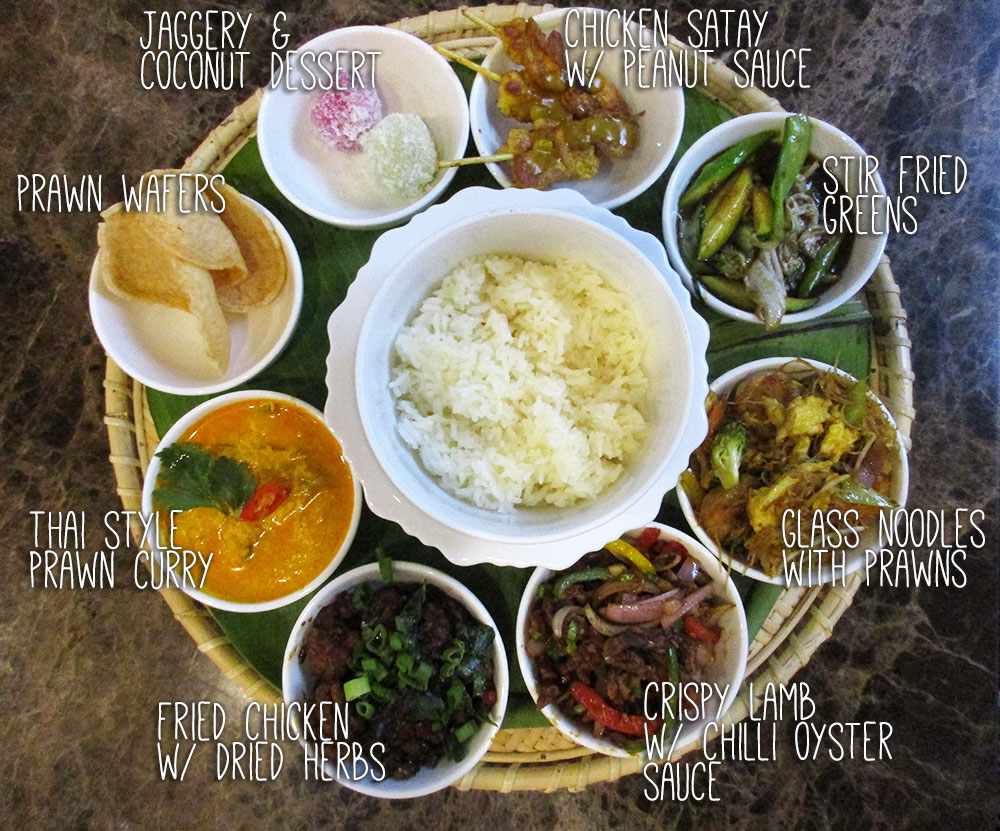 There's an order to eating the food, you obviously should start with the starters and work your way to the dessert. First up, was the Chicken Satay with Peanut Sauce, it's a combination that is extremely popular in Thailand and obviously the first thing that pops into our heads when someone mentions Thai food is a Chicken Satay. Then we had the Crispy Lamb With Chilli Oyster Sauce which has a nice bite of spice to it. Next on the Khantoke was the Fried Chicken With Thai Herbs, made of nicely cooked chicken pieces doused in Thai herbs. Each Khantoke is served with sticky or Jasmine rice and glass noodles. In this Khantoke, the sticky rice can be eaten with the Thai Style Prawn Curry With Egg Drops And Celery, which is a perfect combination of Thai food. Enjoy the Spicy Cilantro Vermicelli Noodles With Prawns along with the Stir Fried Greens, to balance out the meal. There are also Prawn Wafers which help clear your palate and then end with the Rice Balls Stuffed With Jaggery and Coconut.
vegetarian khantoke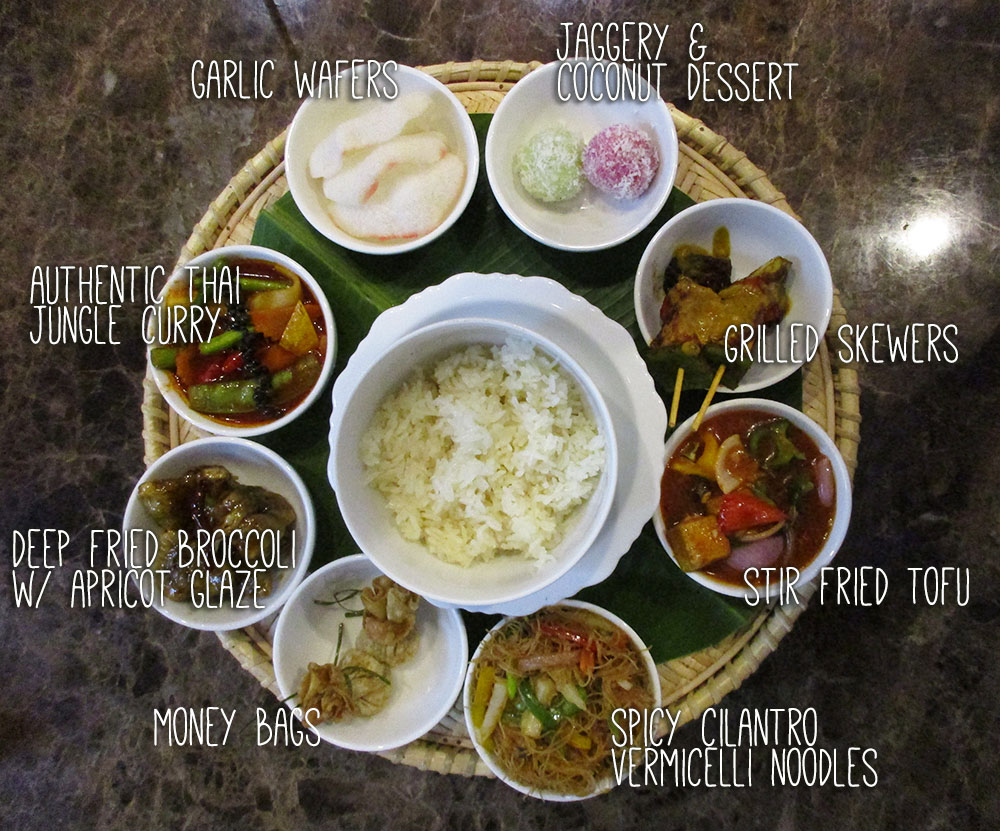 Much like the non-vegetarian Khantoke, the vegetarian one also as a method where you start with one thing and end with the desserts. The Vegetarian Satay has broccoli, bean curd, capsicum and pineapple. Then they have the Money Bags filled with chopped mixed vegetables and served with a sweet chilli dip. Also, Deep Fried Broccoli Tossed With Apricot Glaze is on the menu, it's something different from the usual and an interesting twist for your taste buds. Onto the main course, with the sticky rice, you can enjoy the Authentic Thai Jungle Curry, while you can mix the Spicy Cilantro Vermicelli Noodles with the Stir-Fried Tofu With Bell Peppers and Basil Sauce. Instead of Prawn Wafers, there are Garlic Wafers and the same Rice Balls Stuffed With Jaggery and Coconut.
The Khantoke Festival is happening at Lotus, The Park Chennai till March 12th , 2017. Call them at 044 4267 6000 to make a reservation today!