Exclusive: A Look Into The Workings Of Box8 With Founders Amit Raj and Anshul Gupta
Back in 2012, Amit Raj and Anshul Gupta, both IIT graduates decided to make their mark in the food world by launching Box8, a meal delivery service which prepares and delivers wholesome boxes of food at pocket friendly prices. Today, Box8, which operates in Mumbai, Bangalore and Pune has a legion of fans.
How It Works
Customers using Box8 can click on to its website or app, where after selecting their delivery location they will be presented with an extensive menu including All In 1 Meals, Biryani, Wraps, Sandwiches, Salads and Pizzas. After selecting their dishes they place their order and are guaranteed the delivery within 38 minutes.


Box8 is unique in that it operates in demand and prepares food at different locations across the city ensuring both food freshness and a reduction in delivery time. It also has an extremely talented team of chefs putting the meals together, some of whom have worked with the ITC and Marriott hotels.
Delving Into The Workings
To understand more about how the service works, we had a chat with Anshul and Amit about the company's operations, menu and where it is heading. Take a look:
What gave you the idea to begin Box8?
Anshul: "We've always wondered why the likes of McDonalds & Dominos haven't emerged from India. We are just trying to be the answer- A Made in Indian chain for sumptuous Indian meals. There is a large urban population in metro cities which frequently eats outside, courtesy their lifestyle or living away from family. And we intent to become a 'go to' brand for this set of customers."
When designing Box8's menu, what did you want to keep in mind? How do Box8's dishes appeal to the Indian palate?
Amit: "The focus lies in preparing food which is delicious, easy on the stomach and made from quality ingredients, allowing the consumers to order food frequently
Our mantra is: Serve what we love to eat.
We have a twofold intent, one is to offer our customers different experience through different categories and second is to be a one stop solution for a full course meal or for snacks:-
'All in one' offers a wholesome Indian meal with a main curry and a side curry along with rice or paratha and a dessert to compliment. 'Box' offers fusion of different Indian delicacies like dal, Paneer, rice along with Chatni, salad etc.
Wraps, sandwich and salads in many cases acts like evening or late night snack."
Describe the importance of technology in Box8's operations.
Amit: "We set out to be a food company and that still is the heart of the organization. In order to be more effective in doing so, technology plays a big role. It helps us to be efficient in running operation, which in turn helps us deliver the very best experience to our customer.
Technology helps us build platform between customers, delivery units, kitchen and vendors. This helps in seamless exchange of information, automated operations, and allow us to take better, informed decisions."
What kind of experience do you hope to deliver to the Box8 customer?
Anshul: "Absolute delight. Nothing less. In all aspects.
It is for that intent that we follow a full stack approach, where we manage and control all aspects of the operation chain. From procurement, to preparation, till last mile delivery; and this helps tremendously to offer the very best to our customer in all aspects of experience – super easy ordering, great food, excellent process and super fast delivery."
What have been some of the most rewarding moments since you started Box8?
Anshul: "There have been a few milestones that we have achieved in last couple of years; getting funded, expanding to Pune and Bangalore, serving 4 million meals within a year and others. But for us, a true moment of joy is when a customer is delighted and talks good about us. That acts as a stimulus for us to further commit ourselves to deliver a wonderful overall experience."
You recently raised $7.5 in Series B funding. What is your strategy going forward? In what way do you hope to expand?
Amit: "The funds will help us strengthening the supply chain Eco system, building superior technology, enhancing product development and expanding into new geographies.
Our focus has always been to go deep into each market, understand our consumer completely and deliver a superior customer experience. Our strategy of establishing ourselves in certain key markets, instead of spreading wide and thin has helped us scale fast and develop a loyal customer base in a capital efficient manner. With the growing working class and their changing lifestyle preferences, there is immense potential to be tapped. This new influx of capital will allow us to capitalize on the opportunity by expanding to three to four more cities using the same micro intensive approach."
Comment on the food start up scene in India.
Amit: "Food start up can mean different things for different people, it can be interpreted as aggregators, food tech, online ordering or just delivery logistics. And a lot of developments are happening in each domain of it. The food start up industry overall has seen its highs and lows, which happens in every industry but as long as there is demand and you are offering a relevant and unique value, you will be needed. Hence, we have based our fundamentals on traditional way of doing a business, focus on your product and experience and rest will take care of itself."
What are some of your personal favorite dishes from the menu?
Anshul: "Its perhaps the most difficult question to answer, all our products are very close to our heart, but if I had to answer, I would say I am a big fan of All in one meal and Box. One offers a palette of different Indian dishes, the other is fusion of same."
Explain the concept of All-In-1 Meals and the Staples Box .
Anshul: "'All in one' offers a wholesome Indian meal with a main curry and a side curry along with rice or paratha, with a dose of salad and chutney and a dessert to compliment. It comes in a convenient disposable palette and a person can choose from 11 different varieties."
'Box' offers fusion of different indian delicacies- It is multi layered meal that is a blend of a curry, protien (chicken, paneer, etc), salad, chutney, yoghurt. It is a perfect combination of taste and fusion and. Catered to the palate and preference of the urban Indian, it's very convenient to consume as well."
Tasting The Talk
It was on that note that we clicked over to the Box8 website ourselves to taste the talk. After a little back and forth, we decided on the All In 1 Exotic Mushroom meal, the Chicken Tikka Biryani the Chicken Mayo Wrap and a Rich Chocolate Brownie for dessert.
Within thirty minutes of placing the order, the food arrived at our door, piping hot and arranged in convenient, microwave friendly boxes with disposable cutlery.
We began by unwrapping the Chicken Mayo Wrap, which, true to its name was dripping with indulgent, creamy mayonnaise. The chicken itself was tender and juicy while the wrap was whole wheat and therefore fibre rich.
We then went on to sample the Chicken Tikka Biryani which boasted a generous quantity of chicken, long grained rice and – most importable when it comes to biryani – a large dose of heady masala which gave both the rice and chicken a decadent, slightly spicy flavour.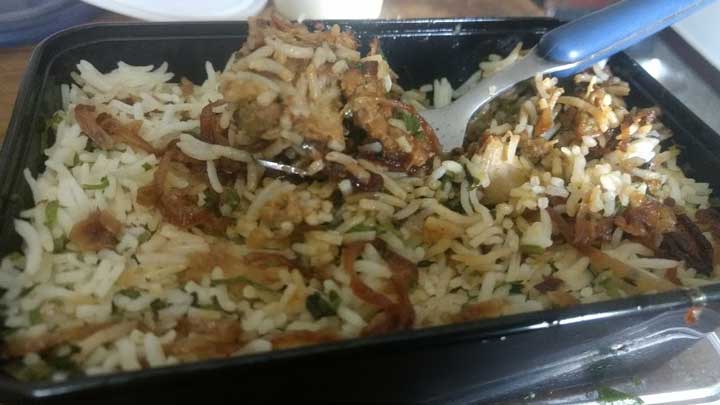 After devouring the biryani, we turned our attention to the All-In-1 Meal box, which as Anshul said, was neatly packed in a separated plastic tray and consisted of two curries, a side salad, a good portion of rice and a brownie for dessert. Priced at Rs.178, the Exotic Mushroom Meal was an excellent value for money as it would make a nourishing, balanced meal for any individual. We were particularly impressed with the mushroom makhani curry which was thick with mushrooms and crunchy corn – making for a wonderful balance of textures – and the accompanying long grained rice which was subtly flavoured with jeera and coriander. We were also delighted with the brownie which was soft, warm and rich.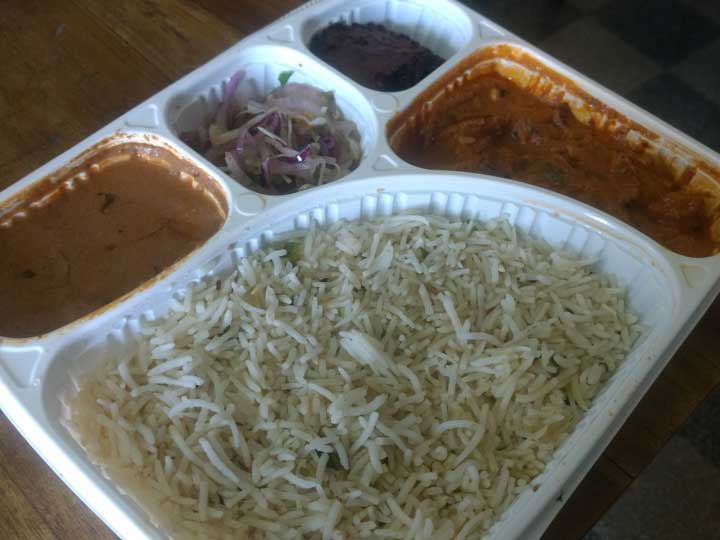 Of course, once we were done with the meal, we had a second, larger brownie to turn to which was similarly rich and indulgent; indeed the perfect way to end the meal.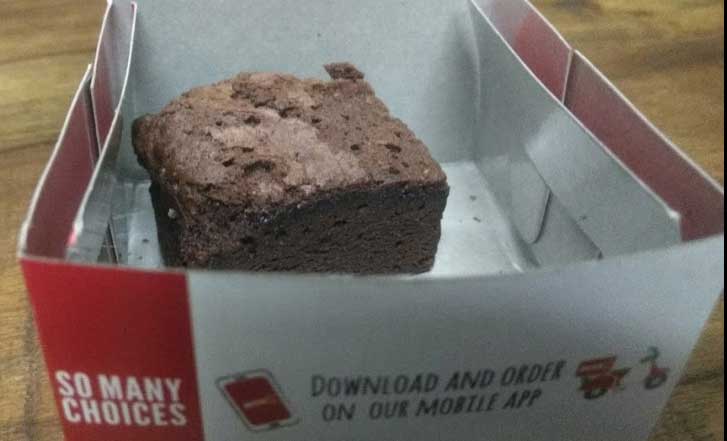 With food like this, it's not hard to see why Box8 is being welcomed with open arms from consumers across India. We look forward to seeing them expand into other areas and meeting with even more success in cities they're already established in. Want to know more? Head over to the Box8 website here.