Equipment required to enjoy Whiskey/Beer at home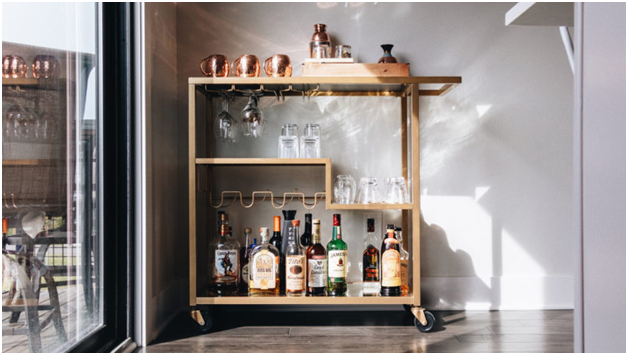 Hanging out at bars and pubs are always fun. Having a few drinks with your friends or getting to know strangers at bars can be a very enjoyable outing. But nothing beats the luxury of drinking a couple of beers at your home and relaxing while you sit back and enjoy your favorite television show. The peacefulness and freedom of having some drinks whenever you want at your home is something that a public bar or a pub can never offer.
A home bar is a dream for many people. Setting up your own bar, with only your favorite drinks, and bartending for yourself can turn out to be an exciting experience for you. However, you would require certain equipment at your home that could help you enjoy your time while you are relaxing with your whiskey or beer at home. We have made a list of some equipment that would definitely make drinking at home an enjoyable experience.
Whether you are drinking at a bar or your home, it is always important to know how much you are drinking. Measuring your drinks is crucial as you do not want to go overboard even if it is at your home. That is why a jigger is essential in a home bar. The quality and taste of your drink are purely dependent on the measurements.
 So, ensure to get yourself a good quality jigger to have peaceful evenings at your home. Jiggers come in different sizes and measurements. It is better to know the usual proportion of your drink and buy your jiggers accordingly. We suggest buying the ½ x ¾ ounce jigger, as it could be ideal for many.
Price – $7.76
The ice trays you have at your fridge to go with milkshakes and smoothies are completely different and aren't effective with your whiskey. The ice made in fridges are weak, small, and can be chipped easily. Which means they get dissolved way too faster in your whiskey. Large or medium-sized ice cubes are the best to go with your whiskey, as they do not dilute easily, providing a good balance to your drink, keeping it cooler.
Even bars or pubs provide big ice cubes as they are more stable and comfortable along with your drink. So, it is better to get a big ice tray to enjoy your drinks in a better way at your home. Bigger ice cubes are solid, strong, and one cube is more than enough to withstand your drink even if you are a slow drinker.
Price – $10.99
A can opener is a very valuable equipment to have in a house irrespective of whether you have a bar at your house. This is because can openers are used to open bottles and cans of different types that are also used for cooking. But here, a can opener is necessary for a home bar as sometimes it gets very difficult opening up a bottle of beer or champagne. 
Can openers can offer a smooth drinking experience as it is always reliable. No one wants to struggle to get their beer cans/bottles or champagne bottles open. We've found a great can opener for both your kitchen and drinking needs.
Price – $8.99
It is always better to use rock glasses to drink your whiskey when you want the ingredients to muddle. It is kind of like a tradition to serve whiskey with ice cubes in it. The ice cubes get muddled down causing no disturbance to the drinker if you use rock whiskey glasses. Whiskey glasses provide a wholesome drinking encounter, making each one exciting.
Another reason why you should get a pair of whiskey rock glasses is that two nice matching glasses make your home bar look perfect when a couple of people are drinking. Even if you are drinking alone and in the mood for a whiskey double, pouring it together in one big glass, spoils the proportion for you as the ice makes it more dilute,. Rock glasses come in perfect sizes, where your drinks can be enjoyed with the perfect proportion.
Price – $29.99
Cocktails are always fun even when you are having one at home. Even though the cocktails made at bars and pubs seem overwhelming, with the right recipe and the tools, you can also make spectacular cocktails at home. Bar spoons are one of the most important tools that are a must when you decide to make cocktails at home.
These things can also be used as a measurement tool for the syrups you mix with your drink. However, the main purpose of the bar spoon is to stir up your drink well enough to make your cocktail perfect. When you decide to buy a bar spoon for your home bar, ensure to buy one long enough for it to be at least a few inches longer than your glasses.
Price -$8.99
Another important piece of equipment that is a must to make cocktails at home is a two-piece shaker set. Yes, it is the one those bartenders shake your cocktail with before finally making your drink. The idea of shaking your cocktail is to chill and dilute your drink and also to make tiny bubbles at the top of your drink.
This makes your drink look fancier and also the more chill and dilute your cocktail is, the more tasty and enjoyable your drink gets. You cannot use any other glasses as substitutes for the two-piece shaker set, as no other glasses are custom made for shaking purposes, and wouldn't give you the exact grip a Boston two-piece shaker set gives you.
Price – $24.95
We all know how often the need for a lemon or sweet-lime juice arises while having a few drinks. This is because the citrus juices go well with alcohol, better than any other fruit. Cocktails with the flavor of lemon or sweet-lime in it give a whole new dimension to your drink. You can also use the citrus juicer to make orange juice if you ever want to try out a different kind of cocktail.
Price – $17.99
Conclusion
Drinking and driving is a very serious and punishable offense. But if you have a bar set up at your house, the need to drink and drive never occurs. Even though going out to pubs and having a few drinks is enjoyable, the occasional drink at your own house on a fine evening is something that can never be overlooked. So, get the perfect home bar set up with all the above-mentioned equipment and have a delightful drinking experience at home.