Equipments Required For The Food Photography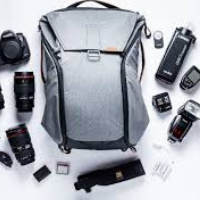 For those looking to take lip smacking, amazing photos with regard to food, we have compiled a list of equipments that are needed for food photography.
Details at its finest. Seize split-second moments. Discover a fresh point of view. Intuitively designed for easy handling. Cinematic brilliance. Share your creations on-the-go. 24.2 effective megapixels, an Expeed 4 image-processing engine and an ISO range of 100-25600 that captures beautiful and vibrant imagery. Inspiration also comes easy when you discover new perspectives 2 with full HD videos and time-lapse movies. Sharing your moments is now easier with a one-time setup 3 through the SnapBridge application. Designed for portability, this lightweight camera features an innovative monologue structure that is strengthened with a carbon-fiber composite material for outstanding durability
2.   Nikon 50mm Nikkor F/1.8D AF Prime Lens for DSLR Camera
Compatible with Nikon F (FX) cameras. Focal length of 50 mm and maximum aperture of 1.8 mm. Compact and lightweight D-type normal lens. Nikon Super Integrated Coating for high-contrast images even with maximum aperture. Great depth-of-field control with down to f/22 of f/stops. No image stabilisation. Includes: Front Lens Cap LC-52
3. Vanguard Alta Pro 2+ 263AB 100 Camera Tripod (Black)
Ball head – 360 degree panning, friction control, 2 Bubble levels, quick release arca-type system, rapid action – intuitive set-up in a matter of seconds. Unique Perspective: MACC (Multi-Angle Center Column) for limitless shooting angle, never waver – firm hexagonal center column. Position Versatility: 3 section legs with 4 position angles – 20 degree, 40 degree, 60 degree, 80 degree, robust – magnesium, aircraft aluminum for lightweight and long-lasting performances. Rock solid positioning – unique "locked" "unlocked" twist-Lock system, level headed – bubble level control. Firm on your feet: angled rubber feet to match any terrain (spiked feet available to be purchased separately).
4. Fotodiox 5-in-1 22″ Premium-Grade Professional Collapsible Disc Reflector
Fotodiox Pro 5-in-1 Reflector – 22in (55cm) Premium Grade Collapsible Disc (Silver/Gold/Black/White/Diffuser)
5. Priyam Speedlite Flash Bounce Card, Diffuser, Reflector for All Types of DSLR Flash
Made by Good Quality Plastic. Compatible with most of the flashes. Easy to use. Give best result in still photography. Protect your images from extra shine.
6. Tether Tools TetherPro 15 feet USB 3.0 Male to Micro-B Right Angle Cable (Orange)

Super Speed USB 3.0 has a 5 Gbps signaling rate offering up to 10x performance ncrease over USB 2.0. Optimized Power Efficiency and Fully Shielded. Integrated Sync-N-Go technology minimizes user wait-time. Backward compatible with USB 2.0. Devices inter-operate with USB 2.0 platform.Additional accessories pictured are shown for display purposes only. All items are sold separately.
7. Neewer 28 inches x 28 inches/70 cm x 70 cm Speedlite, Studio Flash, Speedlight and Umbrella Softbox with Carrying Bag for Portrait or Product Photography

The light diffusion surface is 70 × 70 cm, with wide range of applications, suitable for portrait or product photography. It is a soft box when being spread, simple to use; like an umbrella when being folded, small size, with a special bag, easy to carry. The umbrella body made of high-density nylon material, high reflective; double metal frame, light and solid, 8  mm umbrella shaft, suitable for a variety of flash holders. Can be used with flashes and some studio flash lights with umbrella hole. Main Material: Nylon.