Enjoy Trump & Hillary Freakshakes At This London Restaurant
The American Presidential debates might be over, but that doesn't mean that you can't try something new and totally crazy. Remember the freakshake craze? Well, a restaurant in London has taken it up a notch with their newest freakshakes.
The Diner, an all-American restaurant in London has created Hillary Clinton and Donald Trump freakshakes as a lead up to the big day for all Americans. As all freakshakes go, these new ones are crazy in every possible way and loaded with all the great things that make a freakshake what it is.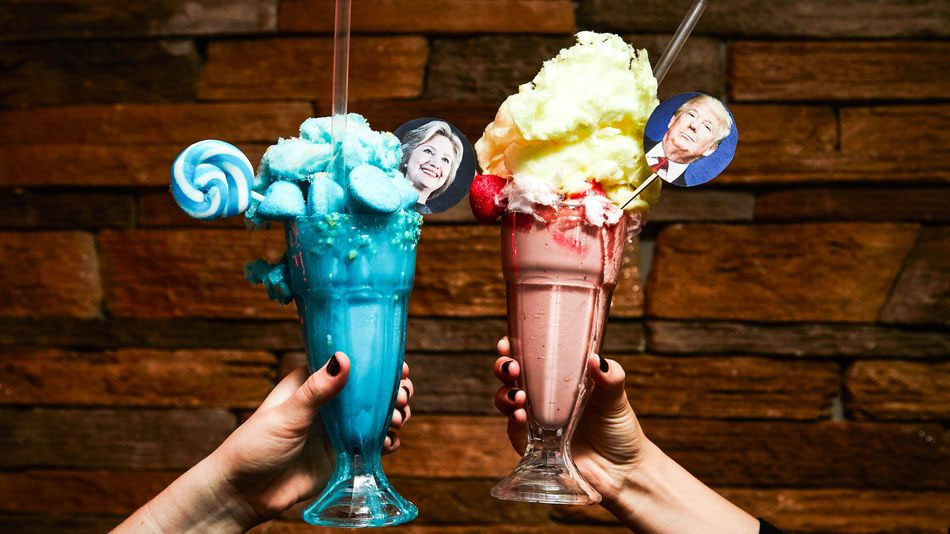 As you'd predict, the Trump vs. Hillary freakshakes are colour-coordinated with Republican red and Democratic blue, which means that everything in the milkshake glass is just red or blue. The Trump Shake is made using red strawberry gelato, milk, red marshmallows, candy floss, a red lollypop and red popping candy. While the Hillary Shake has blue bubblegum ice cream, milk, blue marshmallows, candy floss, a blue raspberry lollypop and blue popping candy.
The shakes are priced at £10 and available at all The Diner locations, in Covent Garden, The Strand and Soho. And they'll be available all through till November 8th. If you're in London and looking for something new to try and experience, then this is what you need to be doing. Besides, it'll probably be a great companion to the big election day.