Enjoy Nachos Like Never Before With Hard Rock Café's 'Nachos Gone Wild' Menu
Staying ahead of their unmatched food and drink game, Hard Rock Café has kicked of February with an exciting new food menu. Dubbed the 'Nachos Gone Wild' festival, the two-month fest will pack a culinary punch with a fresh new range of nachos – both classic and hybrid. We don't need to explain the classic, but the hybrids are something that you need to eat to believe.
Fusing creativity with a palette of global flavours from the lanes of Lebanon to the streets of Delhi, HRC has gone all out with their new nacho menu. The kitchen is all set to treat all the nacho lovers out their with dishes like Pizzachos, Rodeo Nachos, Oriental Nachos, Tex Mex Nachos, Desi Nachos Chaat, and much more! To pair it with a heady punch, the restaurant has also revealed a special menu – Margarita and more – that will heed to all your tequila needs with an array of cocktails.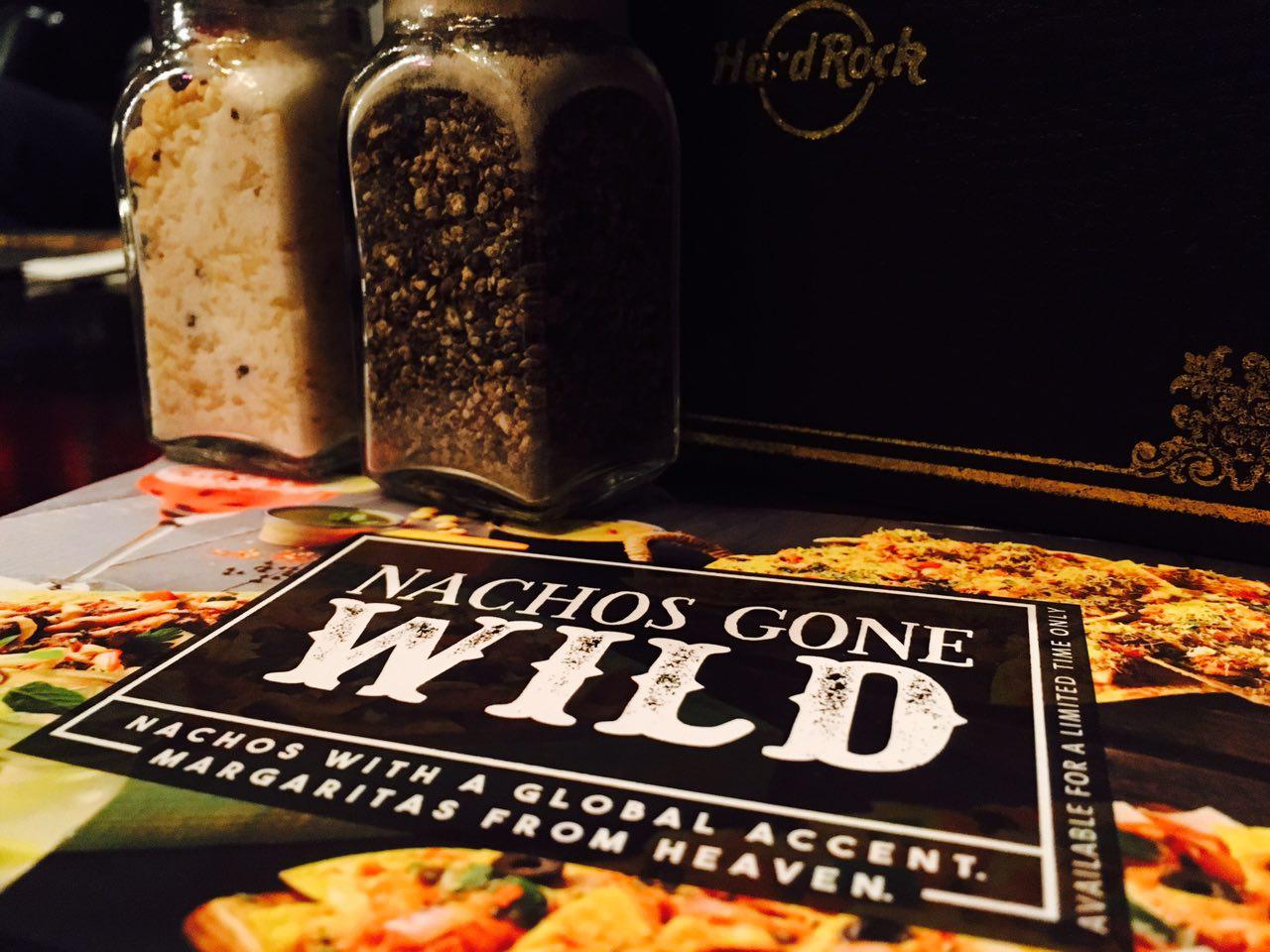 Commenting on the first of its kind Nachos festival, Jay Singh, Co-Founder, Executive Director at JSM Corporation said "Hard Rock Café is all about creating unique experiences for its guests – be it food, drinks or music. We like to be the hub of innovation and constantly strive to invent and experiment. We have belted out a long delectable slate of Nachos and Margarita that are extremely distinctive and exciting. This is our little tribute to all the nacho lovers out there!"
To give us an idea of just how wild their Nachos have run, Hard Rock treated us to some of their nacho hybrids. Take a look at all that we ate!
What We Had:
Oriental Nachos & Diablo
As the name suggests, this Wild west meets Far East combination featured crispy golden gyoza (Japanese dumplings) stuffed with minced chicken, topped with generous amounts of molten cheese, refried beans, and pico de gallo. Complete with a sweet chili drizzle and jalapeno salsa, the platter packed a fountain of flavours!
We paired this with a chilled glass of Hard Rock's devious Diablo, which was a refreshing blend of crushed cucumber, ginger syrup, and mango pulp spiked with tequila and beer.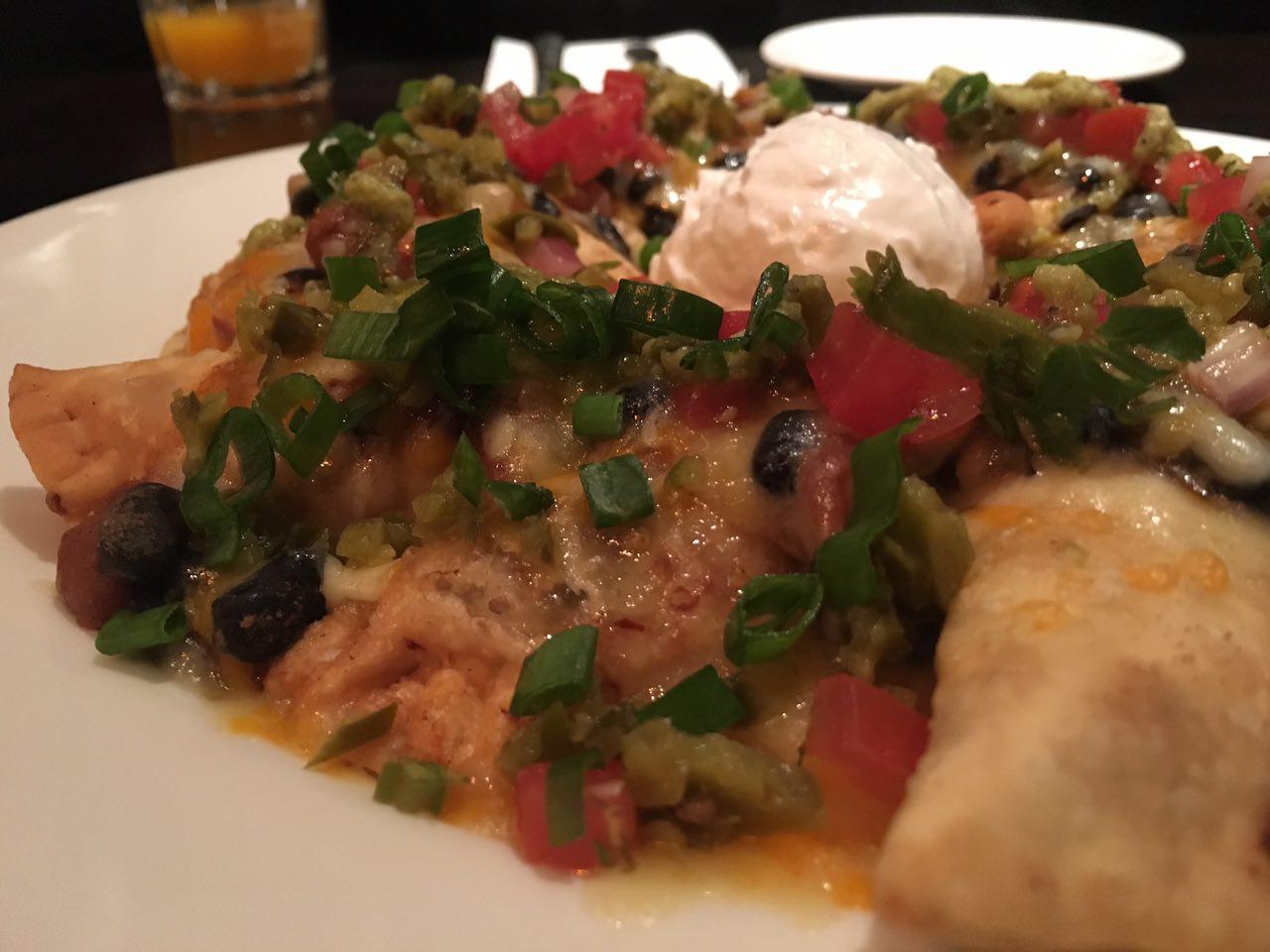 Pizzachos & Watermelon Margarita
If the Orients are here, can Europe be far behind? Pitching in with it's signature dish pizza, Italy too made a cameo on the menu with the Pizzachos. This platter was extra special because of all the time and heart that went into its making. To complete the pizza package, each corn tortilla was "piled high" with a creamy cheese sauce, marinara, onions, capsicum, olives, mixed Cheddar, Parmesan, and fresh oregano and chili flakes – with added pepperoni for the meat eaters (Pepperoni Pizzachos).
The pizzachos went beautifully well with the Watermelon Margarita, which, as the name gives away, was a watermelon infused margarita laced with some orange liqueur, freshly squeezed margarita mix, and tequila.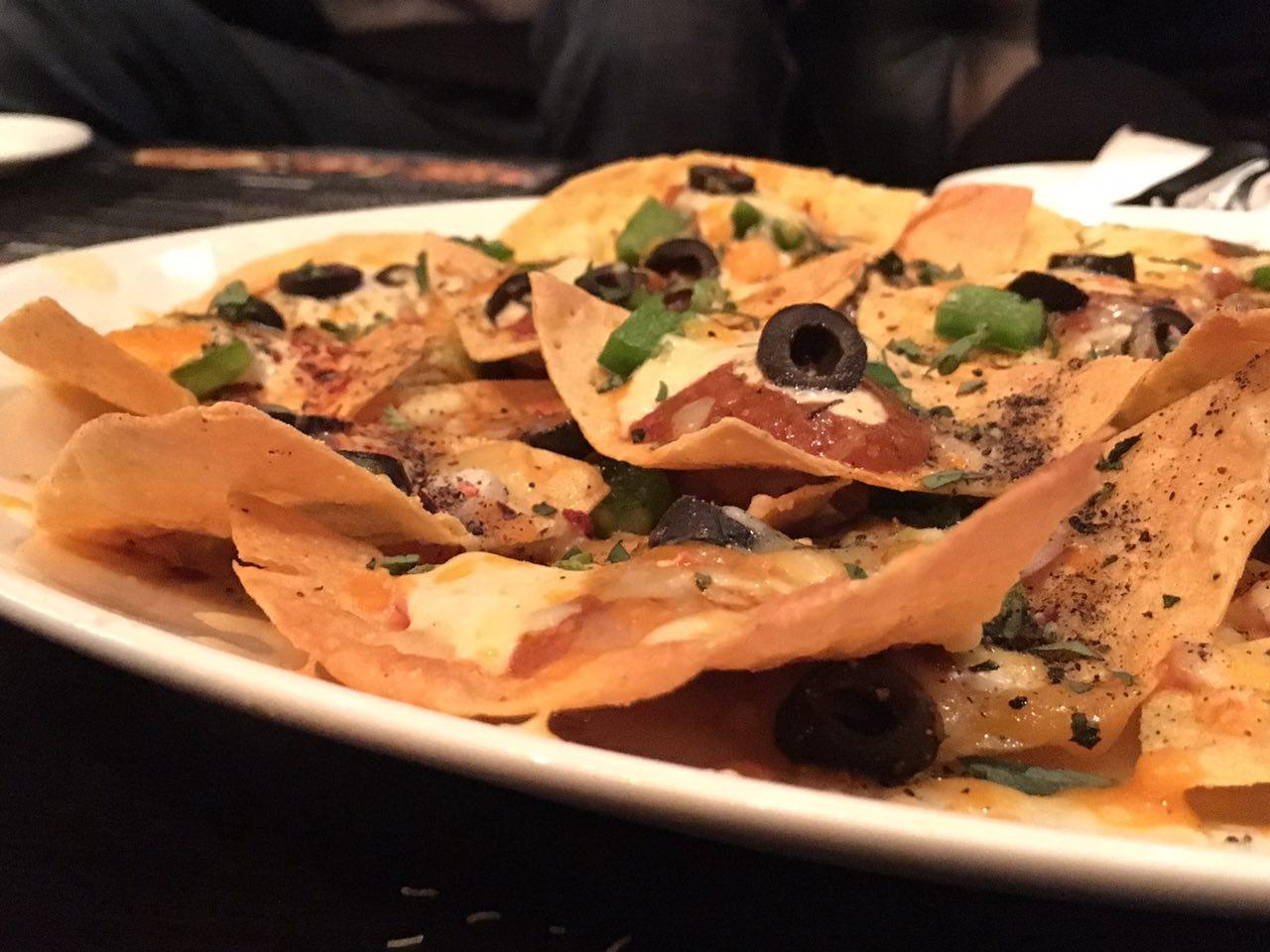 Desi Nachos Chaat & Mojitarita
Giving a twist to our dearly worshipped papdi chaat, HRC rolled out a zest Desi Nachos Chaat, which was a dream come true. The presentation was on point with the dish that looked like a gorgeous Indo-Mexican lovechild that presented the classic street food on top of crunchy tortilla chips instead of the papdi, topped with the quintessential sev, chopped veggies, and chutney. The preparation also has a non-vegetarian version that comes topped with bhuna chicken.
Mojito met margarita in this potent summer cocktail that complemented the Desi Nachos Chaat well. The drink drew from the basics of a mojito – mint and lime – as well as the margarita – tequila – to shake up a blend that gave us the best of both worlds!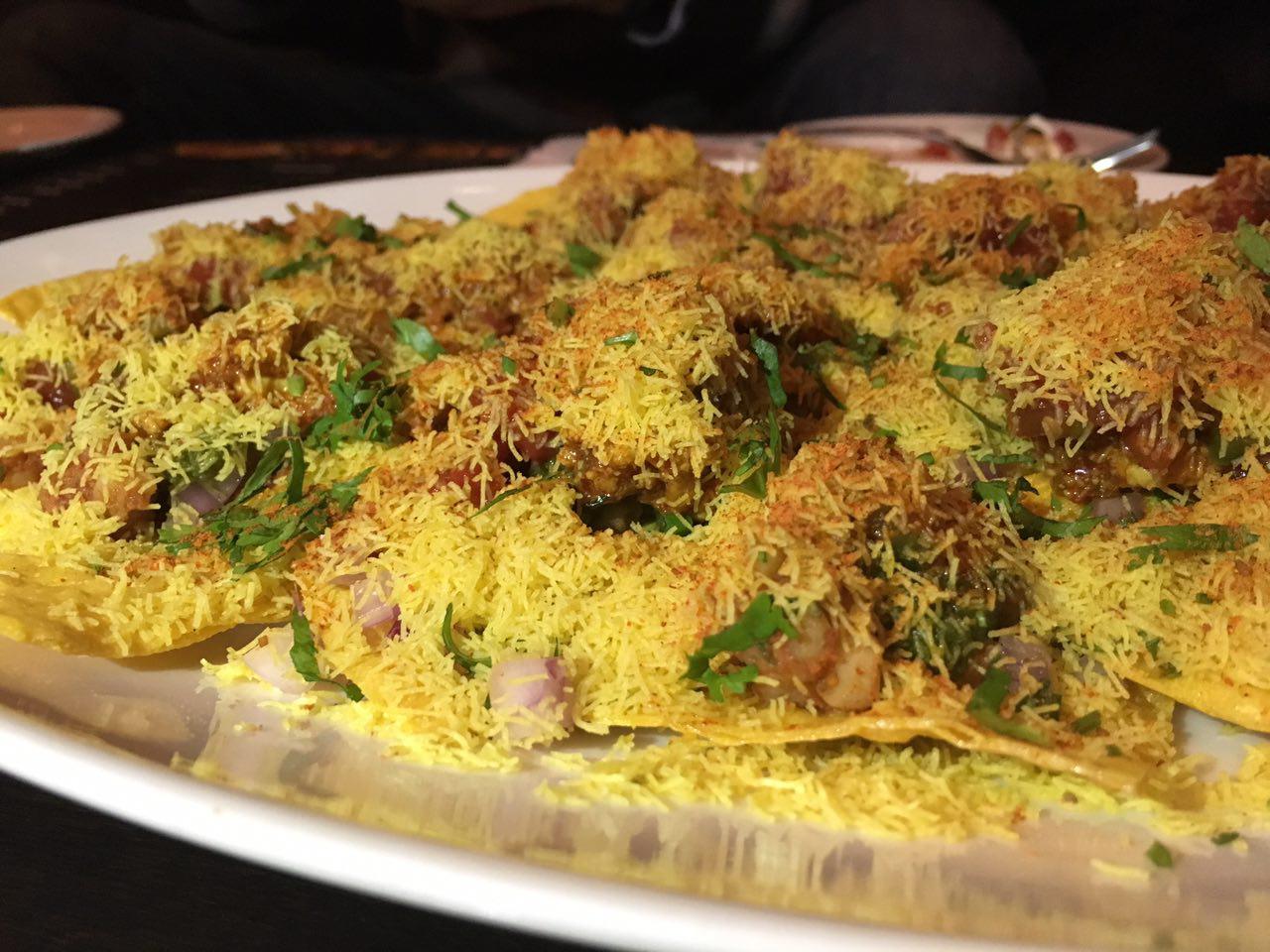 Shawarma Nachos & Sangria Rosa
HRC manages to transport our palate to the Mediterranean region with this off-beat yet absolutely brilliant take on nachos. Loaded with the key elements of a shawarma roll – chicken and hummus – the platter presented a gorgeous blast of Mediterranean flavours with shawarma spiced chicken, sriracha hummus, Lebanese slaw, creamy garlic mayo, and vegetable pickle. Meanwhile, crunchy pita chips tossed in sumac spice replaced the tortilla chips. Side note, this was unmistakably our favourite!
In order to match up to the standard of 'exotic' set by the shawarmas nachos, we paired the platter with a fruity and potent Sangria Rosa. With a rose wine sangria base, the alcohol and flavour quotient was upped with Bacardi rum, orange liqueur, and sangria mix topped off with strawberry, blueberry, and lime.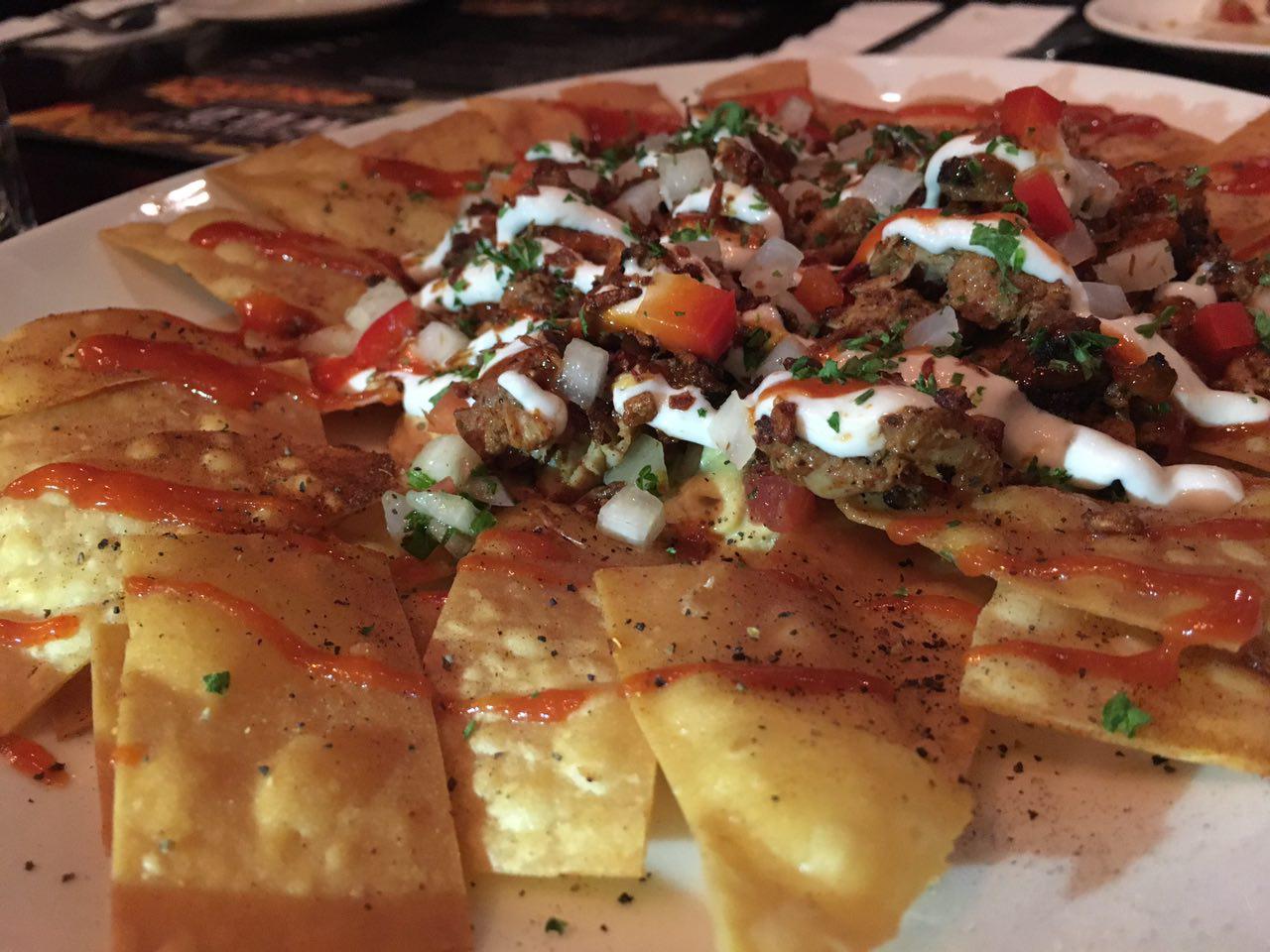 Tex Mex Nachos & Classic Golden Margarita
HRC retraced the origin of the nacho chips with the Tex Mex platter that spelled out Texan with the regions signature Chipotle smoked chicken sitting atop a bed of cheese sauce, fiery refried beans, tangy salsa, jalapeno, pico de gallo, fresh green onions, and hot out of the oven corn chips.
We went back to the classics with the cocktail too with a colossal glass of Hard Rock's Classic Golden Margarita. The drink, which is crafted for two, presented a fresh burst of lime juice, tequila, and the bartender's secret ingredient to was down the zest Tex Mex Nacho platter.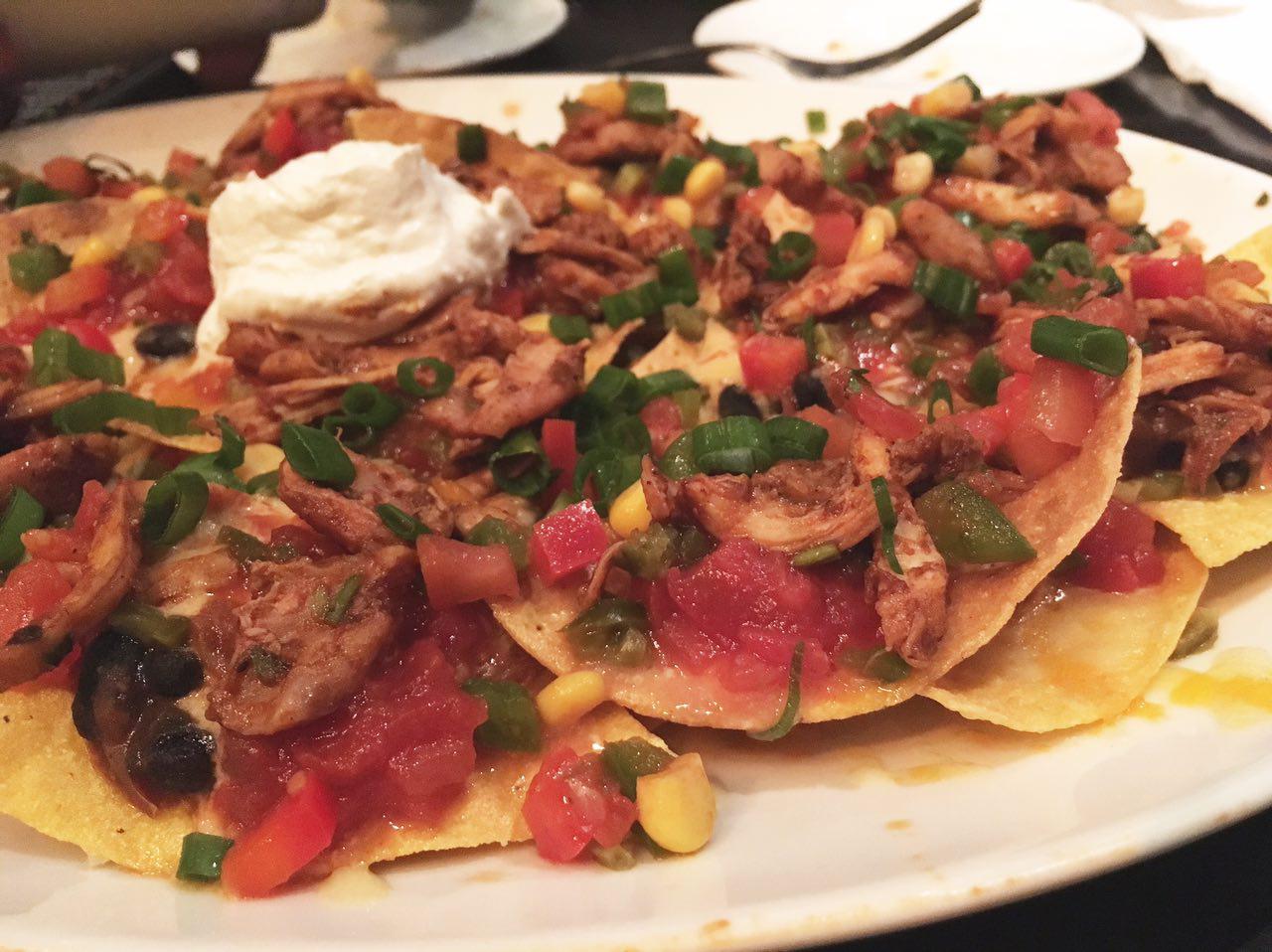 Apple and Walnut Pie Nacho Crumble
Of course there was dessert. And surprisingly enough, the nachos went wild at the dessert station as well. A heartily pleasant surprise, nonetheless! Cinnamon sprinkled corn chips came layered with cubed apples, and walnut crumble topped with caramel sauce and cream cheese frosting served with a scoop of vanilla ice cream!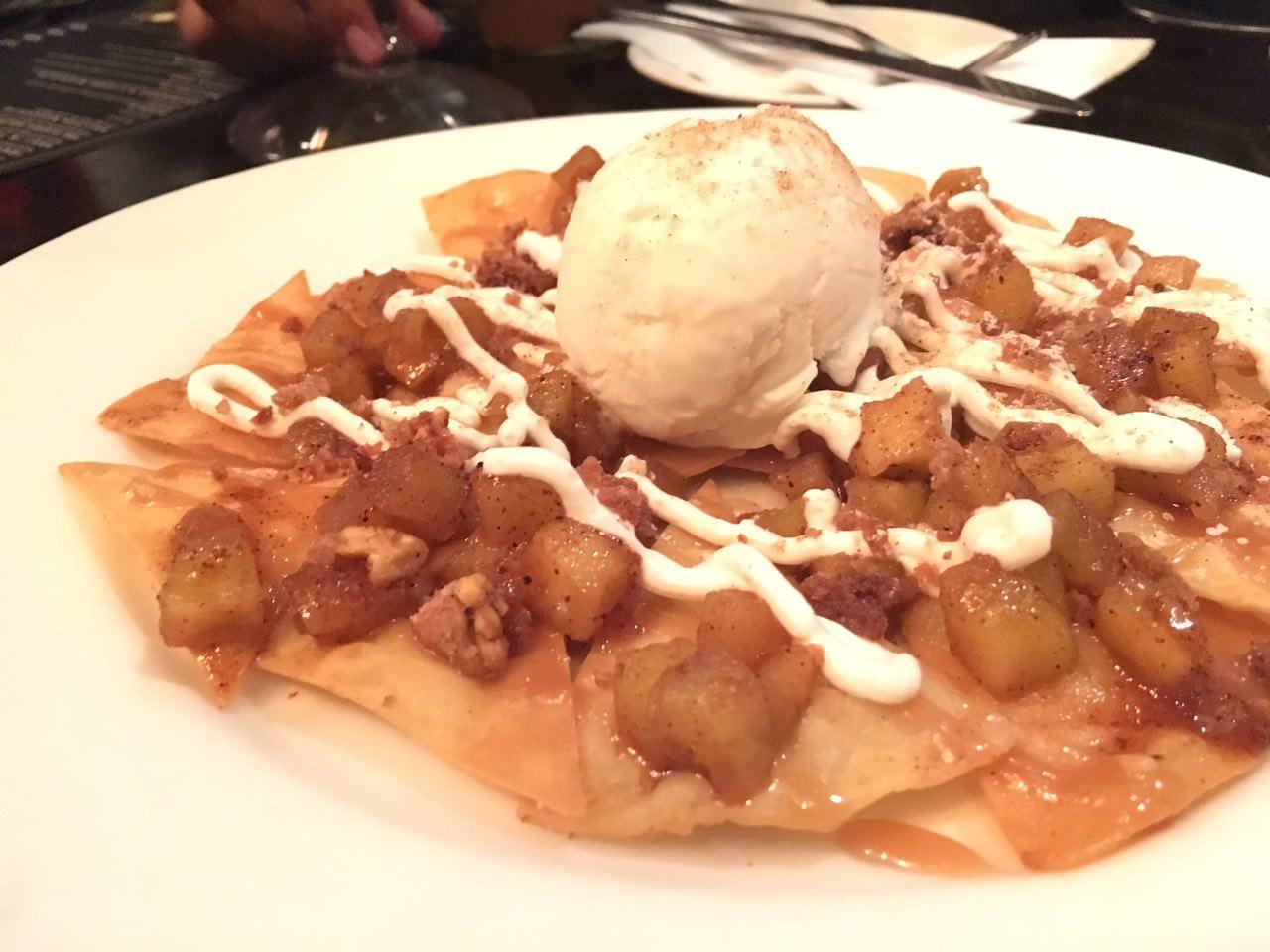 In closing we'd like to add that if you like nachos, shawarma, papdi chaat, dumplings, pizzas, cheese, pickles, hummus, chipotle, sriracha, or apple crumble, you just cannot miss Hard Rock Café's Nachos Gone Wild festival!
The limited edition menu will be available at all Hard Rock Café outlets between 1st February and 31st March, 2017.