Enjoy Being Irish With Green Beer, Great Food And Fun Games At The Irish House Mumbai
St. Patrick's week is a time of feasting, drinking up and all things green and beautiful. Don't stay behind on the celebrations as The Irish House in Mumbai is all geared up to begin a whole week of celebration. So enjoy being Irish as you indulge in gorging on delish food, chugging on green beer and challenging yourself to crazy games!
Let The Fun Begin
Settle down to a fun, quirky ambience with a chilled glass of green beer at a price of Rs.95 plus taxes. Here's a steal, wear green and get yourself a glass of the green brew on the house! Plus the eats are absolutely splendid and aplenty being feast time. Binge on Irish Soda Bread which is slathered with herbed butter, Boxty which are scrumptious potato pancakes complete with a cherry tomato ragout and pickled cabbage slaw. Amongst other unique offerings are Colcannon which is delicious and creamy potato mash with bacon and Coddle, again a potato dish cooked with root vegetables in a creamy white wine sauce plus it is topped with fennel and cabbage doused with beer.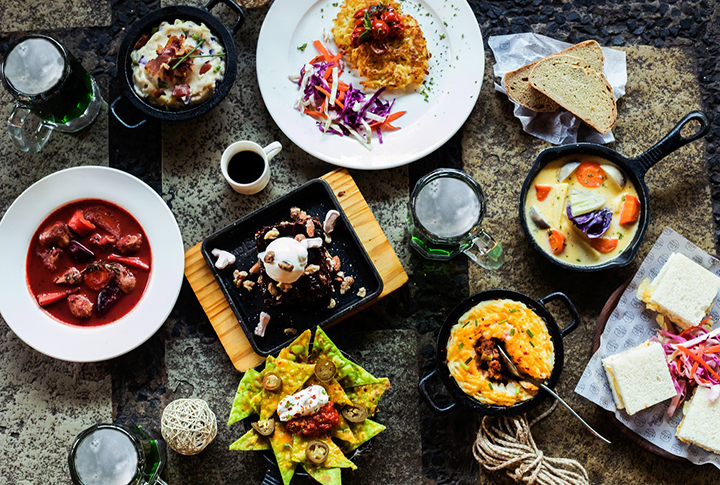 Once you're done loading up on Irish delicacies, it is then time that you challenge yourself to fun and games. Take the Man v/s Burger Challenge that requires you to finish a 1.5 kilo burger in 30 minutes. Seems easy? Take up the challenge and get the burger on the house if you win plus you get free beers, amazing goodies and of course the bragging rights.
On St. Patrick's Day which is 17th of March, The Irish House will be brining you a bucket load of fun with games like Chugathon, Cup Stack and Most Likely that you can play and win beer vouchers. You can also challenge the bartenders for a game of High Card, Dice Roll, Coin Toss and get to win free shots. So come and celebrate St. Patrick's week with great enthusiasm and spirit at The Irish House!
Dates and Timing: 10th March to 18th March | 12 noon to 1 am
Location: Across The Irish House outlets in Mumbai