Meet Hot Wonder – Elanpro's Hot Chocolate Dispensing Machine
Making that perfect cup of hot chocolate just got easier. Meet Elanpro's Hot Wonder. Elanpro, India's leading commercial refrigeration company, launched a hot chocolate machine by SPM, Italy's leading drink systems company.
Winter is here and there's nothing like a hot beverage on a cold winter evening. Hot wonder comes to your rescue here, dispensing hot chocolate, and other beverages such as coffee, hot milk, soup and tea! This machine is a wonder machine that was designed to cater to the dynamic requirements of the hospitality industry.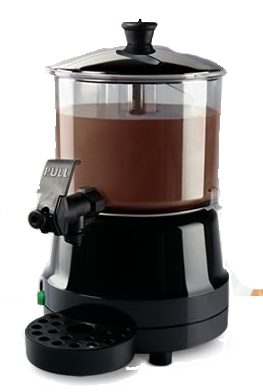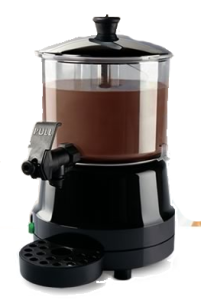 A sleek, user-friendly and versatile unit, it is ideal for bars, cafeterias, cafes, catering and accommodation facilities, ice-cream shops and dessert bars.
The 'Hot Wonder' Of All Beverages
Elanpro's range of beverage dispensers from SPM provides sturdy, solid steel frames and bases for unparalleled support for each display.
Equipped with a five litre transparent bowl, this mean machine can make 12 mugs of hot chocolate. The bowl is durable and voluminous, and can be fully removed, thereby making cleaning it an easy task.
The SPM's patented double-thermostat system consists of an aluminium heating plate that assures proper temerature distribution – upto 90 degrees celcius. The Hot Wonder machine also comes with two delivery nozzles – one for dense and the other for fine products.
The product ensures consistency as it comes with a polysulfone mixing system which prevents raw material from depositing on the bottom. Equipped with a slow stirrer and progressive temperature control, it ensures your beverage is perfect all day long.
Available at all Elanpro dealer stores, Hot Wonder is placed at a great entry-level price of INR 35,000.

Elanpro and SPM's Partnership
Sanjay Jain, director, Elanpro, said, "We expect that the introduction of this innovative product will expand our leadership position in the ever-growing coffee service sector. SPM is the perfect partner for this machine, not only because their brand recognition is unparalleled, but also because their ability to make a delicious cup of hot chocolate has been perfected over decades."
With this association, the company plans to accommodate the growing demand for machines that deliver blended beverages with more speed, accuracy and efficiency than competing products in India.