Summer. That time in Chennai when the mercury goes on a trip and makes you feel like you will melt into a puddle at any moment.
During this intense season it is very important that we make sure that we are eating and drinking the right things so that do not melt into the aforementioned puddle.
Eating regional and eating seasonal has recently become a huge trend but Indian culture has always advocated the importance of this way of life.
In todays world of high demand and millions of mouths to feed it is not always possible to eat only seasonal but we must be aware of what is in season and try and make balanced choices.
As the temperature goes up, the body needs an extra boost to help it stay hydrated and energised.
It is a given that one must try to include fruits and veggies that are high in water content and vitamins that help to stave off those pesky summer flus.
Watermelons, Muskmelons, Palm fruits or 'nungu', Cucumbers and Limes are local favourites.
Lime juice and soda spiked with refreshing Narunandi (Sarsaparilla), Buttermilk, Rose milk and Badam milk are the popular quenchers. Sugarcane juice vendors have an overwhelming customer flow as people flock to quench their thirst.
Mangoes of course are the kings and Tamil Nadu boasts of growing many varieties. Malgoa , Banganapalli (which was introduced by the royal family of Banganapelle in Andhra Pradesh) and Neelam are grown widely in the state.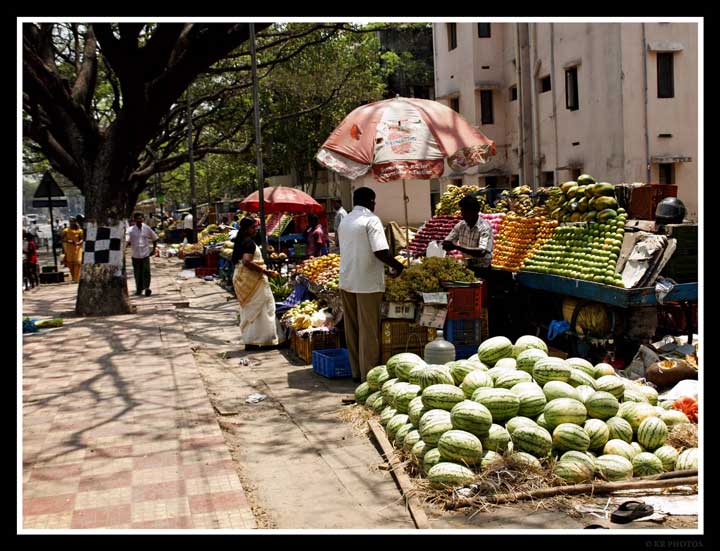 The Koyambedu Wholesale market in Chennai is flooded with seasonal fruits that locals can savour. Fruit shops give attractive offers and flaunt their many varieties of produce.
Street vendors pop up at every 500m on all roads selling much needed quenchers and refreshments.
Buying and consuming fruits should be done with caution and judgement based on how hygienically the produce has been kept. It is always better to buy the fruits and vegetables whole and then consume them after thoroughly washing them.
Safety Awareness
Unfortunately vendors still do use practices like using calcium carbide to accelerate ripening. Calcium carbide is toxic and causes damage to the kidney, liver and the gastric system. The chemical in solid form is kept wrapped in paper among the fruits. It reacts with water to form acetylene, which catalyses the ripening process.
The Food Safety Department recently conducted an awareness program at the district collectorate for fruit vendors and fruit sellers associations at the district collectorate.
Experts spoke about the harmful effects of the chemicals.
Food safety officials said if vendors were caught selling artificially ripened fruits, they would be booked under Section 57 of the Food Safety and Standard Act, 2006, which could invite a fine of up to Rs 10 lakh.