Eat Healthier With Tom Brady's New Meal Kit Service
When looking for healthy eating options and diet advices, we look towards only reliable sources like nutritionists, diet consultants, or even athletes because of course they know what to eat and what to stay away from, which is probably why American football player Tom Brady released his own swanky collection of recipes last summer. But this year the Patriots' quarterback is ready to make sure that we eat healthy. Brady has partnered up with vegan meal kit company Purple Carrot and launched a subscription-based meal kit service called TB12 Performance Meals.
According to the product's website, TB12 Performance Meals feature recipes that, on average, are higher in protein and calories to help fuel the higher metabolism needs of active individuals. They are also gluten-free, limited in soy and refined sugars. Further, the TB12 team proclaims that these recipes are either taken directly from plant-based meals Tom and his family have personally enjoyed, or are inspired by the TB12 nutritional guidelines that structure Tom's diet. The recipes feature fresh, whole foods and are nutritionally balanced.
Image: Purple Carrot
And guess what? You don't have to be a highly engaged athlete to enjoy the Performance meals. "TB12 Performance Meals are designed for anyone who is looking to achieve and/or sustain their peak performance. Whether that's in the gym, on the field, or at work, these meals cater to individuals looking to take their lifestyle to the next level", the website explains.
The TB12 menu features fresh ingredients, and it's delivered right to your door. A few of the sample meals listed on the website include white lentil risotto with winter roasted vegetables and Meyer lemon cashew gremolata; ramen with charred broccolini and gingered amaranth greens; and crispy turnip cakes with quinoa tabbouleh and za'tar yogurt.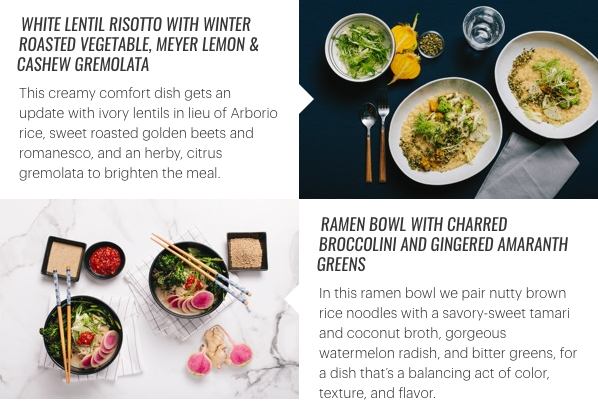 Image: Purple Carrot
The meal kit subscription will set you back by $78 per week (that is $13 per meal). Each meal packs 2 servings, and the plan offers 3 meals per week. The first shipment of the TB12 meal kit is expected to be April 3rd. You can pre-order your kit here.
Feature Image: CNBC