Drums Food International Has Launched Epigamia Snack Packs
Drums Food International, the parent company of Epigamia, a GreekYogurt brand has announced the launch of Epigamia Snack Packs. These are aimed to tap into the growing snacks market in India and give consumers healthier snacking options.
The Perfect Yogurt Pairings
The snack packs pair Epigamia yogurts with other healthy foods. For instance, the Jalapeno Greek Yogurt is paired with Fibre Rich Barley Puffs as is the Cream and Onion Greek Yogurt. Meanwhile the Mango and Strawberry Greek Yogurt are paired with chunky granola. Each pack has 100 grams of yogurt and a spoon for convenience.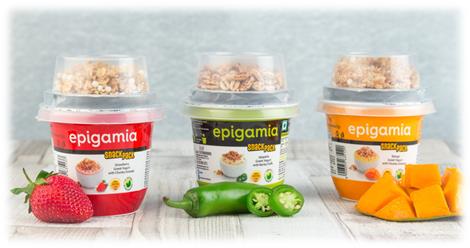 "At Epigamia, we want to change the way people approach their 5 pm hunger pang. The Epigamia Snack Pack, with its unique flavours and nutritional benefits of high protein and high fibre, is a no-compromise snack that provides the perfect blend of health, taste and texture," said Rohan Mirchandani, Co-founder and CEO, Drums Food International.
Similarly, Chef Ganesh Krishnamoorthy, the co-founder of the brand said "Creating a brand new concept in snacking with all-natural ingredients and using zero preservatives is nearly unheard of in India and certainly no easy task. But that's what consumers today want. The innovation standards in the snacking industry are constantly evolving and we want to be at the forefront. The new flavours are inspired by our rich culture combined with our diversified taste."
The packs will be available for Rs.50-60 at select stores across India.