Don Your Sombrero and Head to California Pizza Kitchen for Their Mexiforna Festival
Mumbai, it's time to don your Mexican hat (or sombrero), and head to California Pizza Kitchen (CPK) for their Mexifornia Festival. If you don't have a sombrero, then worry not, because there's one waiting for you at the restaurant, painted in bright pops of color. Or, better yet forget about pondering about sombreros altogether, and head to one of their tables, pick up their menu and order. Which is what we did.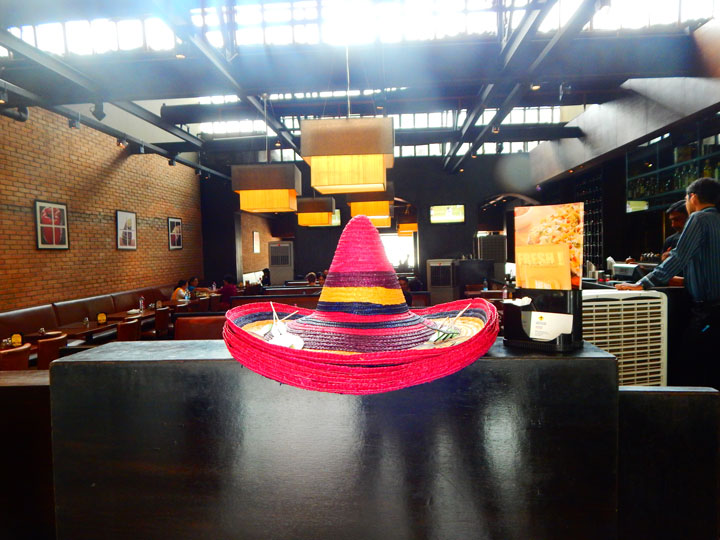 Over a deliciously refreshing watermelon margarita and a bright and quirky green apple margarita we spoke to Chef Nilesh Bhor about the much loved Mexifornia Festival that has been going on over the past couple of years. The special Mexifornia menu was conceptualised by celebrated Chef Bakul Kodikal along with Chef Bohr, and aimed to blend Mexican flavours with the Californian flavours that the restaurant is loved for.
Using both locally sourced and imported ingredients the chefs came up with a menu that features specialities like the CPK Nachos (which the Chef confided are a house favourite), the crispy tortilla salad with shredded lettuce and cherry tomatoes, the Sonora Pizza and the crispy chimichanga. For dessert, the menu offers a Mexican banana flan and a chocolate mousse made from three layers of Mexican chocolates. While the fare bursts with Mexican flavours, the chefs endeavoured to create dishes that would appeal to both International and Indian palates. Once the chef found out about our carnivorous dietary preferences, he made some suggestions and within ten minutes our feast arrived.
Southwestern Chille Chicken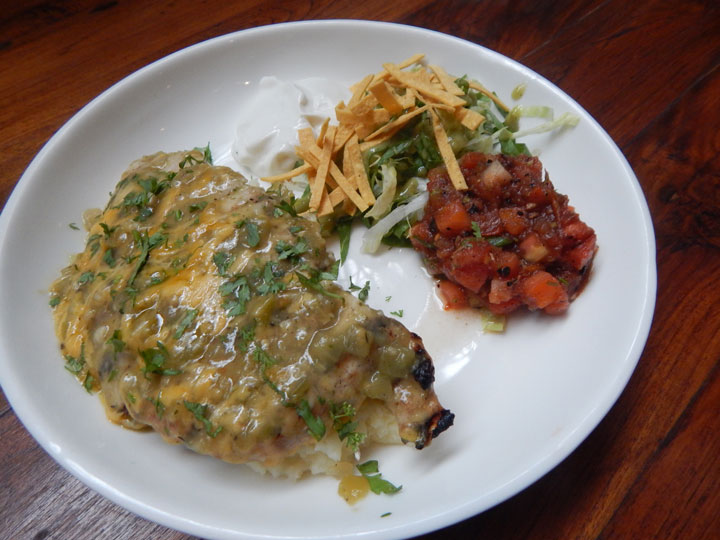 The chicken arrived at our table in its grilled and perfectly dressed glory, with mashed potatoes and sour cream. While the mashed potatoes were smooth and soft, and the sour cream has the perfect creamy consistence, the highlight of dish was the chicken which was moist and perfectly spiced.
Cheesy Chimichuri Penne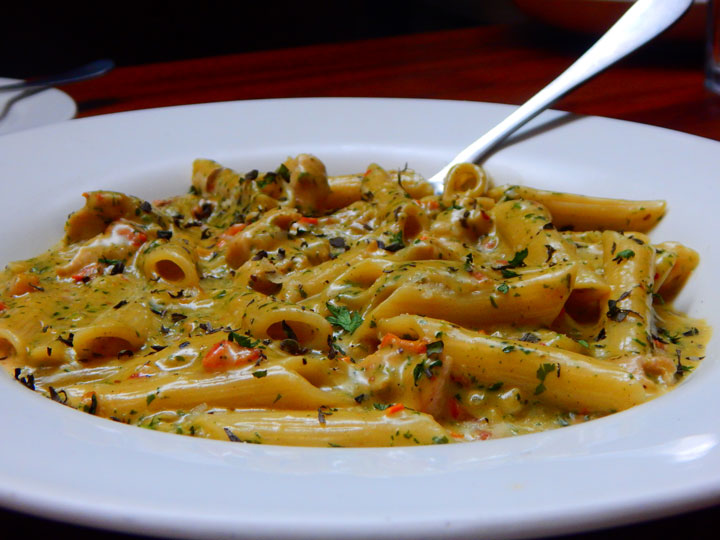 After the remains of our chicken was whisked away, the pasta arrived. True to its name, it was indulgently cheesy and delicately herbed.
Chicken Asada Pizza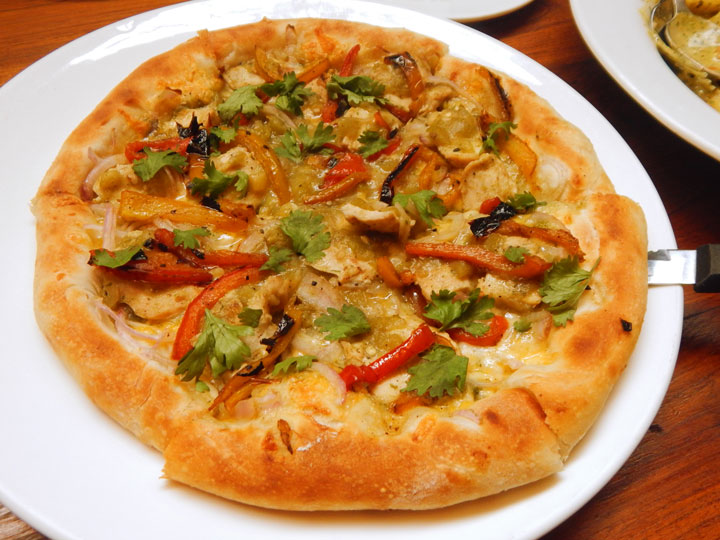 We were already beginning to clutch our stomachs and groan when the pizza arrived; a golden base was topped with generous slices of chicken, peppers and cheese. While the chicken was as moist and well spiced as the chicken in the south-western chilli chicken, what impressed us most about the pizza was the dough, which was chewy, with a medium thickness that was ideal to savour the toppings.
California Style Chimichanga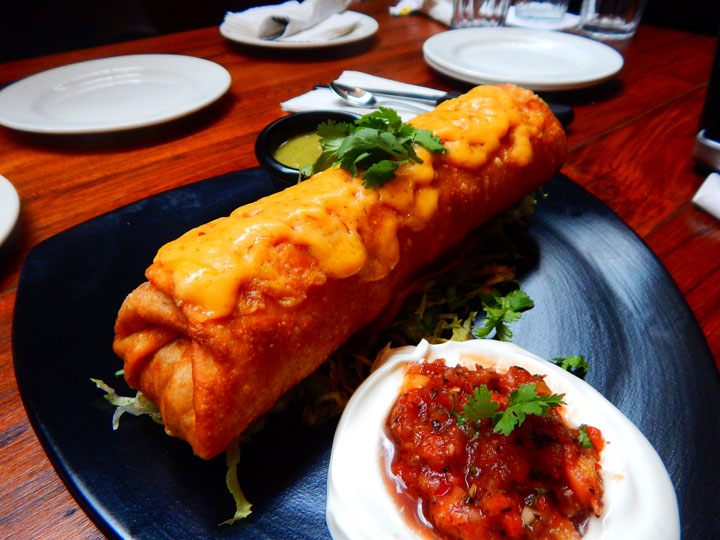 Next, the chimichanga materialised. We'd like to pause a minute in our recollections here, and mention that California Pizza Kitchen just hosted a Chimichanga eating competition, where the winner devoured three chimichangas and walked away with vouchers for CPK guaranteed to keep his stomach satiated for at least the next three months. When the chimichanga appeared, that little bit of trivia has us gobsmacked for a minute; here was a huge roll that could have made up a whole meal; how has this winner managed three? However, after tasting the chimichanga we understood where the winner was coming from; a mixture of California rice, black beans and (once again) a vibrantly flavoured chicken were surrounded by a crispy wrap that had us doing what we thought was the impossible; going back for fifth and sixth bites. Warning: This may get a little messy, but don't worry about it – dig right in.
Trio of Chocolate Mousse Served in A Cup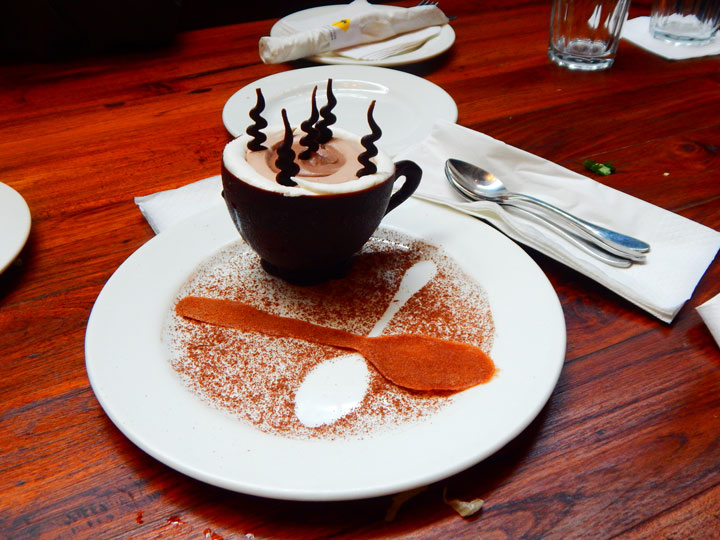 While the chimichanga and the pizza were very visually appealing, in terms of plating the chocolate mousse took the cake. Three layers of Mexican chocolate mousse (white, milk and dark) were served in an edible dark chocolate cup along with an edible, flimsy coffee flavoured spoon. We had entered a chocolate lover's nirvana. The presentation has prepared us for some truly delectable chocolate mousse, and we weren't disappointed; it was rich and indulgent.
After polishing off our meal Chef Bohr was kind enough to take us on a tour through his live kitchen. We were majorly impressed by the cavernous Hearth-Bake oven, which is responsible for CPK's signature pizzas. Through the tour Chef Bohr also treated us to some tit bits – for instance, CPK has sixteen different sauce options for you – all of which are freshly made!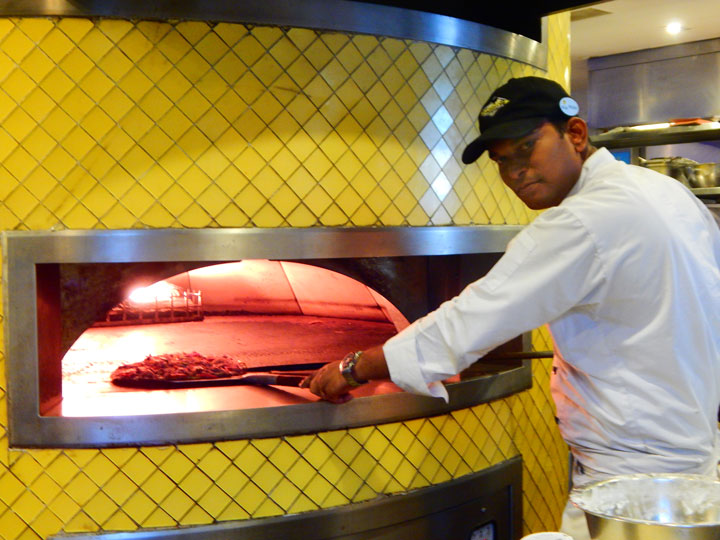 So, whether you're a sauce fanatic, a lover of Mexican fare or simply curious then stop off at California Pizza Kitchen at Malad, Lower Parel or Bandra today. Your taste buds will thank you.
What we had:
Southwestern Chille Chicken
Cheesy Chimichuri Penne
Chicken Asada Pizza
California Style Chimichanga
Trio of White, Coffee & Chocolate Mousse Served in a Cup