Domino's Pizza Gets VIP Treatment In A Special Pizza Delivery Car, The DXP
Looks like all the money we've invested in Domino's in lieu of edible returns is finally paying off. The pizza chain has come up with a unique design to create a special vehicle that it'll use solely to deliver pizzas.
First they went ahead and came up with the 'tweet to order' and now an entire 4-wheeler dedicated just for pizza delivery. Domino's is totally winning at the pizza delivery game.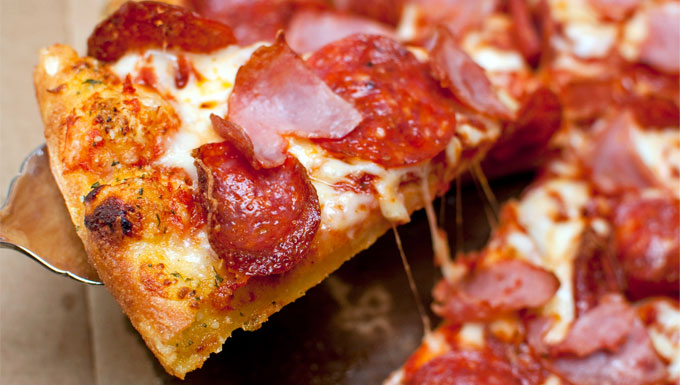 Say Hello To DXP
Yes, this is what the pizza magnate is going to call the vehicle. DXP is an abbreviation for Delivery Expert. Cool, yes?
The automobile is a modified Chevrolet Spark that has just a driver's seat. The rest of the car's space has been used up to allot space enough for 80 pizzas! The delivery car also comes equipped with a warming oven just in case the 80th pizza feels cold.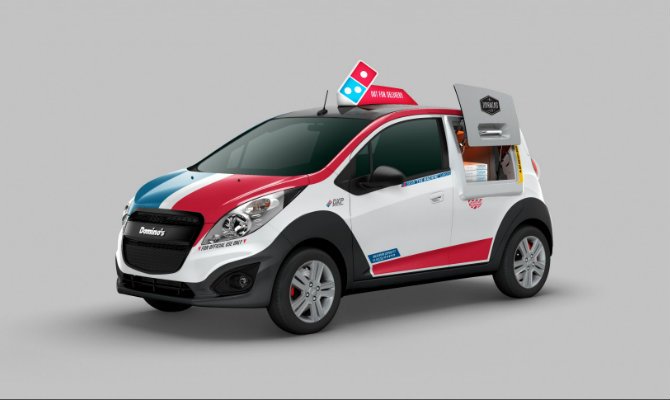 "We love to see fleets use our vehicles in new and innovative ways," Ed Peper, General Motors' U.S. vice president for fleet and commercial sales was quoted saying in the Washington Times. "This partnership between Chevrolet and Domino's demonstrates the versatility, technology and performance our vehicles can deliver — in a literal sense in this case — to fleets across America", he added
Unveiled in Domino's headquarters in Ann Arbor, Michigan on October 21st, the company will be sending out 100 test cars to 25 markets. The cities that'll catch the first look of this pizza delivery Chevy include Detroit, Dallas, Boston, Houston, Seattle and New Orleans.
The Concept Churner
This ain't the first time that Domino's is creating ripples for its off-beat sales idea. Apart from order tweeting, the pizza mogul has in the past come up with applause-worthy ideas like the robust, corrugated pizza box – both of which are now set industry standards. In 2013, the company also sent out a pizza-delivering drone on a test flight.
No, I haven't forgotten the brilliant '30 minutes or free' guarantee. But let's not forget the lawsuits and safety issue concerns that it faced. It was an exciting 30 minutes, though.
"With all the changes that have occurred with this brand, one of the things that hasn't kept pace is our innovation within delivery vehicles," Russell Weiner, president of Domino's USA, told Forbes.
Let's just hope that this one catches safe speed and becomes a common Domino's practice around the world.