Dining On Fresh Catch At The Captain's Table In Mumbai
"The Captain's Table is supposed to be the most exclusive table on the cruise liner…to get invited to that table is an experience and an honour," said head chef Anirudha Patil when we paid a visit to The Captain's Table, a newly opened restaurant in Mumbai's Bandra Kurla Complex, explaining the concept behind the restaurant.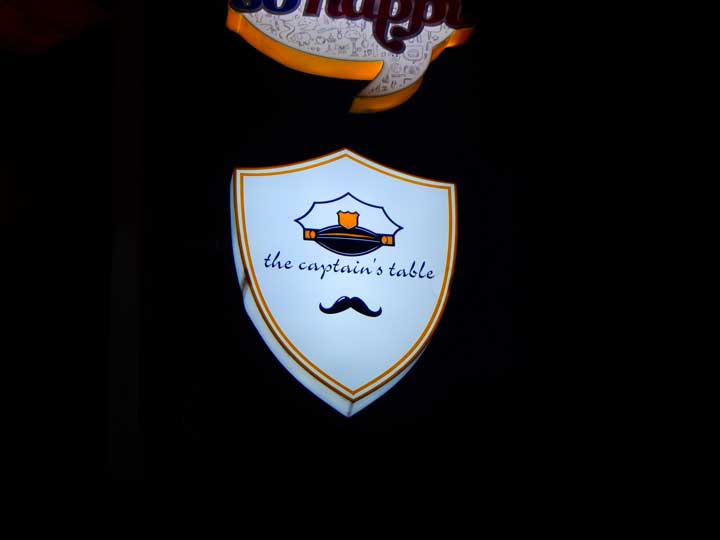 And, we definitely have to say that the restaurant lives up to that exclusive experience with its fresh, tasty seafood and impeccable service. But we're getting way ahead of ourselves.
The Background
Launched in early January, The Captain's Table is a fine dining restaurant with a pure focus on fresh seafood. Being a coastal city with an abundance of fresh catch, Mumbai is the perfect place for such a concept.
However, the focus on the sea doesn't stop at the food. Every detail in the restaurant from the vintage telescope as you enter to the collection of flags decorating one counter to the colour scheme takes inspiration from the sea.
Like the collection of flags that decorate one area of the restaurant, the dishes on offer are a medley of seafood specials from all over the world. For those that prefer tastes closer to home, there are traditional dishes like the Seafood Tawa Pulao and the Bengali Macher Jhol, while for those looking for international flavours there are dishes like Lobster & Cuttlefish Risotto and Phyllo rolls.
Of Soups and Starters
On our visit, we decided to take our taste buds on a trip round the world, selecting a range of both local dishes and 'exotic' ones.
So, we started of our meal with two soup dishes; the Lobster Bisque and the Catalan Sea Food Stew. While the bisque was as creamy as any traditional lobster bisque should be, we were particularly impressed by the Catalan stew; a pretty, vibrant dish with a medley of prawns, squid, fish and tomatoes and almonds.
Similarly impressed were we with the Chilli Quinoa & Pomegranate Salad, which combined quinoa, pomegranate seeds and root vegetables with spicy curry leaf flavours – a flavour combination we'd never experienced before, but worked marvellously well. We were also struck with the balance of textures between the quinoa and pomegranate seeds.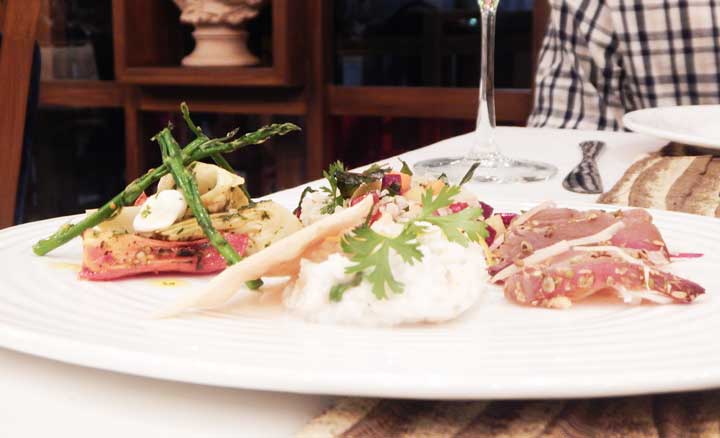 Out of our salad selections, we also enjoyed the Tuna Sashmi, which was a clean dish of rare tuna with crusted with coriander and the Ika Mata, a unique combination of lobster, crab and a light coconut cream that made an exciting collection of flavours.
Small Plates and Mains
From fellow foodies, we had heard great stories about the Crusted Crab Cakes, which lived up to our expectations; the cakes were crunchy and well-seasoned and (again) an interesting balance of textures was created by the accompanying ham and poached eggs.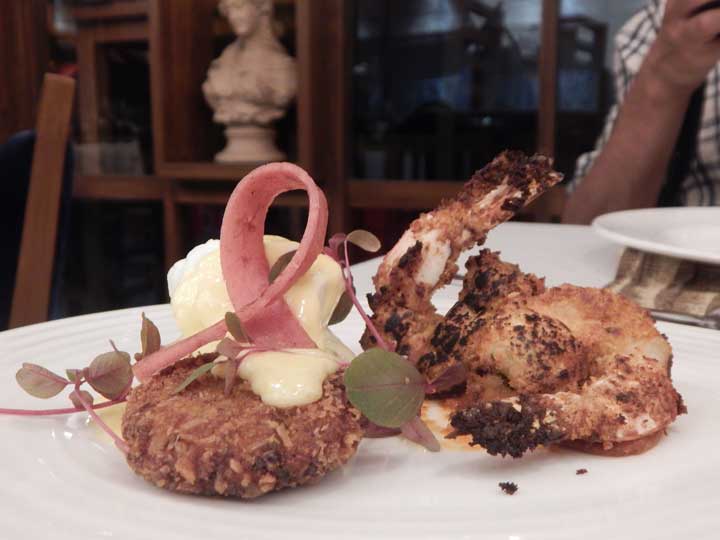 From the 'Big Plates' section of the menu we tried, and enjoyed, the Poached Salmon, which was expertly cooked and topped with a faintly spicy clam koshimnir and an even spicier onion chutney. Deviating from our seafood extravaganza for just a moment, we also tried the Roasted Chicken Breast, a classic dish flavoured with a tasty marsala sauce.
Desserts Ahoy!
Of course, when it came to the desserts, we deviated even more off our seafood trail, but no complaints there. We were presented with an extensive dessert platter, with which we abandoned all fine dining etiquette and gobbled down the Gianduja Mousse, a instantly creamy hazelnut chocolate mousse and the Chocolate & Peanut Butter truffle cake which was an exquisite dessert with an element of fun thanks to the peanut butter.
To wrap up our meal, we were presented with a 'surprise'; warm chocolates enveloped in a cloud of dry ice smoke that just about perfected our dining experience.
Despite having had a plethora of dishes, we left the restaurant feeling pleasantly full, yet not overburdened – the majority of the dishes were well executed and displayed brilliant culinary technique while at the same time managed to be easy on the stomach.
Perhaps that why more and more people in the world are replacing non-vegetarian proteins like beef and pork in favour of seafood; its fresher and kinder to your digestive system. If you're ready to take the seafood plunge or are simply after a fresh fine dining experience, we suggest you make a reservation at The Captain's Table. Remember to tip your hat at the Captain on your way out!
[schema type="organization" orgtype="Organization" name="The Captain's Table" description="A fine dining restaurant with a focus on seafood. " pobox="0″ city="Mumbai" state="Maharashtra" postalcode="0″ country="IN" phone="022 30151224″ ]