Dilli Diaries: The Capital's Obsession With Momo
For the longest time we've romanticized momos with a quick hunger fix. But not just a quick fix, the steamed dumplings make for an excellent palate pleaser for a number of reasons like the mild skin and filling paired a completely contrasting highly spicy red chili sauce. But taste and delight apart, what is it really that makes this street food every Delhiite's go-to "food bae"? Why can we not imagine a trip to Lajpat Nagar or Janpath sans a plate of steaming hot momos and chutney? We shall find out!
Momos can be attributed to Tibet, Bhutan, and the seven sister of Northeast India that have been kind enough to introduce us to this delish snack. But that's as far as we go when we speak of India, because the popular dumpling can be traced back further to China and other neighbouring nations. But we shall stick to the momo timeline that went from a simple aluminum casserole on the streets to fancy outlets and food chains that have been taking the country by storm.
Marketing Momos
As a street food, the snack has been loved on a number of levels. From the consumer making it a vital part of their lives to sellers doing their share of experiments on the food and blending them with a bunch of local flavours. And that's probably the whole beauty of it, isn't it? Momos are so simple and plain that they're as delicious as they are experiment-worthy, making them an instant hit with global as well as local taste buds. What? Like you've never devoured one of them tandoori, Afghani, and makhani momos! And what's more? Unlike authentic recipes, the Capital even got its fair share of paneer and cabbage stuffed vegetarian momos. Because, Tuesdays.
But in addition to what the snack does to our palate, one must also pay attention to detail and positioning. Yes, we shall slope a little towards marketing here. Before momos came into the picture, was there any other street food quite as easy to eat on the go or quite as, well, chicken-rich? C'mon! We're talking about Delhi, the city where the people have butter chicken running through their veins, of course the fact that there was now a street food with chicken appealed to us! Yes, we had kebabs and rolls, but nothing tasted like a momo drenched in some red chutney and mayonnaise, right? Now add to that the price factor, you can normally score a full plate of momos (usually 6 pieces) for under 100 bucks! Talk about value for money!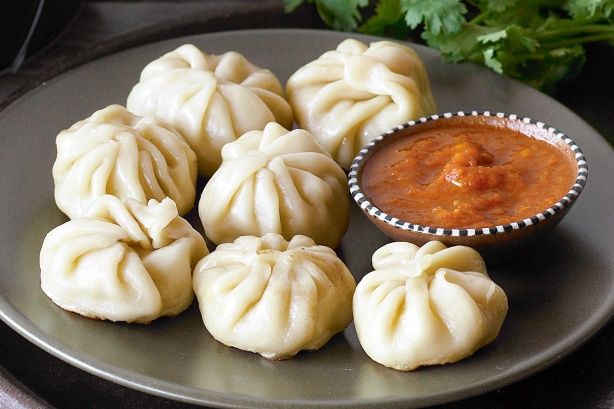 Image: Indian Recipes
Oh My Wow!
Moreover, with cultural hubs including the likes of Dilli Haat and Kingdom of Dreams popping up in the Capital, the street food was suddenly promoted to the stature of this exotic food item that was eaten with a side of clear soup (read thukpa). And we're Delhi, if it's exotic and fancy, we NEED it. Basically, momos' placement as this completely different looking and unique tasting street food is what got the Capital rooting for the dish.
To sum it up, we'll go back to the marketing front and say that the "product" here did not disappoint when it came to quality, value for money, variety, and marketing (which was mostly the look of that fiery red sauce), which made it the go-to choice for most individuals in the Capital! And the rest is one big plate of chutney laden history.
Now, are we the only ones craving a plateful of some piping hot momos? No? Good. Join us on a momo binge at these momo outlets in Delhi!
Feature Image: Archana's Kitchen