Delve Deep Into The Koffee Works Story With Founder Ishaanee Amar Haware
India has an unceasing obsession with tea. However, in the recent years more and more people are also looking to coffee to satisfy their caffeine cravings thanks to major coffee chains like Starbucks entering India as well as the rise of smaller, home-grown coffee shops with unique twists.
One such venture is The Koffee Works, an upscale coffee shop in Kharghar which has just opened a new outlet in Vashi. On the occasion, we caught up with the founder of the shop, Ishaanee Amar Haware.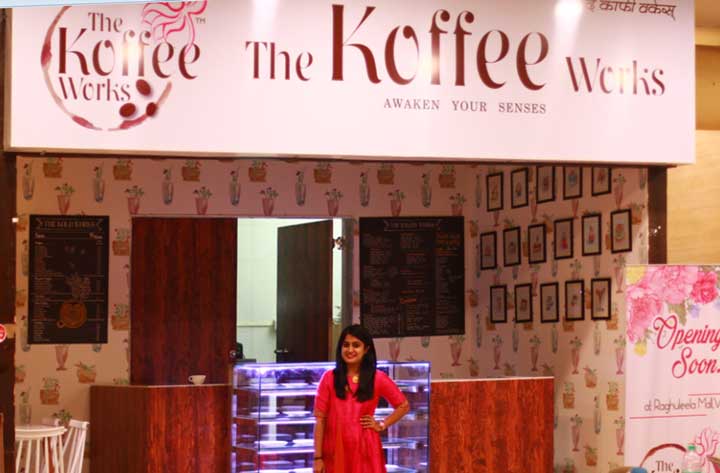 Indeed, Ishaanee is the perfect person to talk to about the Indian attitudes towards coffee. On The Koffee Works logo, there's a lotus with 13 petals, which represents that Ishaanee is the 13th generation in her family which has been involved with coffee. Her family, under the Indarvara name, owns and manages estates across Chikmagalur and Coorg; her father manages almost 40% of Indian coffee exports. Ishaanee is an Electrical and Electronics Engineer who graduated from the Thunderbird School of Global Management in Arizona with an MBA in Global Finance. After working as an HNI wealth manager at Barclays she decided to use her knowledge and love for coffee to establish The Koffee Works.
"I'm blessed to have a strong history and legacy in coffee," said Ishaanee to us. She used this legacy to create The Koffee Works.
The Koffee Works Concept
Speaking about The Koffee Works concept she said "We spell 'coffee' with a 'K' because The Koffee Works serves coffee with a twist. We offer great ambiance along with the coffee. We want to awaken your senses; you need to feel fresh when you have our coffee."
The Koffee Works, therefore is a high end cafe which serves premium coffee. "We've created our own blend for Koffee Works," Ishanee tells us. We get the coffee from our estate. We have three blends; the regular bean which we grind just before serving. The second is the filter coffee blend which is divided into two blends; one is a pure blend which is 100% coffee while the other is 80% coffee and 20% chikri."

"Our menu is divided into three sections; cold works, hot works and desi works," she continues. "In the hot works we have four variants of filter coffee; there's even a coffee served with edible gold leaf. We have cappuccinos and flavoured cappuccinos. We also serve authentic macchiato – espresso shots with foam of the milk. And, we have the Flat White and Irish White.
The cold works have the iced versions; recently we also included brownie frappes in our cold works."
What's To Eat?
The Koffee Works also offers a range of eats which pair well with coffee. These include macarons, muffins, cupcakes, pastries, tea cakes, brownies and sandwiches.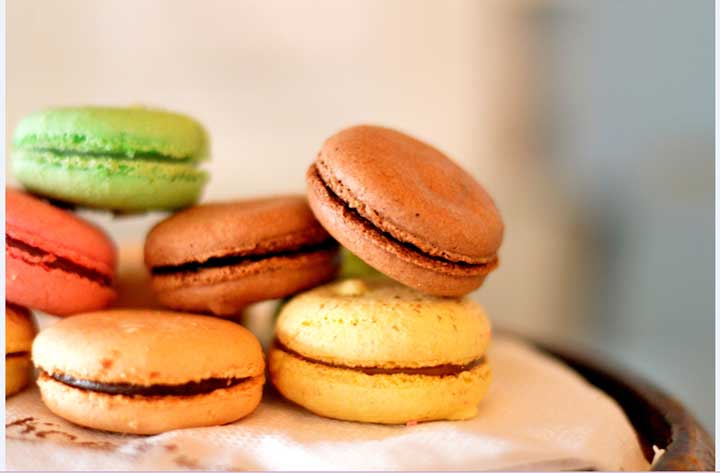 "I'm passionate about baking as well," Ishaanee says. "I've started a centralised kitchen where I bake my own products. People really like the coffee as well the macarons and cupcakes."
"Personally, I am a cappuccino person," she said when we asked her the difficult question of what her favourite menu items were. "Cappuccino is always a favourite. I also love the Ferrero Rocher brownie frappe and the raspberry macarons.
Koffee At Home
As well as an upscale cafe dining experience, The Koffee Works also offers a unique service; home delivery. Servers from The Koffee Works will not only take the coffee to customers' houses in a heat-retaining flask, but also go so far to serve them to recreate the cafe experience at home.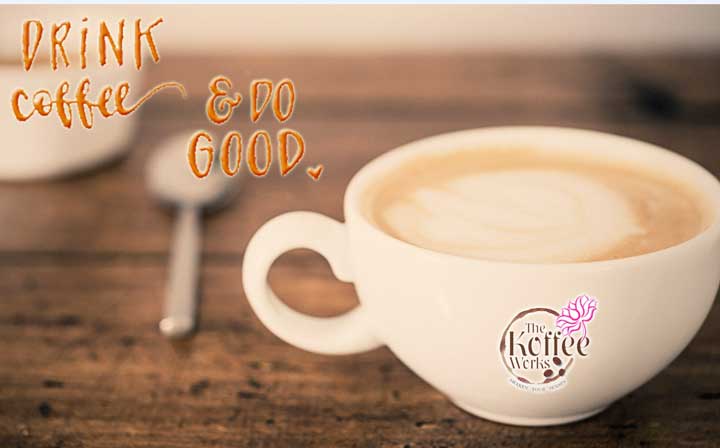 Its ventures like these which are leading to a growing interest and appreciation for coffee. As The Koffee Works expands its reach, it will not only offer patrons a sublime coffee experience but also generate a deeper understanding of the beverage. We'll raise our coffee mugs to that!