Delicious Dahi and Pani Puri at Karachi Sweets in Mumbai
A couple of days ago, we got into a hearty discussion about where to find the best chaat in
Bandra
. While we all agreed on usual suspects like Elco, a friend rhapsodized about Karachi Sweets, nestled off a quiet corner on Hill Road. This friend has been visiting Karachi Sweets since he was a child, and his father had been a patron for over 20 years. The paani puri, he said, simply put, is to die for.
Our curiosity was piqued. So, on a sunny afternoon we took a trip over Bandra to taste this legendary chaat for ourselves; here's what we thought.
Meeting Dilip Saroj
The chaat stall at Karachi Sweets in manned by Dilip Saroj, who tells us he has been working at the stall for over 27 (!) years. Hailing from Banaras, he tells us that over the years he has made chaat for a variety of customers including celebrities like Salman Khan and Dilip Kumar. The stall has also been featured on NDTV and has been visited by Masterchef Australia judge, chef and restaurateur Gary Mehigan.
"He's been here for as long as I can remember," one customer tells us, adding that she has been visiting the stall for 20 years. "He remembers all his regular customers and will immediately start making chaat according to our individual preferences."
Talking Taste
While telling us about his experiences as a chaat maestro, we watch, fascinated, as Saroj skilfully assembles a plate of dahi puri; the perfect chaat to battle the summer sun. After stuffing the puri and topping it with sauces and copious amounts of creamy dahi, he hands us the plate with a flourish and we proceed to dig in.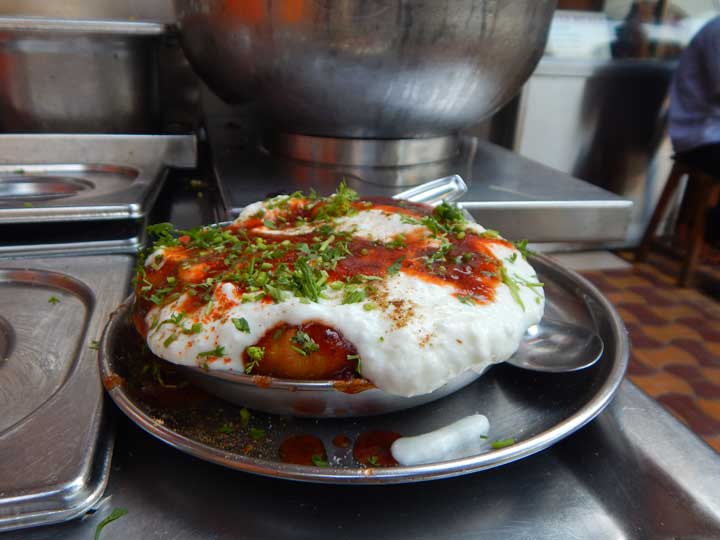 Immediately, we understand why our friend urged us to visit this chaat stall. The flavours of the chaat are wonderfully balanced; the dahi is incredibly refreshing, the puris wonderfully crispy, while the sauces add a tangy touch.
We then move on to try the legendary chilled pani puris; plump, hollowed out puris are dipped in a faintly spicy water-based sauce and then handed to us. We pop puri after puri into our mouths and are treated to an explosion of refreshing flavours; another chaat staple to beat the heat.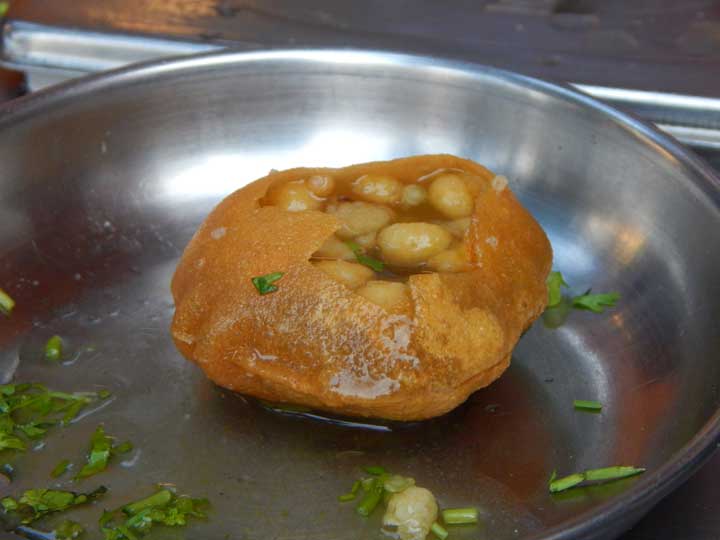 We finish of our chaat journey with a sev puri apiece and try to arrange our thoughts into words when Saroj asks us what we thought. But, although we tried, words could do the flavours no justice. Why not visit the stall and see what we mean?