Delhi, Your Hours Are Going To Get Happier At Sports Diner by Hangout
There's a reason they are called 'happy hours', because that's what they make you – happy (in more ways than one). Everyone deserves to relax a bit after a long, hard day at work. And nothing spells out relaxation quite like one drink plus one more on the house!
Sports Diner by HangOut gets our urge for good drinks and great food, and so jumping on the happy hour bandwagon, the gaming arcade cum diner is introducing its Happy Hours every Monday to Friday, 8 PM to 10 PM. Customers can avail a 1+1 on IMFL and a 2+1 on Foreign Liquor, accompanied by lip-smacking snacks! Sounds tempting, doesn't it?
For the uninitiated, Sports Diner is one-of-its-kind gaming-cum-dining facility by HangOut. It has 6 different segments making it a unique, complete Family Entertainment Center. It has the 1st black light arena bowling with UV lights, neon balls, black light reflecting carpet, lanes, capping, side painted walls to give you the 1st of its kind neon bowling experience as its 2nd segment called the Hi Lanes Bowling, with 4 lanes each catering to 6 players with full seating capacity & service & party area.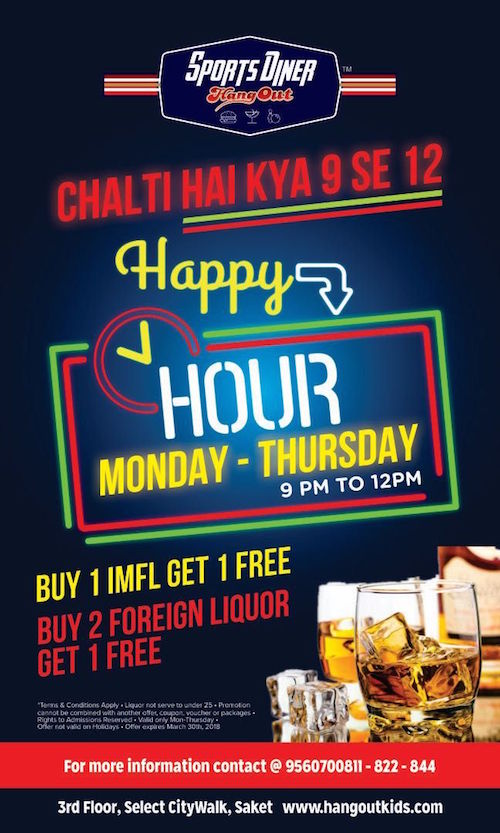 What more do you need at the end of a hectic day? So wait no more, and head to Sports Diner by HangOut.