Delhi, Gear Up To Try Out Something Different At Kheer, Roseate House
Of the many up and coming spaces in the Capital, Aerocity is one to watch out for. And we don't say this just because the area is speckled with a bunch of the world's best hospitality names but also because with each hotel also brings something new to the table (literally), the area is developing into something way more than just a cluster of hotels.
Mapping our way through the upscale Aerocity labyrinth, we found ourselves at the looming Asset No. 10, a.k.a. Roseate House. Armed with tall wooden and dark glass panels, Roseate House exuberates a strong whiff of aesthetic and class. Sitting on the first floor of this property is the newest addition to the hotel – it's Indian restaurant, Kheer.
We had the pleasure of dining at Kheer and it's safe to say that we've never before had an experience so Indian yet so global in feel.
The Space
Keeping up with the charming vibe of the hotel, this restaurant also hits the nail on the head when it comes to the vibe and décor. Decked up in warm and vibrant hues, Kheer embodies all that is Indian but with a dash of innovation.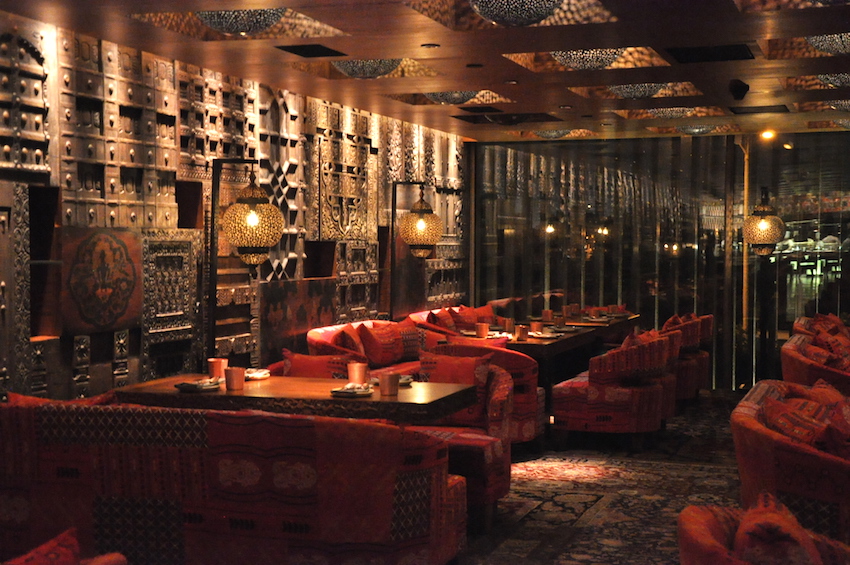 Divided into a formal dining, a bar, and a casual lounge setting, the space boasts of solid wooden furniture that draws inspiration from the Indian roots, complete with decorations like brass bells hanging from the ceiling and traditional Indian upholstery adorning the couches and chairs, which is complimented well by elements like tall whiskey cabinets, high bar stools, a live grill, and the works.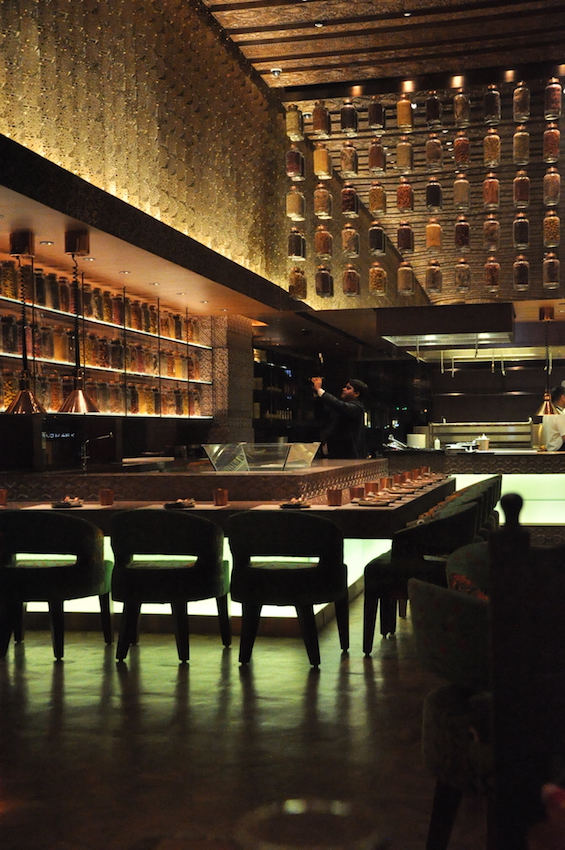 The Food
Served in flat desi platters – a.k.a. thalis – with copper glasses that are again synonymous with Indian kitchens, the food remains true to classic Indian cooking but with a twist in the way it is served. For instance, the starters did not come with tiny bowls of dips and chutneys, but instead they were served on a bed of chutney, which went with the respective food. And these chutneys, mind you, were not your average green and red chutneys. The chef walked us through a multi-course spread complete with vegetarian and non-vegetarian grubs.
We started with a round of light tandoor-charred appetizers that consisted of subz ki seekh, gucchi (morel stuffed with wild mushroom, grated khoya & cheddar cheese), Chukundar Chilgoze ki Tikki (beetroot and pine nut cutlet) served with beet chutney and Hare Matar Ki Tikki (green pea cutlet) with tomato garlic chutney.
Meanwhile, the meat eaters enjoyed a gorgeous murgh tikka (hot chicken tikka terrine served with sour cream and pickled onion), machalee (raw tuna with chopped onions, tomatoes, gari ginger and mustard oil), kasundi machi (galangal and bengali mustard marinated sole), tandoori murgh (yoghurt and spice marinated chicken), and barra kebab (new zealand lamb chop served with tomato garlic chutney).
The starters were followed by an equally rich main course that came laden with some classics and a bunch of interesting breads. The chef served yellow dal, kuni dal, nadru palak, paneer kesar-e-puktan, dal makhni for the vegetarians, while the meat-eaters dug into some jheenga machalee, murgh Kolhapuri, and meen pollichathu.
The mains were paired with a gorgeous breadbasket, which consisted of pizza roti, butter naan, sheermal, and bakarkhani (which was heaven!).
To wrap it up with a healthy dollop of sugar, we were served a variety of desserts, which made for quite an interesting selection. The last course saw some great preparations like a kheer tasting platter that came loaded with gil-e-firdaus, ras kheer, and javvarisi paysam; a gulkand scented shahi kulfi, paan ras malai, and a zucchini pudding with ice cream. Our favourite was easily the trio of kheers!
In conclusion, we'd like to say that Kheer is for the aesthetics-loving foodie who likes their food traditional but presentation well thought of. The chef has not tampered with the signature recipes but does add his personal touch with an interesting take on plating. While a few changes here and there in the recipes could do wonders for the place, we highly recommend the place if you're looking for Instagram-friendly food and space!