A Date In McDonald's Helped Make The Jon Snow You Know
Yes, we know that there are no McDonald's in Westeros. But there are in the real world, and an experience at one McDonald's outlet may very well have helped Kit Harington, the actor who plays Jon Snow land the role of the recently crowned – spoilers ahead – King Of The North.
The McDonald's Brawl
The night before his audition for the role of Jon Snow, Harington took a girl he was dating to a McDonald's outlet. In an interview with W magazine, he said that a man in the restaurant called the girl he was with "an ugly pig". Being the chivalrous fellow he is, Harington immediately called the man out and challenged him to a fight. However, Harington is apparently not as great a fighter as the character he plays; he ended up getting clobbered with a black eye.
Here's what he had to say:
"He quite quickly started to be really rude to the woman I was with … then he called her something like an ugly pig and I got up. I said, 'No you can't call her that, get up.' So I called him up for a fight, which I had never done before. He got up and he just kept (getting taller) and I realised that I had to, at that point, throw the first punch – otherwise I'd look like a complete wimp. And I got battered…I went to the Jon Snow audition with a black eye, which I think that man who punched me in the face may have helped me get the job. So, if you're watching, thank you!"
We'll bet thousands of fans are thanking that man too; Harington got the last laugh – a massive, belly laugh.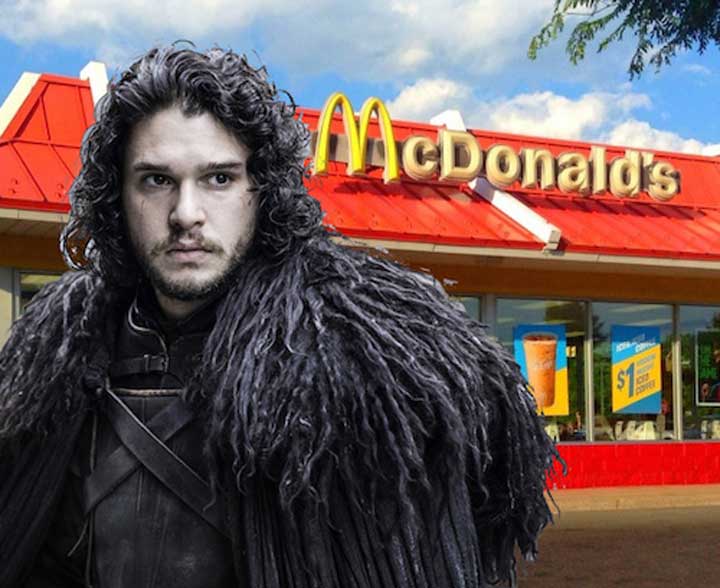 So, as foodies we'll conclude that good things come to those who eat at McDonald's. We only wonder what Harington had ordered before the fight – a Big Mac? A soft serve? While we have no answers about that, we do have a bunch of Game of Thrones recipes you can enjoy – raise a toast to Harington with this mulled wine and follow it up with a kidney pie and some lemon cakes for dessert.