Cold Stone Creamery Has Released A New Wonder Woman Flavor To Give Wonder Woman The Recognition She Deserves
Like all superhero fans, I too was eagerly awaiting the arrival of Wonder Woman (and Gal Gadot) to multiplexes near me. However, with the release date in June approaching, I was stunned to notice a lack of promotional campaigns set for the movie. For Guardians of the Galaxy Vol. 2 there were promotions by Dairy Queen and singing Doritos to set the tone. Finally, Cold Stone Creamery has stepped in with an exciting new flavour just for Wonder Woman fans!
Cold Stone Creamery is releasing a fierce new flavor. The promotional flavor is called Dark Chocolate Triple Berry Ice Cream, and the new Creation is called the Wonder Woman Berry Bold, which has the Dark Chocolate Triple Berry Ice Cream plus chocolate shavings, raspberries, and gold glitter (yes!).
But that's not all, Cold Stone Creamery has really gone all out and are also releasing a new cupcake called Triple Berry Wonder, which has layers of moist Red Velvet Cake and Dark Chocolate Triple Berry Ice Cream, topped with chocolate frosting, gold glitter, and a Chocolate Medallion made out of the Wonder Woman logo. Honestly, it's time like these that I really just want to pack up shop and move to the States but then I remember to count my blessings (actually, I would die without Indian food).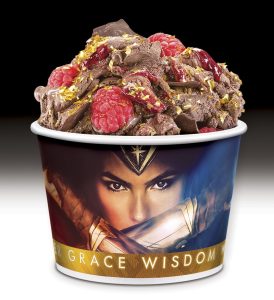 Kate Unger, senior vice president of marketing for Cold Stone Creamery said "We are excited to continue our partnership with Warner Bros. for this empowering and adventurous new movie. Customers are going to love our super premium ice cream and enjoy our new Wonder Woman-inspired Creation. The bold flavor of our Dark Chocolate Triple Berry Ice Cream gives it a powerful chocolaty taste that goes perfectly with Raspberries and Chocolate Shavings. Then we add Gold Glitter to give it some glam!"
If you're in the States hurry up and get yours soon, it's only available from May 10th to June 13th!