A Chocolate Labyrinth: Now this is one Maze you wouldn't mind being lost in.
According to Greek Mythology, the Labryinth was created by legendary artificer, Daedalus, to hold the mighty Minotaur (half man- half bull who devoured men). Sounds scary doesn't it? And then we saw the Maze Runner and the Labryinth wasn't any less creepy.
But then a London-based YouTube vlogger and food artist Prudence Staite got together and made the Chocolate Labryinth to take our nightmares away. The chocolate-y feat took 56 hours to complete, consists of 4,640 chocolate sticks and 10 kg of Belgian Chocolate. It contains a whopping 143,840 calories, but that doesn't matter. The edible labyrinth measures 120 cm by 120 cm and wouldn't take as much time to gobble up.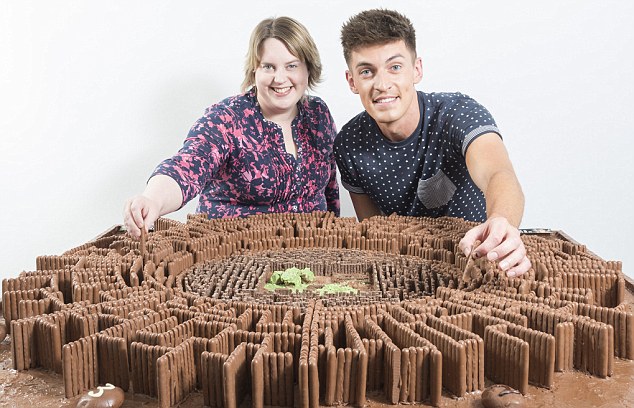 Mr. Armstrong who is a self-confessed Maze Runner super-fan approached Ms Staite to create this epic masterpiece as homage to the Maze Runner film. It took Prudence Staite a little over a week to construct the maze.
"Making the replica maze has taken a whole week of hard graft at my studio in Gloucestershire. Doug's been a great help with all the intricate details and matching the maze up to mimic the one in the film,' she said to FEMAIL.
'It's been tricky – and somewhat sticky – work but I'm thrilled with how the chocolate maze has turned out,' said Mr Armstrong.
Armstrong tried creating the maze by himself but realized it was close to impossible. He then contacted Ms Staite and the rest is chocolate history.
Watch the video of this impossible creation below!