Chennai Based Hyper-Local Delivery Start-Up Genie Will Shut Shop On March 31st
After two years of success, hyper-local delivery start-up, Genie is shutting shop. The Chennai-based start-up announced that the reason for the closure is because of the insufficiency of funds and lack of investor interest.
The founders took to a Facebook post yesterday to explain their decision, announcing that they would no longer be delivering from April 1st, 2017. In the post, they said, "Yes, you heard it right. We're not pranking you for April Fool's and this isn't any kind of a joke. Genie will be delivering its last delight on the 31st of March. We've been trying very hard to raise a round of funding to sustain operations and for growth. Over time, we courted a lot of investors who made a lot of promises, but none of them materialised. Even though everyone liked the business and loved the team, they were skeptical because of a few big shutdowns in the sector."
Started in 2015 by friends Sreekesh Krishnan, Rakesh Mani and Parth Shah, Genie worked as an on-demand delivery platform for consumers. They catered to customers who wanted difficult to get products from unreachable places. They had also set up Genie for Business to help look after on demand, bulk and scheduled orders for restaurants, home bakers and any other business that needed assistance with their deliveries. Unlike Swiggy and Zomato, Genie did not only work with restaurants and food services, the start-up did delivery for just about anyone and everyone who needed the help.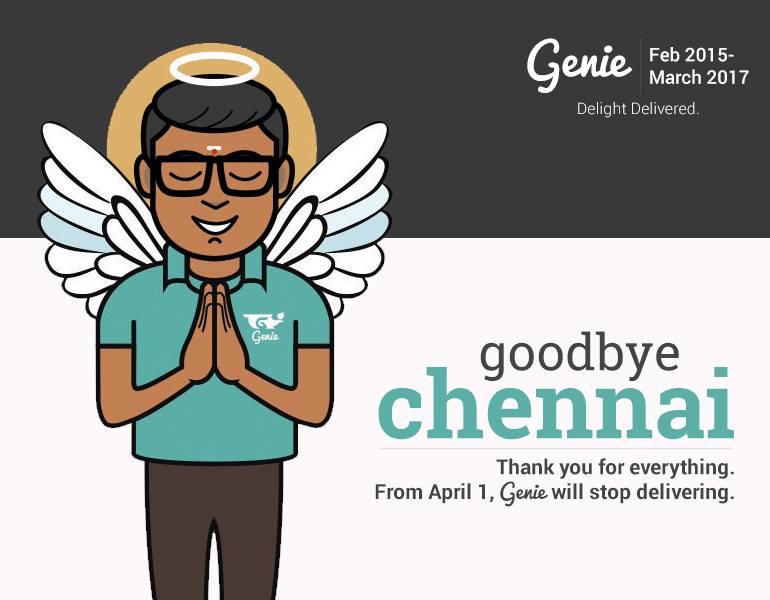 Genie isn't the first delivery start-up to shut shop due to lack of funds or the difficulty in raising fresh funds. In 2015, shortly after launching the brand, the company was funded by the Wayne Burt Group, a Singapore-based group that invests in oil and gas, aerospace and petrochemicals. In the last year, investors have been steering clear of food delivery start-ups as well as hyper-local delivery start-ups and Genie isn't the only company to have faced this issue. Brands like Peppertap, LocalBanya and more closed down while Grofers rolled back on operations in most of the cities they were serving.
Despite all this, it will be sad to see Genie go. As the founders said in their message: "It is with a heavy heart and teary eyes that we bid you a final adieu and wish you great luck. We won't be able to articulate how much we love you, we need you to know that we tried our hardest to make this work before we decided to throw in the towel. We thank you once again for giving us the opportunity to serve you and apologise for any inconvenience we may have caused while trying to deliver delight to you."