Chef Vikas Khanna Sets 'Dine With Smile' In Motion
To commemorate the Joy of Giving, Smile Foundation has joined hands with Burrp! Chef Vikas Khanna and the foundation launched the 'Dine with Smile' campaign that encourages dining responsibly by bringing together restaurants and diners from across the country in an endeavor to raise support for nutrition of underprivileged children.
Face Of The Movement
Having been an active part of Smile Foundation's Nutrition for Education campaign since the beginning, Vikas Khanna will further raise awareness through fundraising events and campaigns as its goodwill ambassador. Speaking on this occasion the Five times Michelin starred Chef said, "One in every three malnourished children in the world is from India. The consequences are long-term and it prevents children's overall growth, learning ability, going to school and a chance to come out of the vicious cycle of poverty for yet another generation. Thereby it also prevents the country's growth.
"The objective of this initiative is to raise awareness on malnutrition and its overall impact on children and to encourage more people to join this cause and support to bring the much needed change. Through the medium of this initiative, we will not only be able to provide nutrition to underprivileged children but also help them to get better health therefore better education and a brighter future".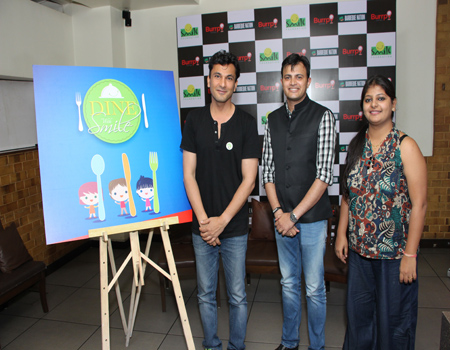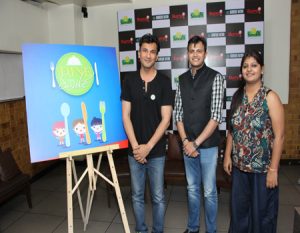 Image: Hospitality Biz India
What Is It?
Kicked off at an event held in Barbeque Nation, Lokhandwala, the movement will take place from 3rd October to 14th November 2016. As a part of the Smile Foundation's ongoing Nutrition for Education campaign, Dine With Smile enables restaurants to join the campaign and endorse healthy eating for at least a kid a year.
Further defining the objectives of the movement, Vikram Singh Verma, COO, Smile Foundation said:
"Dine with Smile is conceptualized in order to bring some real and permanent changes in the lives of the most deserving children across India. Restaurant owners, their clientele along with the sponsors have paved the way to Smile Foundation's nutrition for better literacy campaign through this month long initiative. We are thankful to Chef Vikas Khanna and Burrp! for their support to take this initiative to the next level".
"We are glad to be associated with Smile Foundation for Dine with Smile campaign. It is a pleasure for us to be able to contribute to the society for a better tomorrow. We at Burrp strongly believe that the country can only succeed if our children today are healthy", added Pradeep Prabhu, Co- Business Head, Burrp!
Feature Image: theepochtimes
Source: Hospitality Biz India