Chef Pallavi Nigam Gets Candid About Her New Show Amma Superstar On Living Foodz
There's nothing like a piping hot plate of food cooked by mum is there? What if you could watch heartfelt stories about food that brings a mother and a child or even friends, caretakers, roommates in the hostel and neighbours closer? Well, now you can with Amma Superstar, the newest show on Living Foodz hosted by Chef Pallavi Nigam.
Chef Nigam for whom this is a debut show has received her culinary training from International School of Italian Cuisine and has shot recipe videos with reputed YouTube channels. Read on as she gets candid during her interview with Hungry Forever and talks about her food journey, her first time on camera and her favourite food.
What inspired your cooking career?
Few failed attempts on recipes. Actually I loved cooking since childhood, I was very passionate about cooking I always observed my Mom and my grandfather while they were cooking, they were very particular about using khade garam masale, their quality, their quantity and which Garam Masala will go in which sabji, I also remember once me and my sister were alone, so I took the opportunity and decided to prepare the pulao, I used all the garam masalas, browned the onions perfectly, just like mummy and prepared the pulao it was absolutely perfect, I remember being elated that day, but then there were few failed attempts. I decided to go for a professional course in Italy, after coming back, I worked with hotels, started taking culinary classes in Muscat, started writing , started working with YouTube channels in India and now this, my debut on TV with Living Foodz' Amma Superstar.
What sets your cooking style apart?
These days there's lot of fusion happening, I'm not really fond of that, I love to keep the authenticity of the recipe intact, and my technique is to keep it simple, with fresh ingredients available at your nearest supermarket. The recipes created and shared during Amma Superstar will reflect my cooking style.
Tell us something about your association with Living Foodz for the show Amma Superstar.
It was really comfortable, I loved the concept developed for Amma Superstar. It was very smooth working with them. From the beginning till the end the team supported me really well and their support was especially very crucial as this was my first TV show.
This is your first show on screen, tell us how you feel.
At first I was really nervous, I remember on first day, there was this continuous question in my mind "Am I doing it right?" Then from the second day onwards, I became confident. It was truly a wonderful experience for me.  Usually when I was doing YouTube videos it was a very small setup. It was a new and fun experience for me. Also when I did for YouTube, they always wanted me to keep it as short as possible, so I didn't had the opportunity to talk much about the dish, my memories around the dish, stories, techniques texture, here I could talk a lot, so that was wonderful.
What can one expect on your show Amma Superstar?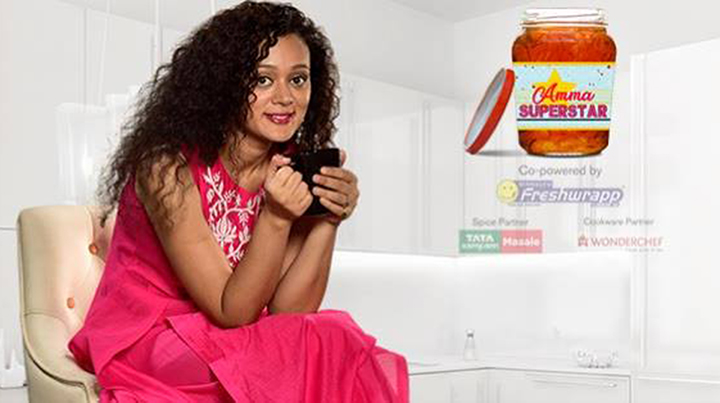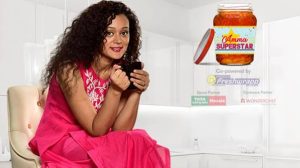 The show offers the viewers' lots of beautiful conversations revolving around food and memories related with food, local cultures from different parts of the country and related stories and along with that, loads of wonderful recipes. Amma Superstar highlights different relationship bonds that showcase the mother like love and comfort through food. This show brings different relationships and bonds that remind us of our mom's love and the connect with food.
Tell us the dish cooked by your mother which is your favourite and the memory attached with it.
I love my Amma Superstar's i.e. my mom's chicken curry, it's truly magical, her secret is that after the curry is fully done, she heats a small clay pot till it's smoking hot, add ghee to it, then adds crushed garlic, ginger and Garam Masala, adds it to the curry and closes the lid, so the curry absorbs all the delicious taste and wonderful aroma.
Share with us any anecdote or a memory revolving around food.
I remember during my school days, Sunday were synonymous to non-veg eating days, especially chicken, since papa didn't have to go to office, so he specially used to go to chicken shop to choose the best chicken for us, always it used to be " Kadak Nath" a special desi breed from Madhya Pradesh. And Mummy since she is not in any kind of rush, nobody has to go to office or school, took all the time required for a perfect chicken curry, grounding fresh masala on "sil-batta" and browning the onions on low flame for that perfect caramelised taste, and then if it's winters we will lay down the mat in the garden and would savour the chicken curry with rotis, rice and neembu- pyaz till the kadhai is empty.
What is your quick fix dish?
Tehri or spaghetti Aglio- Olio
What would you like to say to the budding cooks out there?
Whether its life or a dish always try to keep it as simple and authentic as possible. Also please don't get too lost in plating up. It's your dish and it will be the best if it reflects you as you are.