Chef Art Smith, 101 gay weddings and a Duff Goldman wedding cake
Hashtag '101GayWeddings' and get married in Florida for free!
Chef Art Smith is celebrating the recent lift of the Florida Same- Sex wedding ban. And he plans to do just that to conduct 101 free weddings in Florida on February 21st. All you'll need is to find the perfect person, get on twitter and hashtag "101GayWeddings" to "@ChefArtSmith" and you've got yourself a free wedding and a wedding cake by Duff Goldman.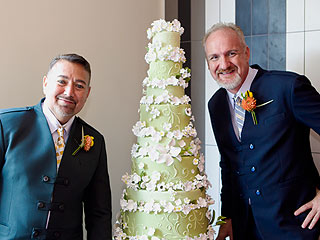 "A to-be-named celebrity officiant will perform Smith's 101 Gay Weddings, which is also expected to draw several Miami and out-of-town chefs," reports The Miami Herald.
"I just felt like there was a need to give them a really lovely wedding. I believe in not only celebrating this momentous occasion but also the need to keep in mind that there are still people, people around our country, who still don't have the rights," said Smith.
Now that's Fab.